The 2012 film Silver Linings Playbook, directed by David O. Russell (b. 1958) and based on the novel by Collingswood, New Jersey, native Matthew Quick (b. 1973), experienced overnight success when it premiered at the Toronto International Film Festival and earned the highly sought-after Audience Award. Filmed in and around Philadelphia, the movie showcases the region's distinct character and culture.
[caption id="attachment_31765" align="alignright" width="230"]
Jennifer Lawrence portrays Tiffany Maxwell in
Silver Linings Playbook
. Lawrence earned the 2013 Academy Award for Best Actress for her role in the film. (
Wikimedia Commons
)[/caption]
Starring Bradley Cooper (b. 1975), the film follows Pat Solitano Jr. as he returns to the Philadelphia suburb of Delaware County to move in with his parents, who are characterized by their dedication to the Philadelphia Eagles professional football team. Pat has to cope with his new life after being released from a mental institution, where he was treated for bipolar disorder. Focused on attending therapy sessions and jogging around his family's suburban neighborhood to win back his ex-wife's affections, Pat is surprised when he makes a new friend: a young woman named Tiffany Maxwell, played by Jennifer Lawrence (b. 1990). United by their painful pasts, this unlikely couple finds companionship in and around the City of Brotherly Love.
The film's plot, characters, and Greater Philadelphia setting are derived from Quick's 2008 novel of the same name. Although the book takes place in the author's hometown of Collingswood, the filmmakers decided to set many scenes in Philadelphia's Pennsylvania suburbs. While several elements differ between the book and film versions, the heart of the story and its regional inspiration shine through in its adaptation.
Born and raised in Philadelphia, Cooper fit the role of Irish-Italian Eagles fanatic Pat Solitano perfectly. "I'm from Philly," Cooper said in an interview published in 2012 by the website Deadline Hollywood. "I'm obsessed with the Eagles, I'm Italian Irish, my parents grew up in households very similar to [Pat's family]."
Learning the Local Lingo
[caption id="attachment_31764" align="alignright" width="200"]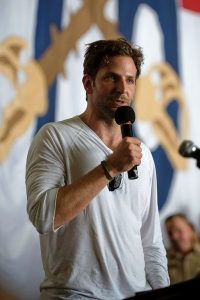 Bradley Cooper portrays avid Eagles fan Pat Solitano in
Silver Linings Playbook
. Cooper was born and raised in Philadelphia and connected to his character's Irish-Italian heritage. (
Wikimedia Commons
)[/caption]
Although Cooper was unfamiliar with his character's bipolarism and scoured a multitude of documentaries during the weeks prior to filming, his expertise about Philadelphia proved helpful to several members of the cast. For example, Jacki Weaver (b. 1947), the Australian actress who played Pat Jr.'s mother, Dolores Solitano, often listened to the Philadelphia accent of Cooper's real mother when she came to the set. Cooper's uncle also visited during filming and offered advice on Philly dialect to Robert De Niro (b. 1943), who played Pat Solitano Sr. Thus, both Cooper and his family helped bring authenticity to the film through their knowledge and love for the city of Philadelphia.
Filming in the Philadelphia area over a thirty-three-day period during fall 2011, Russell sought to capture the essence of a white, middle-class suburban Philadelphia family in a short span of time. To do so, many of Silver Linings' scenes were shot in close proximity in Delaware County, including in Lansdowne and Ridley Park Boroughs and Upper Darby Township. The center of the film is unquestionably the Solitano household, which is set in a black and white stone home. Many of the jogging scenes in which Cooper memorably wears a trash bag to burn more calories were filmed in the neighborhoods of Delaware County. Another memorable scene takes place at the Llanerch Diner, 95 E. Township Line Road, Upper Darby, where Pat and Tiffany have their first "date," which Pat asserts is not actually a date.
[caption id="attachment_31763" align="alignright" width="300"]
In
Silver Linings Playbook
, Philadelphia's Benjamin Franklin House serves as the site of a climactic dance competition. It is shown here during the 2011 film shoot. (Photograph by Donald D. Groff for
The Encyclopedia of Greater Philadelphia
)[/caption]
Although much of the film was shot in the suburbs of Philadelphia, some of the final scenes take place closer to the heart of the city. Toward the end of the film, Pat and his friends are shown pre-gaming on Wells Fargo Center Lot D just outside Lincoln Financial Field, home of the Philadelphia Eagles. Later, the climax of the film takes place in Center City in the ballroom of the Benjamin Franklin House, where Pat and Tiffany's dance competition decides the fate of Pat Sr.'s dream of opening a restaurant. In the final scene of the film, viewers see Pat and Tiffany kiss on Jewelers Row, near Eighth and Samson Streets.
Silver Linings Playbook garnered acclaim from viewers and critics. During the 2013 awards season, Jennifer Lawrence won Best Actress honors from the Screen Actors Guild, the Golden Globes, and the Academy Awards. Silver Linings also garnered several MTV Movie and Independent Spirit awards, as well as additional Golden Globes and Screen Actors Guild nominations. David O. Russell won the Best Director award from the British Academy of Film and Television Arts, and the film won Movie of the Year from the American Film Institute. With the help of the region's distinctive culture and character, Silver Linings Playbook became a bright star showcasing the place many Philadelphians simply call home.
Margaret Poling is a Teaching Assistant and M.A. candidate studying English at Rutgers University-Camden.