Birch's Views of Philadelphia
Essay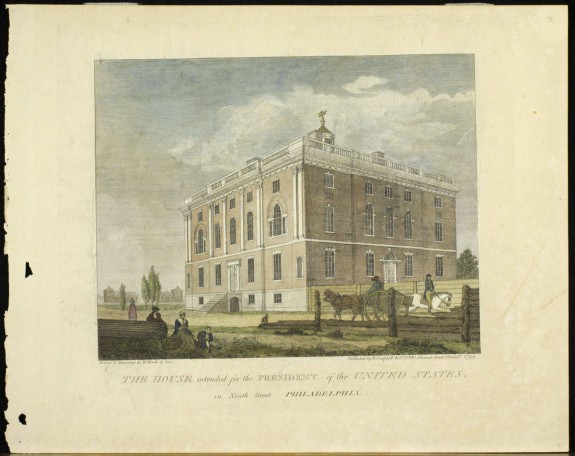 The City of Philadelphia, in the State of Pennsylvania North America; as it appeared in the Year 1800 is a masterpiece of American copperplate engraving and the first book of views to be entirely produced and published in the United States. Comprising twenty-seven scenes or "views" of Philadelphia's buildings and streetscapes, the book aimed to give, in the words of its creator William Russell Birch (1755-1834), "the most general idea of the town." Enormously successful, the work was published both as a bound book and as separate loose-leaf prints, and appeared in three subsequent editions over the next thirty years. It is significant as a record of Philadelphia's architectural past and as a rich example of urban visual culture in the early Republic.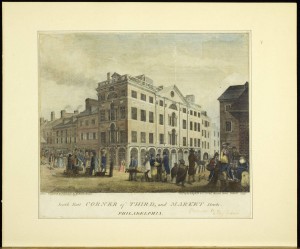 The first edition of Birch's Views, as the work came to be known, was part of a larger boom in population, visitation (as tourism was termed at the time), and book and map publishing that the city witnessed during its ten-year period as the United States Capital, 1790-1800. Birch arrived in Philadelphia from his native England during this time, and his Views lingered on sites of commercial, political, and cultural import, from the High Street Market to Congress Hall to the Fifth Street Library. Throughout, Birch balanced careful renderings of edifices with a feel for city life: Philadelphia's handsome Georgian facades and characteristic street corners are enlivened by pedestrians, horse-drawn carts, groups of soldiers and Native Americans, and, in the plate "High Street, From the Country Marketplace," the 1799 funeral procession for George Washington. Together the prints provide a virtual walk through the city, the viewer pausing to take in picturesque sights and local color. Yet these details of daily life also speak to larger ideals of civic identity and national order, as in the bustling shipbuilding scene entitled "Preparation for War to defend Commerce."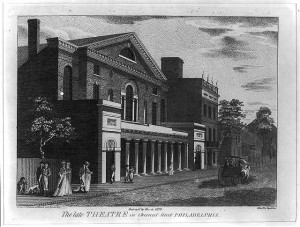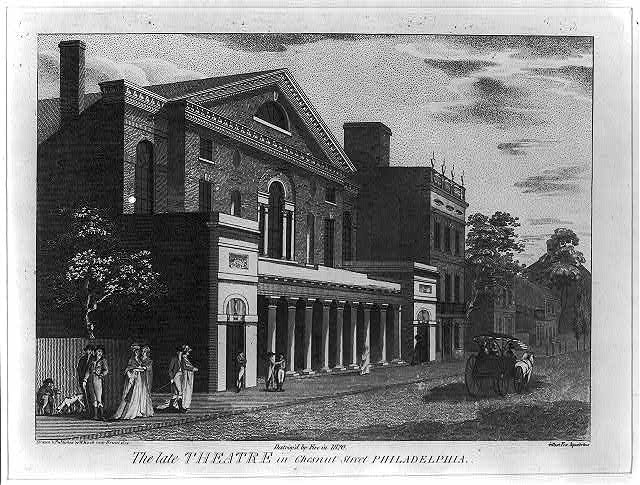 Like other engravings and printed books, the Views resulted from a collaborative endeavor. Birch's son Thomas (1779-1851) painted sketches in watercolor, which were transferred to copper plates by engraver Samuel Seymour or by Birch himself. Birch made changes in nearly every edition, updating existing scenes to better reflect the city's landscape, adding new views, or simply getting rid of scenes that no longer held appeal. The work thus not only documents many structures later demolished, but also indicates the shifting character of Philadelphia's built environment and of public taste.
At the time of its first publication in 1800, the Views constituted the most extensive pictorial catalog of Philadelphia to date, an attempt to depict the city in its full range of activities and places and to record it for posterity. Birch advertised the volume as a "Memento for the 18th Century," and the book's eminent subscribers, such as Stephen Girard (1750-1831) and Thomas Jefferson (1743-1826), showed that such memorializing carried political and cultural weight among the nation's elite. City views, annals, and other antiquarian projects gained particular popularity in Philadelphia in the 1820s onward, part of a renewed interest in historical memory. Birch participated in this wave of interest, publishing the fourth and final edition of his Views in 1827-28. Artistic merit and the historical appeal of Birch's views have ensured their continued popularity.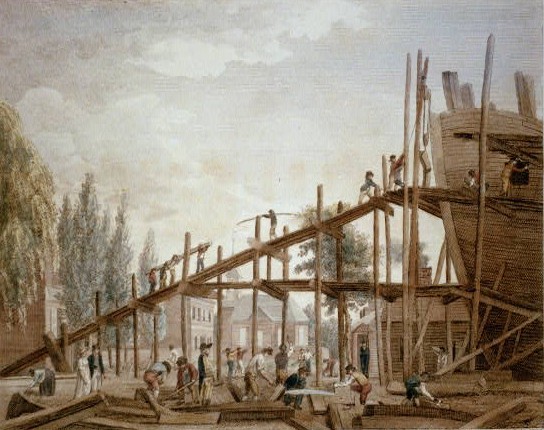 Emily S. Warner received her B.A. in Art History from the University of Chicago (2006) and her M.A. in the History of Art from the University of Pennsylvania (2012), where she is a doctoral candidate. Her research interests include topics in both nineteenth- and twentieth-century art history and visual culture. (Author information current at time of publication.)
Copyright 2015, Rutgers University