Essay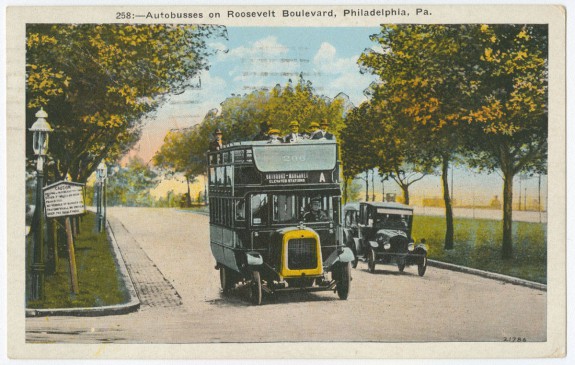 Beginning in the 1920s, the Philadelphia region's independent transit companies added motorized buses (autobuses) to their networks. Superior in comfort to the horse-drawn omnibuses of the nineteenth century and with more range and versatility than electric trolleys, autobuses offered passengers easier means to traverse the metropolitan area.
Prior to the internal combustion engine, mass transit relied on horse-drawn omnibuses (introduced in Philadelphia in 1833) and then streetcars, also called trolleys (introduced in the 1850s and electrified in the 1890s). With the automobile's rising prominence following World War I, many of the private companies then serving the region's commuters purchased gasoline-powered autobuses as a less-expensive alternative to maintaining the costly infrastructure necessary for streetcars. Free from the constraints of rails, motorized autobuses achieved wider geographic scope on the new or expanded roads and highways built for the region's automobiles.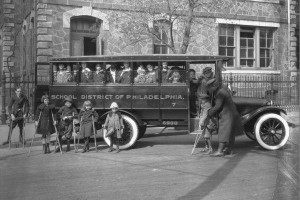 Autobus service within Philadelphia began in 1923, with the Philadelphia Transportation Company's (PTC) first service running along Northeast Boulevard (later renamed Roosevelt Boulevard) between Erie and Broad Streets. By the late 1930s, buses operated on most major streets of Greater Philadelphia. The Delaware Coach Company (DCC) introduced autobuses in Wilmington in 1925, and the Trenton Transit Company added bus service in 1929. In 1936 the Philadelphia Suburban Transportation Company extended autobus routes between Center City and the Main Line suburbs. The region's school districts instituted their first wood-framed, steel-paneled motorized school buses by the 1930s to improve safety and to phase out "kid hacks" (horse-drawn carriages) from driving students in rural areas. In 1939, following a recommendation by Columbia University education professor Frank W. Cyr (1900-95), school buses nationwide adopted the color yellow for safety purposes.
Interstate Bus Service Begins
Interstate bus services also came to the region. In 1925, after a series of regional bus line mergers, the Mesaba Transportation Company (renamed the Greyhound Bus Company and incorporated in Wilmington) initiated interstate service in Greater Philadelphia. As a response to Greyhound's growth, National Trailways launched regional interstate service in 1936. To accommodate the transit needs of South Jersey residents commuting to Philadelphia, New York, and other points, Trailways in 1964 initiated service from Mount Laurel, New Jersey; Greyhound commenced service there in the mid-1980s. After the legalization of casino gaming in Atlantic City in 1978, bus companies eager to capture gamblers began daily service, often with discounted fares, from Philadelphia, Wilmington, and Trenton to the resort city.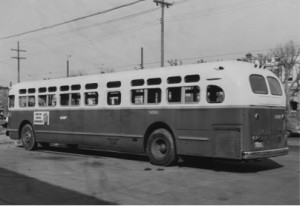 In the decades after World War II, increased car ownership and suburbanization led many bus companies to consolidate, often under larger public agencies. In 1968, the Southeastern Pennsylvania Transportation Authority (SEPTA) assumed and expanded the autobus lines run by the indebted PTC. The following year, the Delaware Assembly created the Delaware Authority for Regional Transit (DART) to oversee bus lines formerly operated by the DCC. New Jersey Transit (NJT), created in 1979, acquired bus lines serving Camden, Trenton, and other points in South Jersey.
Buses put an end to many of the region's trolley lines. By the late 1940s, both Camden and Wilmington had replaced nearly all their trolleys in favor of autobuses. Many of Philadelphia's trolley lines were replaced with buses starting in the late 1980s. In 1992, the city's Route 23 trolley, once the world's longest and running from South Philadelphia to Germantown, was suspended and replaced with diesel-powered buses. By 2015, the Route 23 bus ranked as the city's third-busiest transit line, prompting SEPTA to split the route in two. With these mergers and upgrades, autobus lines ultimately provided transportation within and between nearly every area municipality.
Low-Cost Competitors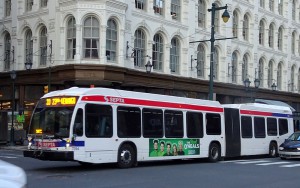 With ridership increasing and mounting concerns over fuel costs and emissions, in the early 2000s SEPTA and NJ Transit introduced hybrid autobuses intended to eventually replace their gasoline-powered fleets. Private companies including BoltBus and Megabus began in the 2000s offering low-fare service (with Wi-Fi connectivity) between Philadelphia and other points along the Northeast Corridor. The city's "Chinatown bus," connecting Philadelphia's and New York's Chinese neighborhoods, also offered inexpensive service. Interstate bus companies, such as Greyhound and Trailways, continued to serve the metropolitan area; in 2013, Philadelphia's Greyhound Terminal (1001 Filbert Street) ranked as the nation's fourth-busiest bus-only terminal, served by regional carriers including Bieber Tourways, Susquehanna Trailways, and Peter Pan Bus Lines.
Though lacking the romance of trolleys and the individual freedoms of the automobile, public and private autobuses provided many in the Greater Philadelphia area with affordable and accessible transportation.
Stephen Nepa teaches history at Temple University, Rowan University, and Moore College of Art and Design and appears in the Emmy Award-winning series Philadelphia: The Great Experiment. He received his M.A. from the University of Nevada, Las Vegas, and his Ph.D. from Temple University. (Author information current at time of publication.)
Copyright 2016, Rutgers University
Backgrounders
Connecting Headlines with History