Essay
In 1965, protesters at a Dewey's restaurant lunch counter in Center City Philadelphia demanded access to public accommodations for lesbian, gay, bisexual, and transgender (LGBT) people. It was the first known protest of its kind in Philadelphia, and one of the earliest such demonstrations in the United States.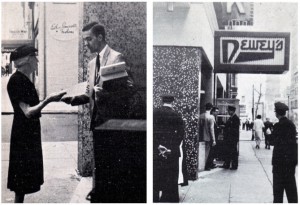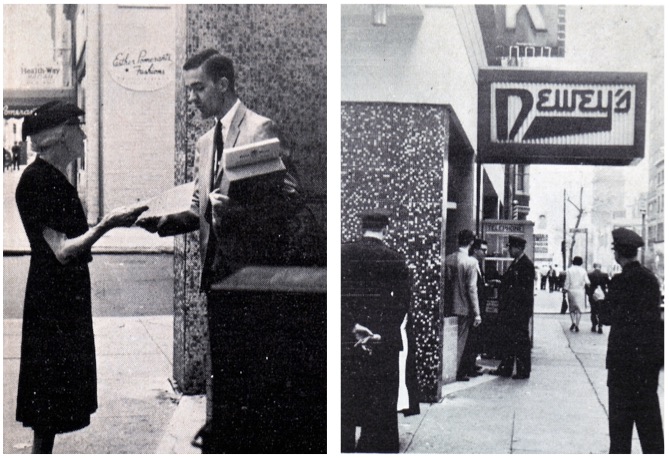 Dewey's was a chain of hamburger restaurants in the greater Philadelphia area. The first Dewey's opened in the mid-1930s in Atlantic City, and the chain, originally owned by Louis Yesner (1894-1979), eventually grew to fifteen restaurants. Two of these locations—one at 208 S. Thirteenth Street and one at 219 S. Seventeenth Street in Philadelphia—became gathering places for LGBT people in the 1960s.
The sit-in took place at the Seventeenth Street Dewey's. In response to a disruptive crowd of gender-variant teenagers, Dewey's management instructed staff to refuse them service. Employees interpreted this instruction widely, refusing service to any customers who appeared to be gay or lesbian, or who otherwise challenged accepted gender conventions. The teenagers joined forces with the Janus Society, a local gay and lesbian rights organization, to protest this policy. On April 25, 1965, 150 people were refused service at the Seventeenth Street Dewey's. Three teenagers and Clark Polak (1937-1980), president of the Janus Society, were arrested and found guilty of disorderly conduct.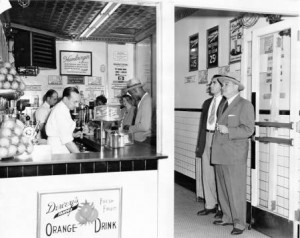 After the arrests, the Janus Society demonstrated outside of this Dewey's location, distributing 1,500 leaflets over the course of five days. On May 2, 1965, another small sit-in took place. Though police were present, there were no arrests, and subsequently Dewey's discontinued its policy of denying service to those who appeared homosexual.
The Dewey's protest was both part of larger historical trends and the start of something new. It took place during an era of grassroots activism, political protests, and urban unrest. Many participants in the burgeoning gay and lesbian movement were involved in other 1960s political efforts as well, and the particular format of the Dewey's protest—the sit-in—drew directly from a political strategy made famous by the African American civil rights movement of the early 1960s.
Within the gay and lesbian rights movement, this incident occurred during a season of direct action in support of the rights of homosexuals. On the east coast, between April and June 1965, demonstrations of varying kinds occurred in Washington, New York, and Philadelphia. And on Independence Day 1965, activists from throughout the mid-Atlantic picketed in Philadelphia at the Liberty Bell, demanding fairer treatment for gays and lesbians. These protests, known as the "annual reminders," occurred every Fourth of July for five years.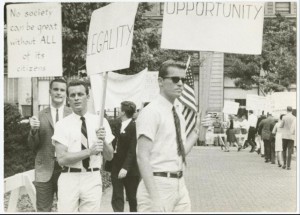 In many ways, the Dewey's sit-in exemplified political trends of the mid-1960s. Yet, it also represented the beginning of a more radical approach to LGBT activism, which became more fully realized in the years immediately following the 1969 Stonewall Uprising in New York. In contrast to earlier LGBT activism, which sought access to legal protection and freedom from harassment and discrimination, by the late 1960s some LGBT activists were beginning to challenge the very structure of society. People who did not conform to established gender roles—many of them still teenagers—were at the forefront of this shift. Dewey's was possibly the first action where an established gay rights organization explicitly defended the rights of people to defy gender conventions and still be treated with dignity. Although the Dewey's sit-in did not generate national media coverage in 1965, later historians recognized it as an important event in the history of LGBT activism.
Susan Ferentinos is a public history researcher, writer, and consultant specializing in project management and using the past to build community. She holds a Ph.D. in U.S. history from Indiana University and is the author ofInterpreting LGBT History at Museums and Historic Sites (Rowman & Littlefield, 2015). (Author information current at time of publication.)
Copyright 2016, Rutgers University