Essay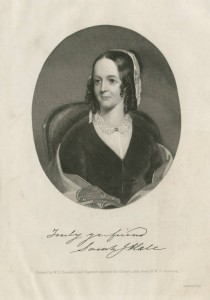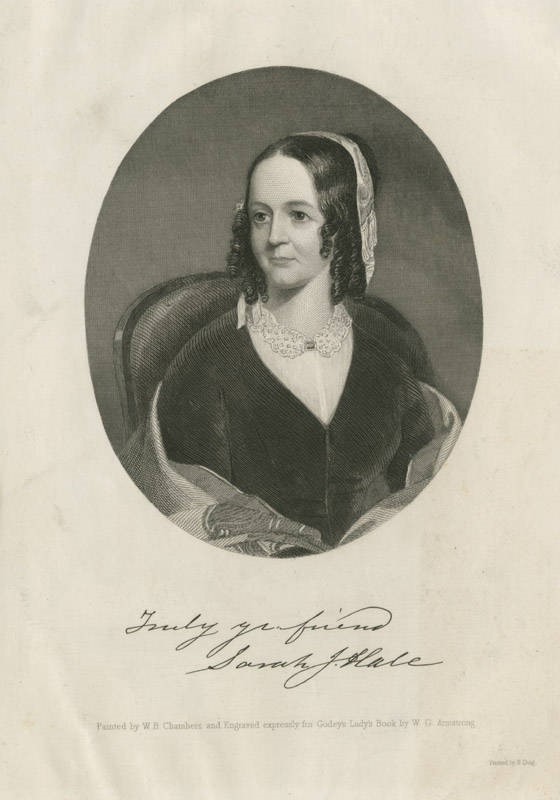 The first successful women's magazine and most widely circulated magazine in the antebellum United States, Godey's Lady's Book offered fashion illustrations and advice, literary pieces, and articles on current events and popular culture. Founded in Philadelphia in 1830 by Louis Antoine Godey (1804-1878) and edited for four decades by Sarah Josepha Hale (1788-1879), the magazine provided a platform for women's interests and fostered traditions with a lasting impact on American culture.
Originally from New Hampshire, Hale came to Philadelphia in 1841 after gaining recognition in Boston, where she published a successful novel,  Northwood: A Tale of New England; edited the first women's magazine, Ladies' Magazine, beginning in 1828; and worked to foster historical consciousness, as in the erection of the Bunker Hill Monument.  A widow with five children, while in Boston she also published poetry and, most famously, the nursery rhyme "Mary Had a Little Lamb."
In 1837 Hale merged her magazine with Godey's and became editor of Godey's Lady's Book. By that time, Hale had gained a reputation for high editorial standards and for soliciting original work, often from women writers.  She also had established her philosophy of "Woman's Influence" that argued for women assuming moral authority over husband and children by practicing domesticity and piety at home. She brought these practices and beliefs with her to Godey's, where she oversaw tremendous expansion. When she assumed the editorship, Godey's had approximately 10,000 subscribers, and by the 1860s it had over 150,000, despite its high cost of three dollars annually. Its role as the most popular magazine of its day provided Hale a platform through which to influence the nation's tastes and the position of women. She included a section on women in the workforce, argued for women's education, and published a number of special issues comprising only women's writings.  Because they sought a national readership, neither Hale nor Godey allowed the publication to become embroiled directly in political matters, refusing even to mention, much less take a position on, sectionalism and the Civil War.  This decision cost them subscribers who had to turn elsewhere for news on the war.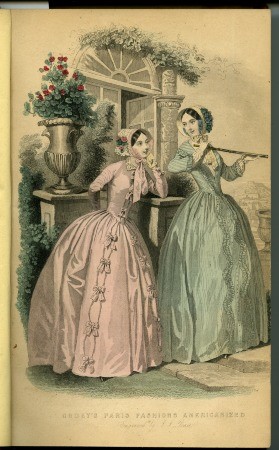 The most popular features of the magazine included hand-tinted fashion plates in each issue, patterns for women to use in making garments at home, sheet music for piano, and short stories by authors like Edgar Allan Poe (1809-49), Nathaniel Hawthorne (1804-64), Oliver Wendell Holmes (1809-94), and Washington Irving (1783-1859), among others.  It also included news and features.
Godey's Lady's Book had a large impact on United States culture. Under Hale's leadership the magazine hired Lydia H. Sigourney (1791-1865) to report on events in London.  Through her reports the magazine inaugurated such traditions as white wedding dresses and decorated evergreen trees at Christmas. Perhaps the most famous tradition to come out of Godey's pages was Thanksgiving, a holiday which Hale persistently and successfully lobbied for and promoted by sharing recipes and features in Godey's pages.
Godey sold the publication to John Hill Seyes Haulenbeek (?-1898) in 1877, and it lasted until Haulenbeek's death in 1898.  Godey's Lady's Book made a lasting literary and social contribution in the U.S., offering women a venue to share their creativity and discuss issues that mattered to them.  It shaped American culture in ways still evident in the twenty-first century–from Thanksgiving dinners to evergreen Christmas trees to modern fashion magazines.
Beverly C. Tomek is the author of Pennsylvania Hall: A 'Legal Lynching' in the Shadow of the Liberty Bell (Oxford University Press, 2013) and Colonization and Its Discontents: Emancipation, Emigration, and Antislavery in Antebellum Pennsylvania (NYU Press, 2011). She earned a Ph.D. in history at the University of Houston and teaches at the University of Houston-Victoria. (Author information current at time of publication.)
Copyright 2015, Rutgers University