Essay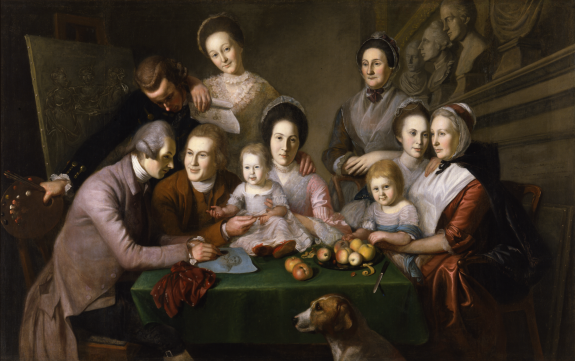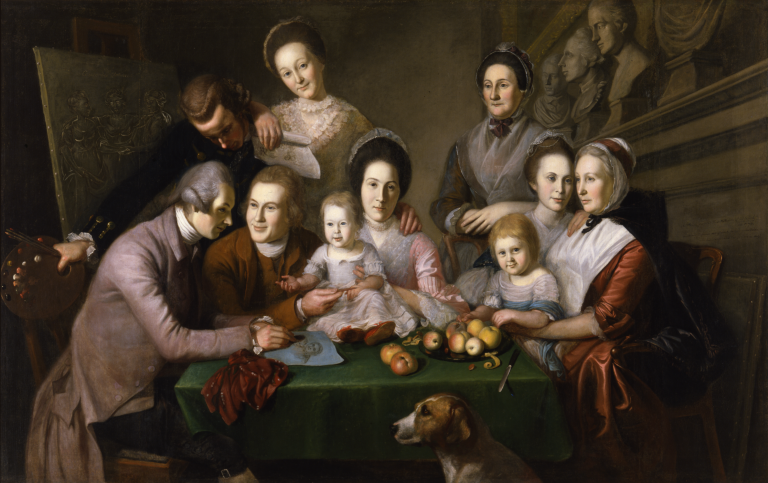 For over 125 years, the family headed by Charles Willson Peale (1741-1827) documented Philadelphia's leading citizens and created paintings to decorate their homes. The Peales' involvement in the arts enriched the cultural landscape of Philadelphia, and their work as naturalists and museum entrepreneurs advanced the causes of art, science, and science education in the United States.
Charles Willson Peale established a national iconography of artistic, political, and scientific imagery. A leader in the city's nascent art world, he founded one of the first museums in the young country as well as two of its first art schools. Peale fathered a dynasty of artists and scientists, many of whom flourished in the Philadelphia area.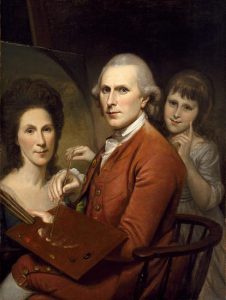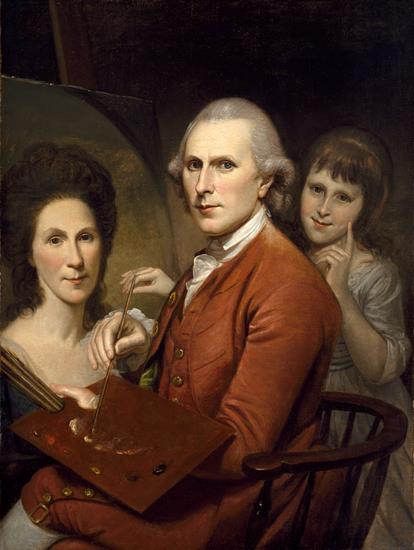 Born in Chester, Maryland, Charles Willson Peale studied with John Hesselius (1728-78) and John Singleton Copley (1738-1815) before spending almost three years in England, where he trained with the American expatriate Benjamin West (1738-1820). After returning to the United States, Peale settled initially in Annapolis before moving permanently to Philadelphia in 1776.
A decade after his arrival Peale founded the Peale Museum (1786), where he exhibited his own portraits of notable Americans as well as his growing collection of natural history specimens. He was a founding member of the Columbianum (1794-95), a loose association of artists that sponsored the first exhibition of American art. Peale was also one of the founders of the Pennsylvania Academy of the Fine Arts (1805), the oldest surviving American art school.
Peale became known for his portraits of Revolutionary War leaders. He painted close to sixty portraits of the first American president, George Washington, including the well-known George Washington Before the Battle of Princeton (1781). He also depicted such notable citizens as Benjamin Franklin (1706-90), painted in 1789; Thomas Jefferson (1743-1826), painted in 1791; and John Adams (1735-1826), painted around 1791-94. Peale's portraits were exhibited at his Philadelphia museum, making an important statement of national pride. Most later became part of the collection of Independence National Historical Park.
A Family Portrait, 1773-1809
A group portrait, The Peale Family (begun in 1773 and completed in 1809) is an impressive early image of America's first family of artists and pays tribute to one of Peale's favorite subjects: his family. The painting also pays homage to the visual arts, including a variety of media (drawing, painting, sculpture) and subjects (portraits, figure painting, still life). Peale signed the painting with his name and with a visual pun: the apple peel spilling off the plate of fruit.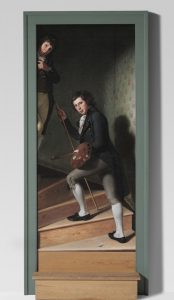 Taken as a group, Peale's most famous paintings illustrate his favorite themes: family, art, and science. The Staircase Group (1795) includes two of Peale's sons, and Exhuming the First American Mastodon (1806-08) and The Artist in His Museum (1822) attest to the artist's dual interest in art and science.
Charles Willson Peale, who married three times and fathered eighteen children, named many of his children for famous artists and scientists. He and his first wife, Rachel Brewer Peale (1744-90), had eleven children; seven of them survived childhood, although one son died at the age of eighteen. After Rachel's death Peale married Elizabeth De Peyster (1765-1804), with whom he had another seven children, five of whom lived to become adults. Peale's third wife, Hannah More (1755-1821), helped him raise his youngest offspring.
Six of Peale's sons were named for Renaissance and Baroque painters: Raphaelle (1774-1825), Rembrandt (1778-1860), Rubens (1784-1865), two sons named Titian (1780-98 and 1799-1885), and Vandyke Peale (1792-94). The first three became important painters in their own right, while Titian the second became an artist and naturalist. Three of Peale's daughters were named for important painters: Angelica Kauffman (1775-1853), Sophonisba Angusciola (1786-1859), and Rosalba Carriera (1788-90), who died in childhood. Two of Peale's sons were given scientific names: Benjamin Franklin Peale (1795-1870), called Franklin, was named for the artist's close friend; Charles Linnaeus Peale (1794-1832) was named for the famous Swedish botanist and zoologist.
Peale's oldest son, Raphaelle, celebrated as the first professional American still life painter, was not as successful as his father or his brother Rembrandt. Raphaelle displayed his work for the first time in the 1795 exhibition at the Columbianum, showing seven still lifes and five portraits. Raphaelle's most famous canvas may be his 1822 trompe l'oeil close-up of a white cloth with sharp creases titled Venus Rising from the Sea – A Deception (After the Bath). It includes a feminine arm and long blonde hair above the cloth and a dainty bare foot below it, suggesting a female nude hidden just out of sight.
Rembrandt Peale in His Father's Footsteps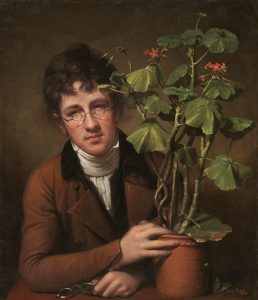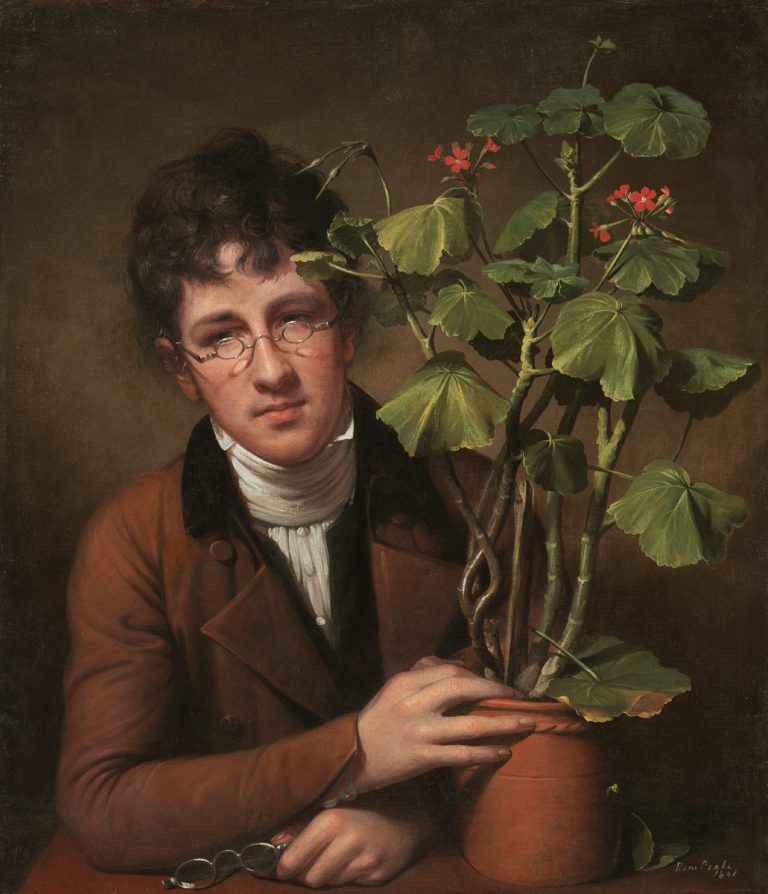 The portraitist Rembrandt Peale, considered the best painter among Peale's sons, sketched George Washington while the president sat for his father. His "porthole" portraits of the president, bust-length portraits framed within a painted stone oval, including the iconic Patriae Pater (c. 1824), represented an important addition to America's national iconography. Rembrandt painted Thomas Jefferson (1800 and 1805), Napoleon Bonaparte (1811), and other wealthy sitters, as well as self portraits and images of family members. His most interesting portrait, Rubens Peale with a Geranium (1801), is a double portrait of man and plant.
Like his father, Rembrandt was a founder of the Pennsylvania Academy of the Fine Arts. He also followed in his father's footsteps as a museum entrepreneur, establishing Peale's Baltimore Museum and Gallery of Fine Arts in 1814. Its collections of paintings by Rembrandt Peale and other artists were displayed alongside specimens of natural history, including the mastodon skeleton exhumed in 1801.
Although he became known for his still life paintings, Rubens Peale had weak eyesight and poor health in childhood; he was interested in botany and did not originally plan to become a painter. From 1810 to 1821 he served as director of his father's museum in Philadelphia, moving to Baltimore in 1821 to help his brother Rembrandt manage the museum there. In 1825 Rubens opened his own museum in New York City, which he called the New York Museum of Natural History and Science. The museum failed after the Panic of 1837, and Rubens moved to the Pennsylvania countryside. After living as a gentleman farmer for twenty-some years, he returned to Philadelphia in 1864. There he studied painting with his daughter Mary Jane (1827-1902) and with Edward Moran (1829-1901), a member of another important artistic Philadelphia family. Most of Rubens' still life paintings were created in the last decade of his life.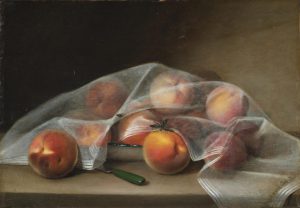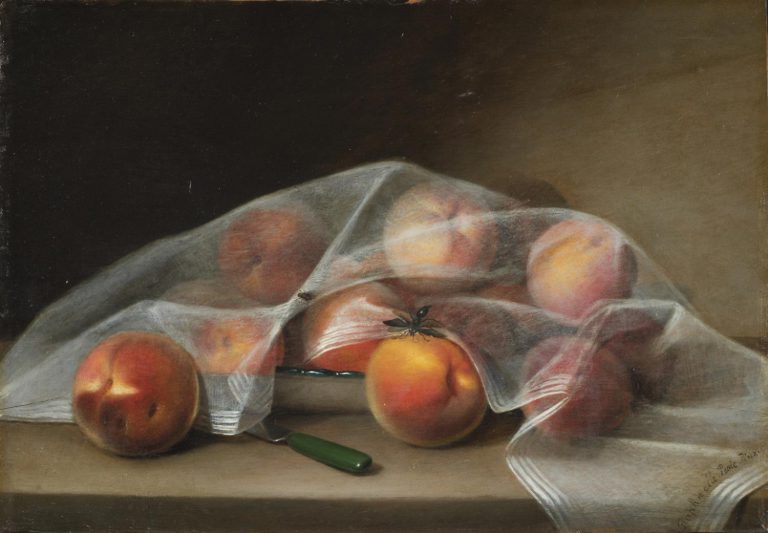 Titian Ramsay Peale, Charles' youngest son, was an artist, naturalist, and photographer. Named for an older brother who died the year before he was born, Titian was the only professional naturalist in the family. He documented animals and scenery in watercolors on an 1819 expedition to the Rocky Mountains. Titian's drawings were published in American Entomology (1824-28) by Thomas Say (1787-1834) and American Ornithology (1825-33) by Charles Lucien Bonaparte (1803-1857), a nephew of Napoleon (1769-1821). An interesting watercolor titled The Long Room (1822) depicts his father's Philadelphia museum, then located on the second floor of Independence Hall.
A Broad Family Dynasty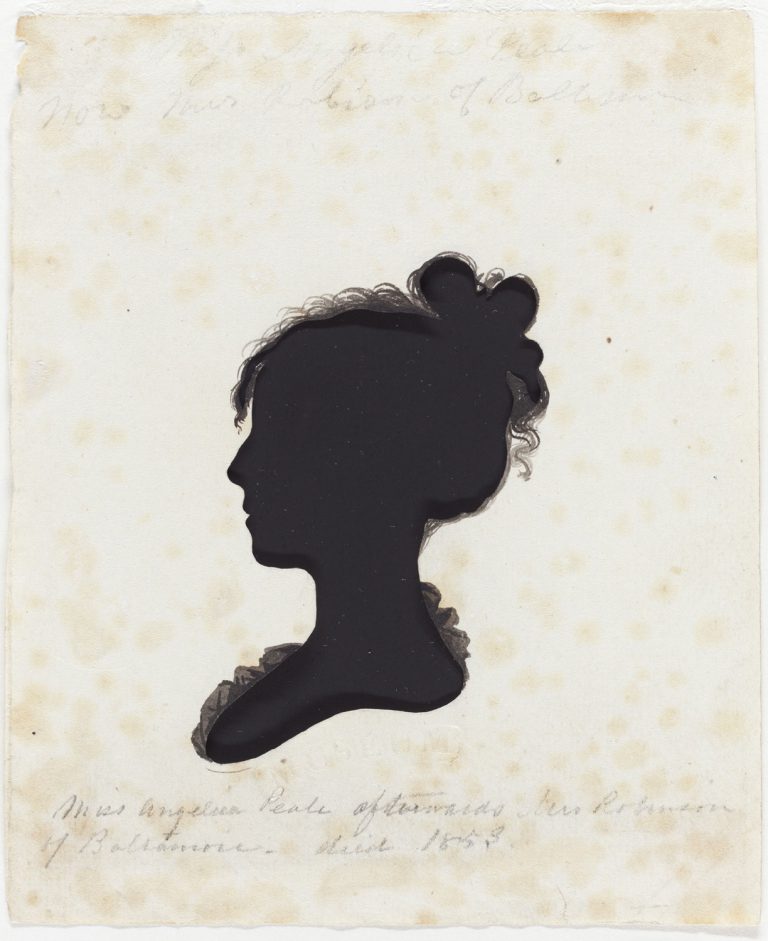 The Peale dynasty included siblings, their children, and a slave. Charles Peale Polk (1767-1822), Charles Willson Peale's nephew, was born in Annapolis, Maryland, and lived with his uncle after his parents died. Peale raised him and trained him as a painter. Polk is known for the portraits he made in Philadelphia, Baltimore, and Washington, D.C., although his career as an artist alternated with jobs in house and sign painting, dry goods, shipping, and a clerkship in the U.S. Treasury Department. Polk's portraits are less sophisticated than those by his uncle and cousins.
Moses Williams (1777-ca.1825), a slave raised in Peale's household, was trained in taxidermy and the use of the physiognotrace, a device used to create portrait silhouettes. Even after his manumission at the age of twenty-eight, Williams continued working at Peale's Philadelphia museum, where he excelled in the art of making silhouettes. A number of Williams's silhouettes, including those of Charles Willson Peale and some of Peale's adult children, were acquired by the Philadelphia Museum of Art and the Library Company of Philadelphia.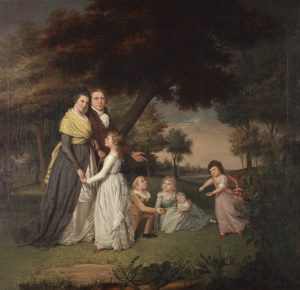 Charles Willson Peale's younger brother James (1749-1831), best known for his portrait miniatures that were usually painted in watercolor on ivory, also painted larger portraits, still lifes, and a few landscapes and historical subjects. A portrait by Charles, James Peale Painting a Miniature (c. 1795), shows him at work. Charles painted James again later in life, in a canvas called The Lamplight Portrait (1822); in the later work he is shown studying a portrait miniature of a woman. James was the father of one son and five daughters, most of them shown in his outdoor family portrait The Artist and His Family (1795).
Considered the first professional American woman artist, Sarah Miriam Peale (1800-85), James' youngest and most talented daughter, established her reputation for portraits of political leaders including Senator Thomas Hart Benton (1782-1858), painted in 1842, and the Marquis de Lafayette (1757-1834), painted in 1825 (location unknown). Sarah worked in Baltimore with her cousin Rembrandt Peale in 1818, 1820, and 1822, and moved there in 1825. During her Baltimore years, she created over one hundred commissioned portraits including the noteworthy publisher Fielding Lucas Jr. (1781-1854), painted c. 1835-40, and José Sylvestre Rabello (1807-91), the first Brazilian chargé d'affaires in the United States, painted in 1826. Sarah also made occasional visits to Washington, D.C., for portrait commissions. In 1847, she moved to St. Louis, where she earned her living entirely through her art for thirty years. She returned to Philadelphia in 1878 to spend her later years with her sisters.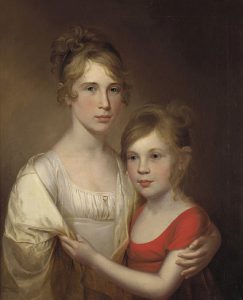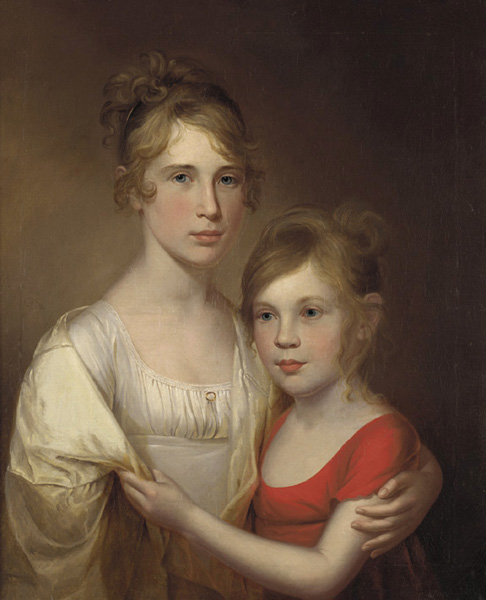 Four other siblings painted, although their work and professional careers were less impressive. The most talented was Anna Claypool Peale (1791-1878), who painted portrait miniatures and still lifes. Visiting Washington, D.C., several times between 1818 and 1820, she painted such eminent citizens as James Monroe (1758-1831), Henry Clay (1777-1852), and Andrew Jackson (1767-1845), painted in 1819. Margaretta Angelica Peale (1795-1882) and Maria Peale (1787-1866) painted still lifes and an occasional portrait, but very few of Maria's paintings remain extant. James Peale Jr. (1789-1876) painted still lifes, landscapes, and marine subjects; as with Maria, only a few of his canvases are known today.
The Peale family of painters continued into a third generation with the daughters of Rembrandt and Rubens. Rembrandt's daughter Rosalba Carriera (1799-1874), named for a Rococo painter from Venice (as well as for an aunt who died young), painted landscapes as well as portraits. She also explored printmaking, a medium popular with nineteenth-century artists. Rembrandt's daughter Emma Clara (1814-82) was a recognized Philadelphia painter during her lifetime, and her twin brother Michael Angelo (1814-33) intended to become an artist but died young. Rembrandt's second wife, Harriet Cany Peale (1800-69), was initially his student; she continued to paint portraits and still lifes, and to copy paintings by her husband, after their wedding.
Rubens' only daughter, Mary Jane Peale (1826-1902), was the last living artist in this notable family. She studied painting with her uncle Rembrandt—who created a beautiful portrait of her as a girl—and with the Philadelphia painters Thomas Sully (1773-1872) and James Reid Lambdin (1807-89). Mary Jane painted still lifes and an occasional portrait. Her most interesting painting may be a small interior scene depicting her elderly father working at his easel.
Mary Jane Peale's death, announced by the New York Times in 1902, signaled the end of the Peales' reign as Philadelphia's first family of painters. For over a century the influence of the Peale family was felt in the city's art world, its museums and other cultural institutions, and by the wealthy citizens who purchased their work, and left a legacy for the region and the nation.
Kate Nearpass Ogden, Professor of Art History at Stockton University in Galloway, New Jersey, received her Ph.D. from Columbia University. Her publications have focused on nineteenth-century American painting and photography.
Copyright 2016, Rutgers University