Pennsylvania Impressionism
Essay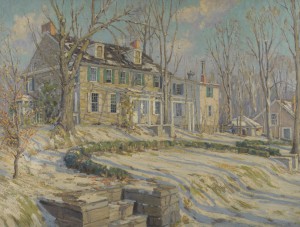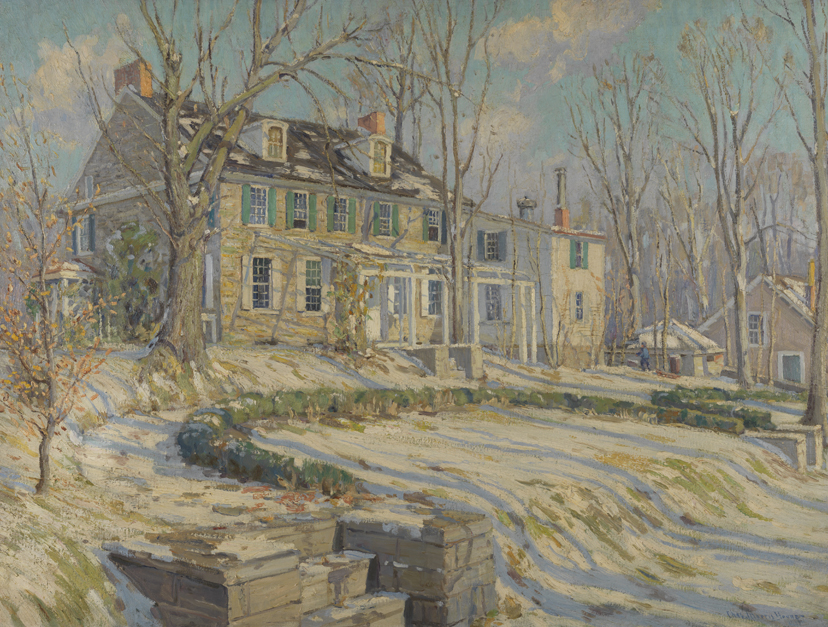 Pennsylvania Impressionist painting flourished in eastern Pennsylvania in the first half of the twentieth century. Often referred to as the "New Hope School" because artists in Bucks County produced the best-known works, the style was also practiced vigorously in Montgomery, Chester, Delaware, and Lehigh Counties, and key artists of the movement taught at the Pennsylvania Academy of the Fine Arts in Philadelphia. In comparison to the impressionism being practiced in other parts of the United States, Pennsylvania Impressionism was characterized by its thick brushwork and its almost single-minded focus on landscape painting.
Pennsylvania Impressionism began with the settlement of the painters William Langson Lathrop (1859-1938) and Edward Redfield (1869-1965) in the picturesque village of New Hope, along the banks of the Delaware River, in 1898. Within a few years, these two men had gathered around themselves a group of artists who sought to combine the innovations of the French Impressionists, especially their interest in capturing light and plein-air painting—or painting outdoors—and their focus on the themes of everyday modern life, with an interest in American subject matter. Walter Elmer Schofield (1867-1944), George Sotter (1879-1953), and Henry Snell (1858-1943) visited Lathrop and Redfield in New Hope as early as 1902; and Daniel Garber (1880-1958) bought a house in Lumberville, just north of New Hope, in 1907, having discovered the property with the help of Will and Annie Lathrop. These artists were inspired by the relatively unspoiled landscape of Bucks County. They painted this section of the Delaware River Valley in all weather and in all seasons, each in his own unique way, but they were especially fond of depicting the area as it looked in winter.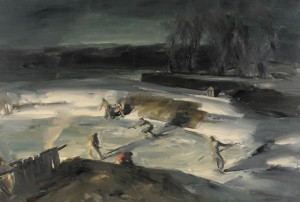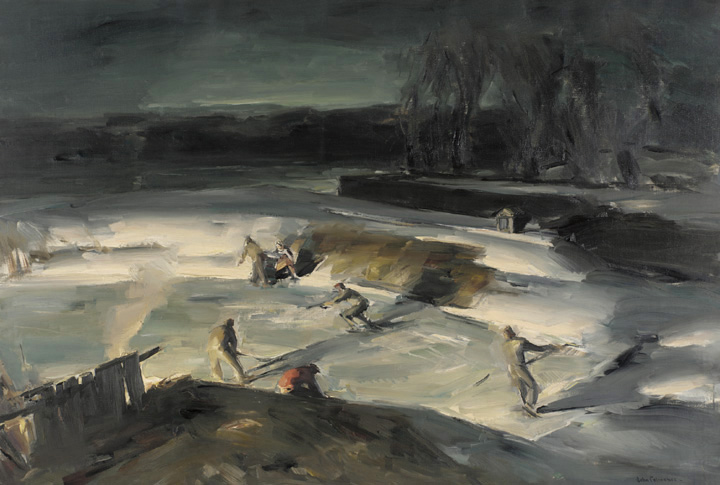 By 1915, when the New Hope art colony was at the height of its fame, Garber and Lathrop were nationally famous as teachers. Redfield's habit of lashing a canvas to a tree during a winter storm, or of standing in knee-deep snow while he completed a canvas at one go became the stuff of legends. Garber and Lathrop received gold medals at the Panama-Pacific International Exposition of that year in San Francisco, and Redfield was given an entire room at the same exhibition, in which he exhibited 21 paintings. By that time, the group had come to include such luminaries as Robert Spencer (1879-1931), Rae Sloan Bredin (1881-1933), Fern Coppedge (1883-1951), Mary Elizabeth Price (1877-1965), John Folinsbee (1892-1972), and Harry Leith-Ross (1886-1973). This group of painters expanded the repertoire of the New Hope School by exploring brighter colors—as Coppedge did­­—and by delving into nighttime scenes—as did Folinsbee—and Spencer's views of factories and tenement buildings.
The Darby School of Art
Pennsylvania Impressionism was also practiced seriously in the early twentieth century at Fort Washington, for instance, between 1900 and 1918. Thomas Anshutz and Hugh Henry Breckenridge (1870-1937) ran a summer art program called the Darby School of Art, which specialized in landscape painting in the impressionist mode. One of the Darby School's first students was Daniel Garber. Another student was Maude Drein Bryant (1880-1946), who went on to become a key figure in the "Philadelphia Ten," a powerful group of women artists who exhibited together from 1917 to 1945. Bryant eventually settled in Hendricks, Pennsylvania, in Upper Salford Township, and spread an appreciation for impressionism throughout upper Montgomery County.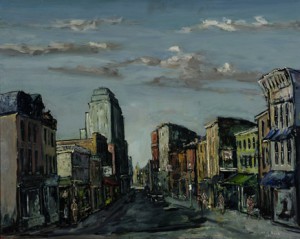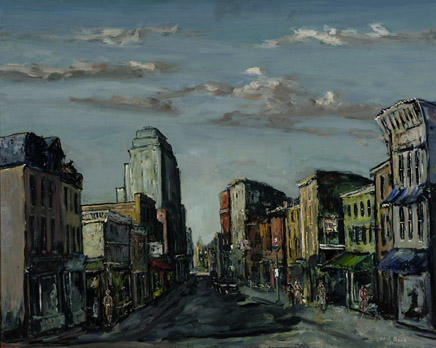 Pennsylvania Impressionism also thrived in Lehigh County, thanks to the efforts of Walter Emerson Baum (1884-1956), a Bucks County native who eventually founded the Allentown Art Museum and the Baum School of Art in Allentown. And Chester County became a locus of Pennsylvania Impressionism, too, when the Pennsylvania Academy of the Fine Arts set up its country school in Chester Springs, in 1917. Daniel Garber taught at Chester Springs, and some of the artists who came under his influence there included Mildred Bunting Miller (1892-1964), Grace M. Green (1904-1978), and Charles Morris Young (1869-1964). These artists worked in a style that often approached Fauvism, with its emphasis on bright and sometimes arbitrary color, but they stayed true to the Pennsylvania Impressionist preference for landscape paintings done with the same thick brushwork favored by the founders of the movement.  
The work of the Pennsylvania impressionists gradually went out of fashion in the 1930s and 1940s, giving way to modernist styles such as abstraction and cubism. It has regained popularity among collectors in recent decades, and their work has been the subject of a number of museum exhibitions and scholarly studies in the last few years. The exhibition entitled "Pennsylvania Impressionism," which was held at the Michener Museum in Doylestown, Pennsylvania, in 2002 was accompanied by a catalog containing groundbreaking essays by Brian Peterson, William Gerdts, and Sylvia Yount.
Pennsylvania Impressionism tends to be more "American" than other branches of American Impressionism, partly because it celebrated the American landscape so vigorously, and partly because it always retained the careful draftsmanship that most of its practitioners had learned at the Pennsylvania Academy of the Fine Arts. It was a hybrid of French and American ideas, and not a wholesale adoption of European ideas—as Boston and New York Impressionism were. Pennsylvania Impressionism helped Americans to become familiar with, in a gradual way, the many new artistic ideas that were coming from Europe in the late nineteenth and early twentieth centuries.
Mark W. Sullivan earned a Ph. D. in Art History from Bryn Mawr College and specializes in American art and architecture. He has just published Picturing Thoreau: Henry David Thoreau in American Visual Culture (Lanham, Md.: Lexington Books, 2015), and is writing a book on Thomas Anshutz and Hugh Breckenridge, whose Darby School of Art in Fort Washington, Pennsylvania, was an important factor in the development of Pennsylvania Impressionism and American modernist painting.
Copyright 2015, Rutgers University