Philadelphia Cream Cheese
Essay
Although not made or invented locally, Philadelphia Cream Cheese reflects the region's agricultural history and reputation as a purveyor of fine foods. Established by a New York distributor of dairy products in 1880, the brand came to be owned by the Kraft Heinz Company of Pittsburgh and Chicago. Nevertheless Philadelphia, printed in blue capital letters on foil wrapping and on the lids of little plastic tubs, spread across the globe on packaging for the industry leader in cream cheese.
Although Philadelphia did not directly give birth to the brand, the city had an association with uncured, highly perishable cream cheese that dated to at least the early nineteenth century. Knowledge of the product came to the region from England, where cream-based cheeses were popular with the upper class. Early farmers around Philadelphia raised cattle more for beef than for dairy purposes, but rural women often made cheese and butter from the milk of their cows. Even before refrigeration, these goods could be taken quickly to market in nearby Philadelphia via the network of roads and turnpikes developed by the nineteenth century. Some hard cheeses could be exported, but the more delicate cheese made from cream had a very short shelf life, which prevented it from traveling beyond the immediate region.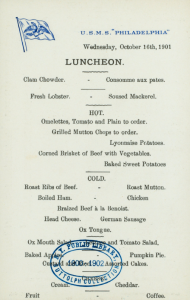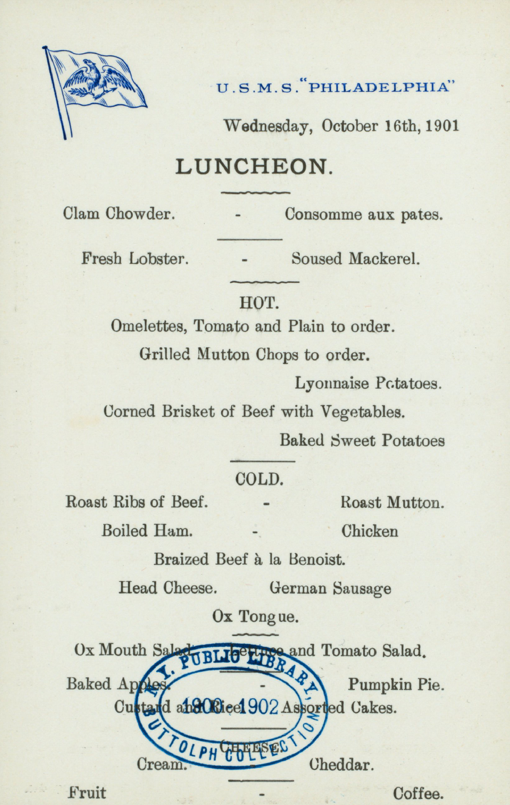 Because cream cheese had such a limited range of distribution, Philadelphia became one of the few places where it could be found. Expensive and rare because of its production in very small batches, cream cheese drew the notice of early nineteenth-century visitors who commented on the novelty and pleasure of sampling Philadelphia's delicacy. The city's association with the product grew as travelers wrote about their experiences and as local publishers of newspapers, books, and magazines printed recipes for how to make cream cheese. After railroads extended the range of markets and reduced travel time beginning in the 1830s, the fine cheese from Philadelphia could travel a bit farther, to New York City. While farmers in outlying New York counties also made cream cheese, fine restaurants and markets in Manhattan offered "Philadelphia cream cheese" to their customers.
The branding of Philadelphia Cream Cheese reflected this early history, but only because a New York cheese distributor cashed in on the cachet of the city's reputation. In the late nineteenth century, Americans who aspired to high social status hungered for luxury foods. At the same time, production of cream cheese and demand for it increased as cheese making shifted from home production to factories. The first modern cheese factories opened in New York, where dairy farming had expanded substantially after completion of the Erie Canal in 1825 linked New York City with the interior. Among the many cheese factory operators of New York, dairy farmer William A. Lawrence (1842-1911) opened his facility in 1862 in Orange County. Prompted by a request from an upscale grocer in New York City, in 1875 he became the first to factory-produce cream cheese. Then, in 1880, he joined forces with distributor Alvah Reynolds (1830-1925), who came up with a brand that he felt would associate Lawrence's product with high-quality foods: Philadelphia Cream Cheese. Reynolds himself manufactured Philadelphia Cream Cheese from 1882 until 1903, then sold the brand to the Phenix Cheese Company of New York. In 1928, Phenix merged with Chicago-based Kraft Foods, which through another merger in 2015 became Kraft Heinz.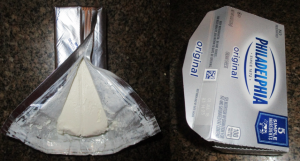 As the ownership of the Philadelphia Cream Cheese brand changed, so did the nature of cream cheese. No longer rare because of mass production, cream cheese became an everyday food item instead of a luxury. While still asserting the richness and pleasure of tasting cream cheese, the Phenix Cheese Company and Kraft marketed their brand as a healthful, family-friendly food. Advertisements taught consumers that cream cheese could be enjoyed not only by itself but as an ingredient that might be spread on toast or incorporated into recipes. In some respects, despite name on the dominant brand, cream cheese became indelibly associated with New York because of its pairing with bagels and use as an ingredient in New York-style cheesecake. But the Philadelphia brand also expanded nationally and internationally after stabilizer ingredients introduced in the late 1920s made it possible for Kraft to package cream cheese in foil-wrapped blocks and distribute it widely. By the end of the twentieth century, Philadelphia Cream Cheese could be found in a proliferating array of flavors and products around the world.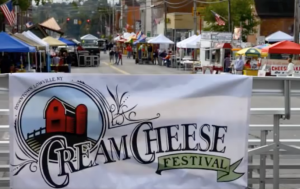 Under the ownership of Kraft Heinz, in the twenty-first century Philadelphia Cream Cheese continued to be manufactured in a factory in Lowville, New York, in the state where the brand originated, and the people of Lowville organized an annual Cream Cheese Festival to celebrate their local product. The parent company, meanwhile, celebrated Philadelphia through promotions including a video contest, "The Real Women of Philadelphia," and advertising slogans like "It Must Be Philly." Mostly by name alone, but also by benefit of its agricultural history, Philadelphia reigned as the world's leader in cream cheese.
Charlene Mires is Professor of History at Rutgers-Camden and Editor-in-Chief of The Encyclopedia of Greater Philadelphia.
Copyright 2018, Rutgers University
Backgrounders
Connecting Headlines with History