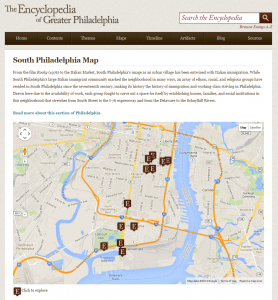 Welcome to the newly enhanced Encyclopedia of Greater Philadelphia! As you explore our website, you will discover an array of new features and pathways for exploring our growing project. This enhanced digital platform builds upon suggestions from our users and partners, and it will allow us to continue to expand and take greater advantage of the capabilities of digital publishing.  Take a look around!
Browse by geography. Explore topics through maps of sections of Philadelphia and counties in the region.
Browse by time period. Go to the timeline and link to any of our nine time periods. For each, you'll find related topics as well as a more detailed timeline, an image gallery, topics on a map, links, and a related reading list.
Connect headlines and history. We have partnered with WHYY NewsWorks to make connections with the news through the Backgrounders feature on our home page and on individual topic pages.
Enhanced topic pages. We have improved our design and added links to additional digital resources so that each essay serves as a topical hub to resources throughout the region.
New theme pages.  Our featured essays on themes such as "City of Brotherly Love" and "Workshop of the World" now have an enhanced presence on pages that also feature related topics, timelines, maps, and image galleries.
Author index. At a glance, this page displays biographical information about our authors and provides links to their essays.
Greater coverage. With the addition of timelines for themes and time periods, we provide a more comprehensive chronology of the region.
Greater accessibility. We have sharpened our typography to make the text more readable for individuals with low vision, and we have implemented other accessibility features.
More to come. Our site also enables browsing through artifacts, and we are working with the Philadelphia History Museum to add objects using virtual-reality photography.  Also watch for additional maps and, of course, more topics as we continue to build The Encyclopedia of Greater Philadelphia. For all of this, we extend thanks for the participation of our users and partners and for the work of our digital publishing team. Implementation of the enhanced website, created in partnership with the Roy Rosenzweig Center for History and New Media at George Mason University, was made possible by a generous grant from the William Penn Foundation to the Mid-Atlantic Regional Center for the Humanities (the institutional home of the Encyclopedia). Concept designs, funded by a planning grant to the University of Pennsylvania Press by the Barra Foundation, were created by Brian T. Jacobs with input from participants in THATCamp Philly.