On March 21 during Rutgers Giving Day, scholars, students, community members, and staff came together to support The Encyclopedia of Greater Philadelphia, produced by the Mid-Atlantic Regional Center for the Humanities (MARCH) at Rutgers-Camden.
The dedication of all who donated and promoted our cause through social media is truly inspiring. Your generous contributions will be used to employ the students who help to make digital publication of The Encyclopedia possible. Keep an eye on our website or like us on Facebook to watch our essay collection grow!
We are so grateful for the opportunity to continue producing original scholarship and making it accessible to readers like you. Thank you!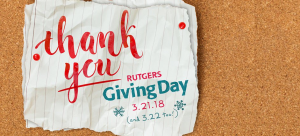 P.S. Missed your chance to donate on Giving Day? Make a gift to support The Encyclopedia today!