King of Prussia, Pennsylvania
Essay
Twenty miles northwest of downtown Philadelphia, where the Pennsylvania Turnpike converges with the Schuylkill Expressway, a sleepy rural town clustered around a colonial-era tavern expanded massively in the twentieth century to become the region's largest employment hub outside of Center City Philadelphia. Its suburban location in fast-growing Montgomery County proved irresistible to real estate developers in the 1950s, when highway builders added the turnpike-expressway interchange to the area's already-existing connections to two national routes slated for significant upgrades: U.S. Route 202 running north-south and U.S. Route 422 stretching west into Ohio. Although built as an auto-dependent suburb, King of Prussia in the twenty-first century fell increasingly under the influence of new urbanist preferences for a higher-density grid pattern and transportation options that accommodated pedestrians, bicyclists, and transit users.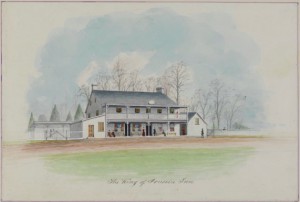 King of Prussia's name comes from an inn and tavern opened in 1769 in a converted farmhouse originally built by Welsh Quakers in 1719. The owner named his tavern to honor King Frederick II of Prussia, an eighteenth-century monarch who opposed Britain's imperial ambitions. The business prospered because its location stood at a crossroads exactly one day's travel from Philadelphia by horse, a favored position further boosted with the arrival of a rail connection to the Pennsylvania and Reading railroads. By 1850, both the inn and the place were called King of Prussia. By the twentieth century, its size warranted its own zip code (19406) and post office, but King of Prussia existed as an incorporated governmental jurisdiction in Upper Merion Township, not a separate town. In this edge city, so-called because of its replication of historically central city functions in a previously rural area, the King of Prussia Business Improvement District established in 2010 became the closest thing to a governing framework through its work to enhance the commercial environment and to influence township policies on zoning, planning, taxes and transportation issues.
King of Prussia Business Park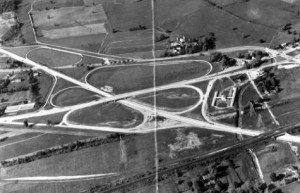 Highway construction in the mid-twentieth century set the stage for King of Prussia's rapid development into an edge city. The Pennsylvania Turnpike, constructed from west to east across the state, arrived at Valley Forge in 1950, and by 1954 it extended eastward to the Delaware River. Almost at the same time Philadelphia was building its Schuylkill Expressway, which fully opened in 1958. That same year, spurred by the turnpike's arrival near King of Prussia, Boston developer Cabot, Cabot & Forbes acquired rights to 710 acres north of the turnpike interchange and began signing up companies like Western Electric, Smith Kline and French, Merck Sharp and Dohme, and Pennwalt to occupy warehouses, office buildings, and factories. Since the highway interchange made it a reasonable commute from many other suburban communities, jobs quickly multiplied in what was then called the King of Prussia Industrial Park (later known as the Business Park). While some companies came from outside the region, others moved from Philadelphia to this convenient suburban location. For example, General Electric in 1962 relocated a major division from West Philadelphia to King of Prussia.
Subsequently the business park hosted software, biotech, pharmaceuticals, medical devices, finance, and insurance firms. From the beginning it welcomed defense contractors, one of which became the target of a famous anti-war protest by the Plowshares Eight. In September 1980 antiwar activists Daniel (1921-2016) and Philip (1923-2002) Berrigan with a half dozen other protesters illegally entered the General Electric plant in King of Prussia, vandalized the nose cones of several nuclear warheads being assembled there, and poured blood on company documents. Their arrest and trial sparked the Plowshares Movement, which grew into an international Christian peace movement. The business park continued to house numerous defense-related firms, most notably Lockheed Martin Space System Company, which took over the General Electric facility through corporate mergers.
King of Prussia Mall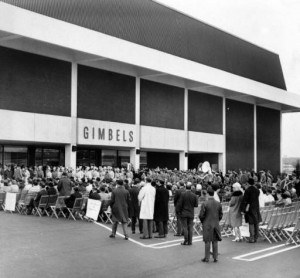 To the average resident of the Philadelphia region, King of Prussia became known even more for its retailing than for its industrial production. The Kravitz Company began building its first-generation mall near the highway interchange in 1963. That early outdoor mall consisted of a strip of anchor stores (Korvette 1962, JC Penney 1963, John Wanamaker 1965, Gimbels 1966) around an Acme supermarket, along with a cluster of smaller specialty shops. Starting from that mid-market retail cluster intended to serve middle-income households, the mall gradually shifted toward luxury goods for higher-income shoppers. This evolving business strategy reflected the mall's location in a favored part of the region where high-paying jobs abounded.
As early as 1970 the mall added an enclosed arcade to provide some indoor shopping at what came to be known as "The Plaza." Then, in 1981, a second complex called "The Court" opened, adding upscale stores including Bloomingdale's and Abraham and Strauss. The Court signaled the developers' effort to rebrand King of Prussia as a higher-end shopping location for the increasingly affluent population living in the area. In a subsequent upgrade during the 1990s, the owner added nearly a million square feet to the older Plaza to make it the second largest mall in the United States, behind only the Mall of America in Minnesota. The renovations of the 1990s made room to add increasingly pricey shops to the existing retail mix, leading locals to distinguish between the "poor mall and the rich mall" because different sections of King of Prussia attracted different customers.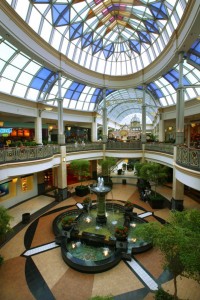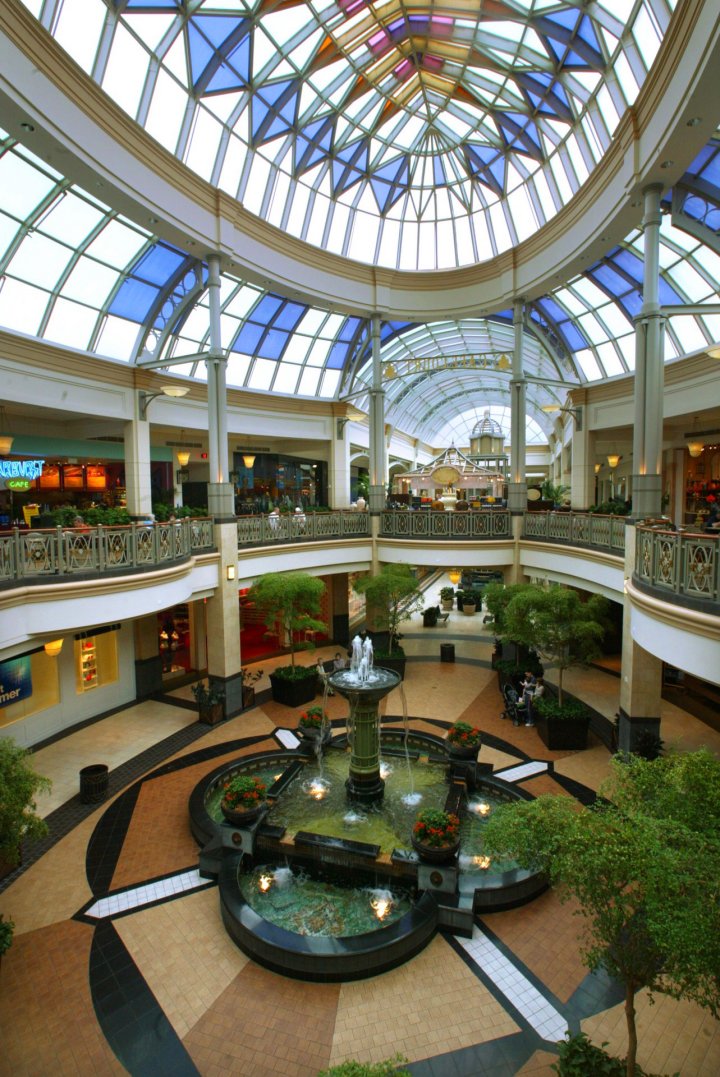 In 2003 a major retail developer based in Indianapolis, the Simon Property Group, bought a controlling interest in the King of Prussia Mall. The Simon Group continued upgrading the property to provide the largest collection of luxury retailers in the region (for example, Neiman-Marcus, Nordstrom, Tiffany's, and Hermes). Additional renovations done in 2016 included an indoor heated connector between the two main shopping centers—The Plaza and The Court—to tie them into a single complex while simultaneously adding fifty new stores and restaurants. The resulting three million square feet of mall space was projected to serve twenty-six million visitors a year, about one-fifth of them tourists in the region. Interestingly, that renovation sacrificed four hundred parking spaces, signaling a shifting vision for the edge city as a place that would also be reached by public transportation.
Coping With Congestion
King of Prussia's history of reliance on the automobile made congestion on local roads a major problem for daily commuters, shoppers, and even tourists visiting nearby Valley Forge National Historical Park. Regional transportation planners and township zoning officials took steps to reduce dependence on automobiles and encourage people to live near their workplaces. With the closest rail station located two miles away from the mall, bus service on congested roads offered the only transit option, especially frustrating to the large number of transit-dependent riders commuting daily from Philadelphia to jobs in King of Prussia. To address this problem, SEPTA reviewed proposals for a five-mile rail extension to bring the Norristown High Speed Line into the core of King of Prussia, winding through the high-end stores, chain restaurants, and offices, with stops in both the shopping mall and business park. Construction was projected to start in 2020, with a cost exceeding one billion dollars.
As part of a broader movement to create a more traditional urban environment, Upper Merion Township rezoned the Business Park in 2014 to foster mixed uses and more compact development, to reduce parking requirements, and to promote pedestrian-friendly designs. The new guidelines authorized multifamily residential developers to build as many as thirty units per acre. Over time, plans called for replacing existing buildings with multipurpose structures to house people as well as businesses, restaurants and shops, allowing residents to live near their work.
That trend continued in plans to develop the last major open parcel, a former golf course west of the mall, as the Village at Valley Forge, centered on a "lifestyle shopping mecca" with streets laid out in a walkable grid pattern, sidewalk cafes, living spaces built above stores and restaurants, and a town square area for programming public events like yoga sessions and movie nights for families. Beyond that core, additional elements of the new Village at Valley Forge were to include hotels and a conference center along with a new surgery center for Children's Hospital of Philadelphia. This ambitious plan prompted some critics to question whether the area really needed more shopping, restaurants, and services. Wouldn't that simply worsen congestion?
Despite spirited debate, it should not have surprised critics to see township officials approve the plans. Ever since the highway cloverleaf triggered new development in the late 1950s, Upper Merion Township's government mostly maintained a pro-development stance, largely because new investment generated enough tax revenue to allow the township to keep its residents' property taxes among the lowest in the region.
Carolyn T. Adams is Professor Emeritus of Geography and Urban Studies at Temple University and associate editor of The Encyclopedia of Greater Philadelphia. (Author information current at time of publication.)
Copyright 2016, Rutgers University