Essay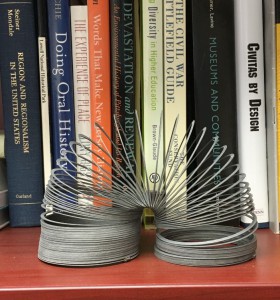 Invented by accident in a Philadelphia shipyard, the Slinky is a stack of coiled metal that becomes a bit of oscillating magic, a moving, traveling toy perfect for flipping head-over-heels to "walk" down stairs. Always made in Pennsylvania, the Slinky became standard-issue equipment for generations of American children and a familiar, fun plaything for grown-ups as well.
The creator of the Slinky, Richard James (1914-74), did not set out to invent a toy. In 1943, four years after he earned a mechanical-engineering degree from Pennsylvania State University, James was working at the Cramp Shipbuilding Co. on the Delaware River. While trying to devise a spring to keep sensitive shipboard equipment from jostling on the high seas, he experimented with hundreds of coils. One day, a reject fell and shimmied around the floor, and the idea for a toy was born. For the next two years, James tested metals and proportions before hitting upon a workable model. He asked his wife, Betty (1918-2008), to name it. She leafed through a dictionary and picked "slinky," meaning graceful in movement.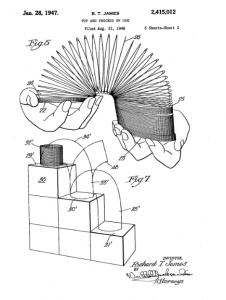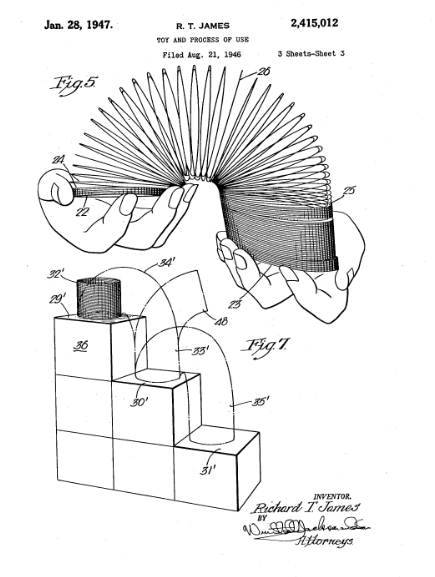 James had a Philadelphia piston-ring firm make about 450 Slinkys, and a big break came in 1945 when Gimbels department store, a giant of the Market Street East retail corridor, agreed to try out the Slinky during the Christmas rush. On the evening of November 27, 1945, James showed shoppers how the Slinky could walk down an incline. His stock of 400, priced at $1 each, sold out in ninety minutes.
The Jameses rented factory space in Germantown, where the new James Industries operated six machines turning out 100 Slinkys an hour. Later, production moved to Clifton Heights in Delaware County.
By 1960, though, the company was struggling with sagging sales and debt. Richard James shocked his family by announcing that he was going to Bolivia to join the evangelical Wycliffe Bible Translators. He left behind the business, his wife, and six children aged 2 to 18. He died in South America in 1974.
Betty James said her husband had donated so much money to the religious group that they were almost bankrupt. But in running the company alone, she forged a path for female CEOs. In 1963, she mortgaged her house to push the Slinky at the New York Toy Fair, attracting new orders and attention. Her embrace of national advertising made the Slinky jingle familiar:
What walks down stairs
alone or in pairs
and makes a slinkety sound?
A spring a spring,
a marvelous thing.
Everyone knows it's Slinky.
Production of the Slinky moved to Hollidaysburg, Pennsylvania, in the mid-1960s. Betty James added Slinky Junior, plastic versions, and rainbow colors, and she agreed to Slinky Dog's inclusion in the 1995 Toy Story movie, which brought new sales. In 1998, she sold the company to Poof Products of Plymouth, Michigan, and in 2014 that firm and two others merged to become Alex Brands, headquartered in Fairfield, New Jersey. Betty James died in Philadelphia at age 90 in 2008.
By 2015, an estimated 350 million Slinkys had been sold worldwide. A standard Slinky cost $4.99, but buyers did not have to settle for steel: a 14k-gold-plated version was available for $149.99.  The Slinky walked on the Great Wall of China and rocketed into space aboard the shuttle Discovery. Classroom teachers used the Slinky to demonstrate friction, inertia, and momentum. Physicists experimented with the Slinky for its reactions to gravity, and math teachers have used it in lessons about equilibrium. The Slinky survived and prospered while traveling the globe, the stars, and the stairways of homes across America.
Jeff Gammage is a reporter at The Philadelphia Inquirer. (Author information current at time of publication.)
Copyright 2016, Rutgers University