Essay
Convents—communities of women devoted to religious life—in the Greater Philadelphia area played a significant role in the education of youth and in social services for communities from the nineteenth century into the twenty-first century. Although some regional Catholic convents moved or closed during this time, the Philadelphia area remained strong in Catholic identity because of the continuous work of the sisters in the convents.
In the earliest Christian communities, some women devoted their lives to emulating Jesus Christ. Most of these women were virgins who saw themselves as "brides of Christ," and they wore veils as a symbol of that marriage. As they assembled in communities with their common cause, the "sisters" formed "convents," from the Latin conventus, meaning gathering or coming together. Although convents have generally been associated with Roman Catholicism, Episcopal and orthodox communities also established convents in America. In the Philadelphia area, however, Roman Catholic convents predominated.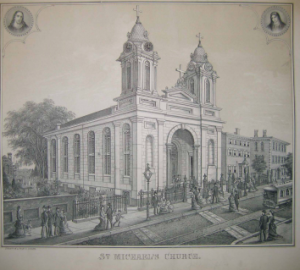 English settlement in the New World yielded a predominantly Protestant East Coast. The Quakers, who predominated under William Penn's (1644-1718) initial settlement, allowed Catholics to worship privately without government interference, but the further influx of Catholic immigrants coupled with Protestant revivalism in the early nineteenth century generated a violent anti-Catholicism. Catholic immigrants needed Catholic leadership, education, and help in all forms. The Diocese of Philadelphia, founded in 1808, developed a number of Catholic schools by midcentury, but lay people staffed most of them. Within twenty-five years, religious communities of women formed to meet the educational and social needs of the growing Catholic population. These included the Sisters of Charity of the Blessed Virgin Mary, Sisters of St. Joseph, the Glen Riddle Sisters of St. Francis, and the Sisters of the Immaculate Heart of Mary.
Due to ethnic and religious discrimination of the Irish in Philadelphia, five Irish women established the first convent in Philadelphia in 1833. A Philadelphia priest met Mary Frances Clarke (1803-87) and her four companions in Dublin and convinced them to join him in Philadelphia to set up a school. Two months after arriving in the city, the women founded the Sisters of Charity of the Blessed Virgin Mary (BVM Sisters) with the blessings of the Catholic Church. The sisters began to teach young children in a "free school" and took in sewing to supplement their income. As time passed, some of the Philadelphia sisters moved west to help teach Native Americans in Iowa. In May 1844, during a series of riots (Philadelphia Nativist Riots, also known as Philadelphia Prayer Riots, Bible Riots, and Native American Riots) resulting from anti-Catholic sentiment due to growing Irish Catholic population, anti-Catholic Nativists burned down the Philadelphia convent—Sacred Heart Academy (occupied by three sisters)— and St. Michael's Church. Most of the BVM sisters had already left Philadelphia to minister to other regions.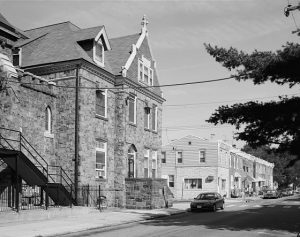 Needing help in meeting the many and growing social and educational needs of Catholics in the diocese, Bishop Francis Kenrick (1797-1863) convinced a contingent of the Sisters of St. Joseph, a religious order founded in LePuy, France, in 1650, to move to Philadelphia in the mid-1840s. The sisters began by administering St. John's Orphanage for Boys in Philadelphia. In 1858, they purchased an established estate in Chestnut Hill, which became their administrative center and the first site of Mount Saint Joseph Academy. The sisters helped immigrants with educational needs, cared for orphans and widows, and worked as nurses during the American Civil War and the influenza epidemic of 1918.
The Diocese of Philadelphia was responsible for southern New Jersey (Archdiocese of New York held northern New Jersey) until 1853, when Pope Pius IX (1792-1878) established the Diocese of Newark, which initially covered all of New Jersey. Pius also established the Diocese of Wilmington in 1868. Up until this time, Philadelphia Catholic leaders treated New Jersey and Delaware as mission areas. The Sisters of St. Joseph administered two parochial schools in Delaware, but with the establishment of the new diocese, Bishop James Frederick Bryan Wood (1813-83) recalled them to Philadelphia.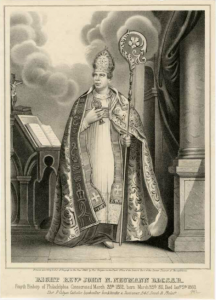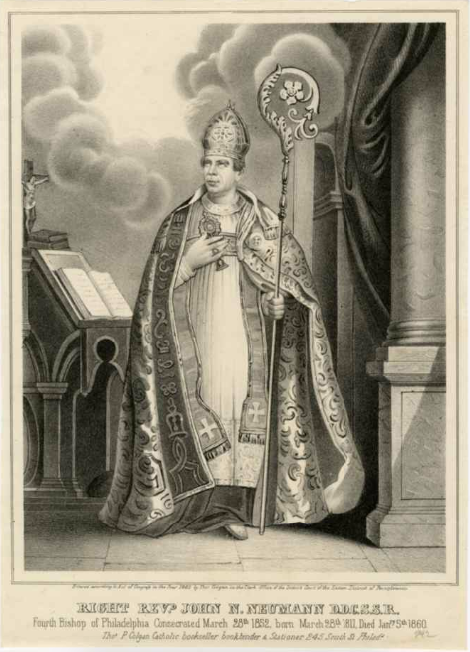 In the mid-nineteenth century, following the death of her husband, Anna (Ana Maria Boll) Bachmann (1824-63) told her parish priest her desire to enter religious life. During his visit to Rome in 1854, Philadelphia's Bishop John Neumann (1811-1860) informed Pope Pius IX about the need for sisters in his diocese. He also told the pope about Bachmann, her sister Barbara Boll, and a friend, Anna Dorn, all from Bavaria, and their desire to establish a religious community in Philadelphia. Bachmann (Sr. Mary Francis), Boll (Sr. Mary Margaret), and Dorn (Sr. Mary Bernardine) took their vows in May 1856 in Bishop Neumann's private chapel. Two years later, "Mother" Francis officially founded the Institute of the Sisters of the Third Order of St. Francis. In 1871, the Philadelphia sisters took the opportunity to purchase the "Little Seminary" in Glen Riddle, Pennsylvania, from Bishop Wood for $12,000. On the twenty-eight acres of land twenty-five miles southwest of Philadelphia, they made their home in old seminary buildings and founded a novitiate. The Motherhouse followed in 1896—Convent of Our Lady of Angels. In 1958, one hundred years after its founding, there were more than 1,600 Glen Riddle sisters working in grade schools and high schools, hospitals and centers of nursing, catechetical centers, and a seminary. By 2015, the congregation's numbers had dropped to about 450 Catholic women Religious.
In 1858, the Sisters of St. Francis traveled to Susquehanna, Pennsylvania, to welcome the Immaculate Heart of Mary Sisters to eastern Pennsylvania. The IHM sisters opened a mission in Reading, Pennsylvania, in 1859 with a select school for girls and a parish school for boys and girls. Reading became the motherhouse for the IHM sisters in eastern Pennsylvania from 1864-1871. From there the sisters also established schools in Philadelphia. In 1872, Bishop Wood provided a new motherhouse and novitiate in West Chester. In October of that year, the Convent of the Immaculate Heart of Mary in West Chester held its first reception of seven novices. At the same time, the sisters opened a school in St. Agnes Parish (established 1793), West Chester.
Episcopal female communities established themselves in America as early as the Roman Catholic convents did, but there were considerably fewer of them. Although none developed directly in the Philadelphia area, the Community of St. John the Baptist Episcopal Sisters came to America in 1874 (founded in England 1852) and built a convent in New York three years later. Since 1900, they have continued an active ministry in Mendham, New Jersey. Orthodox women's communities developed much later. The Antiochian Orthodox Christian Archdiocese of North America, centered in Englewood, New Jersey, founded its first Monastery for Nuns, the Convent of St. Thekla, in Glenville, Pennsylvania, where nuns have prayed for the salvation of the world and led a life of repentance. The convents varied in purpose and function—from active ministry to contemplative life—but the vocation of the women was to serve God.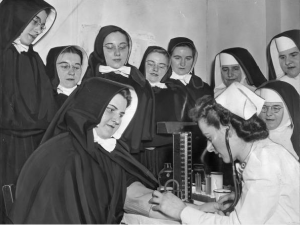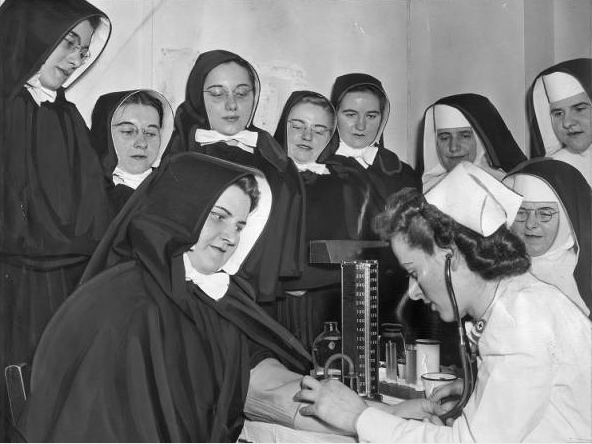 Although most Roman Catholic convents in the Philadelphia area were active within the community, other sisters lived a cloistered life. In 1915, Mother Mary Michael (1862-1934) founded the Convent of Divine Love in Philadelphia. Archbishop Edmund Francis Prendergast (1843-1918) desired to have an adoration convent in his archdiocese. The "Pink Sisters" wore rose-colored garbs with a white veil. In addition to kneeling night and day (in shifts perpetually since 1915) before the Most Blessed Sacrament, sisters made altar bread and worked as clerks and seamstresses.
Although financial deficits moved the Catholic leadership to auction off three former convents in 2013, the Archdiocese of Philadelphia, as of 2015, listed over fifty religious congregations of women (particularly along the Main Line), which included many missionary sisters and international congregations. Still, the aging population of Catholic women Religious caused concern for the Catholic Church. As of 2014, a study showed that there were more Catholic sisters in the United States over age 90 than under age 60. The history of Catholic sisters in the Philadelphia area proved significant, however, as early Catholic education led by sisters through the past two centuries helped the region to maintain a strong Catholic identity even into the twenty-first century. Through the decades, they continued their vocations in education, social services, parish ministry, aid to the poor, marginal, and oppressed, and missionary work and, and they remained on the front lines for the Catholic Church.
Brenda Gaydosh is an Assistant Professor of History at West Chester University. Her research focuses on varied aspects of the Catholic Church—from a biography about Nazi-era German Provost Bernhard Lichtenberg to how the Catholic Church has dealt with genocide. (Author information current at time of publication.)
Copyright 2017, Rutgers University