Essay
Even as Philadelphia experienced deindustrialization and decline in the 1970s, a handful of neighborhoods began to experience a phenomenon known as gentrification—a process where affluent individuals settled in lower-income areas. As middle-class residents returned, formerly moribund commercial corridors came alive with restaurants and shops catering to the well-heeled. Soon, real estate prices began to creep upwards. By spurring renovation and elevating housing values, gentrification broadened the city's tax base. Yet such changes also came with a cost: the social disruption and displacement of existing residents.
As the city transitioned towards a post-industrial economy in the ensuing decades, neighborhood revival became a key focus for municipal government. Attracting new residents to Philadelphia seemed like the surest way to grow the city's tax base as manufacturing jobs evaporated and suburbanization continued apace. As the 2000s wore on, the revitalization of residential neighborhoods became the cornerstone of Philadelphia's revival—even as the city struggled to temper gentrification's most harmful consequences.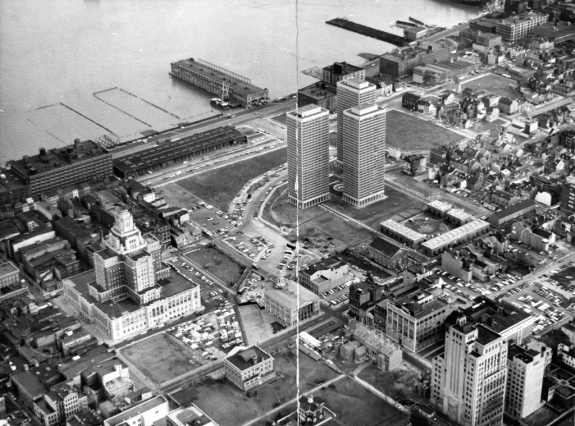 Gentrification could not occur without the initial separation of Greater Philadelphia's residents by class, race, and country of origin. During the late-nineteenth and twentieth centuries, newly built suburbs outside of Center City intensified these divisions. At first, so-called "streetcar suburbs" allowed the gentry to retreat to the leafy streets of Cedar Park and Upper Darby. After World War II, suburbanization exploded. By 1960, the surrounding suburbs were more populous than Philadelphia itself. With the rapid loss of human and monetary resources in the central city and the expansion of wealthier, primarily white suburbs, the stage had been set for gentrification in Greater Philadelphia.
Throughout the post-World War II period, Philadelphia struggled valiantly to entice the middle class back from the suburbs. Beginning in the mid-1950s, Philadelphia—under the aegis of City Planning Commission Executive Director Edmund Bacon (1910-2005)—attempted to reimagine and revive Center City as an attractive residential zone. Restoring the city's historic housing stock, Bacon reasoned, would encourage upper-income residents to move back to the city—thereby stabilizing its dwindling tax base and upgrading real estate values.
Remaking Society Hill
The first area to undergo this ambitious makeover was the Society Hill neighborhood in southeast Center City. By mid-century, it had fallen into disrepair and infamy—acquiring a sinister nickname, the "Bloody Fifth Ward." Nevertheless, Bacon hoped that middle-class buyers would be tempted there by the promise of newly refurbished colonial-era row homes.
As would become common in subsequent renewal projects, a coalition of public organizations, local and federal governments, and private investors worked together to remake Society Hill. The Philadelphia Redevelopment Authority, a city agency, spearheaded the project. It was joined by the Greater Philadelphia Movement (GPM), a nonprofit organization founded in 1948 by area businessmen. To direct the neighborhood's ground-level renewal, Greater Philadelphia in turn spawned another interest group, the Old Philadelphia Development Corporation (OPDC), to coordinate the actions of bankers, finance capital, and homeowners. Old Philadelphia funded a national advertising campaign that recast the neighborhood as a desirable historic enclave—the better to attract aesthetically-minded middle-class homebuyers.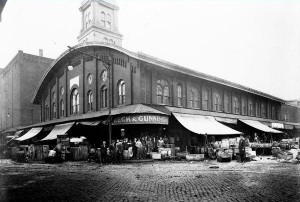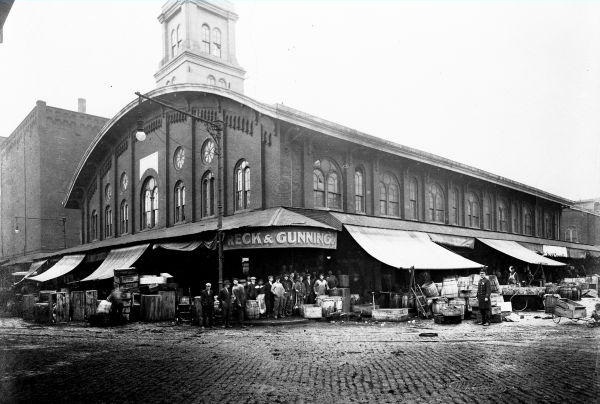 Homesteaders and developers were encouraged to renovate the neighborhood's row houses themselves. Many hundreds of enterprising individuals did just that. Armed with generous mortgages, these gentrifiers were careful to heed OPDC's stringent guidelines for historical verisimilitude. At the same time, other historical features were sacrificed in the name of development. The Dock Street Market, the city's principal food market since the late eighteenth century, was razed to make way for three I.M. Pei-designed modernist residential towers.
To achieve the transformation of the area, the City Planning Commission called for the elimination of blighted late nineteenth-century buildings and retail establishments. In doing so, it prompted the mass displacement of the neighborhood's poorer residents. Unable to meet the costs of renovation, long-term residents—many African American—were forced to sell their historic properties. Even though Black residents fought gentrification—forming an anti-displacement group that demanded low-income housing options—their efforts were largely unsuccessful. From 1960 to 1970, the neighborhood's percentage of nonwhite residents fell from 20 percent to 7 percent. Meanwhile, the percentage of college-educated adults in the neighborhood shot up from under four percent in 1950 to 64 percent by 1980. As anticipated, property values soared, rising nearly 250 percent during the 1960s.
In the ensuing decades, Society Hill became a touchstone for supporters and detractors of gentrification. For the city and real estate developers, it served as a hopeful model for neighborhood revitalization. But for existing communities facing the gentrification of their neighborhood, those dreams of revival were dampened by fears of displacement.
Homesteaders in the City
Buoyed by the success of Society Hill, other Philadelphia neighborhoods began to experience revitalization during the 1970s. Southwark, located just south of Society Hill, was transformed into a middle-class district by the efforts of individual homesteaders and, later, real estate developers. Even though it was not subject to the physical destruction seen in Society Hill, this neighborhood experienced a similar degree of social disruption. In a few short years, Southwark saw a dramatic decline in its working-class population along with the conversion of its mixed-use streetscapes into expensive residential-only corridors.
Southwark's fortunes had begun to fade after World War II. South Street, its once-bustling commercial thoroughfare, lost customers to suburban shopping malls. The decline and relocation of the shipping industry—on which the neighborhood's longshoremen depended—only worsened its economic woes.
Even during that mid-century nadir, however, there were stirrings of renewal. Beginning in the late 1960s, the neighborhood began to change as some white middle-class "pioneers" were lured to the area by the promise of affordable housing near Center City. Artists, too, moved into vacant row houses and commercial spaces, which offered them ample space to pursue their craft. Others were more mercenary, buying and renovating abandoned shells for profit. In the 1970s, these investors sought to differentiate the area from the rest of South Philadelphia by renaming it "Queen Village."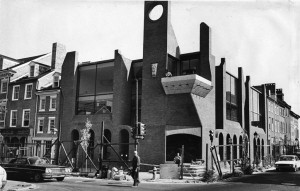 In their wake, others moved to the newly-dubbed neighborhood for reasons that were cultural as much as financial. These arrivistes chose to live in—and work to renew—a historic and diverse part of the city. Colonial row houses, they believed, were a stark contrast to the stultifying sameness of the suburbs. Its legacy as an epicenter of immigrant and African American life lent the area a desirable gloss of authenticity—a dash of "real folk" in the city.
Those newcomers remade Queen Village's physical landscape. Hundreds of crumbling row houses were renovated—first by urban homesteaders, then by enterprising developers. Artist Isaiah Zagar covered dozens of drab brick walls in the neighborhood with his kaleidoscopic mirror-flecked murals. Churches and synagogues, relics of the neighborhood's immigrant past, were converted to market-rate lofts. Ethnic businesses—kosher wine merchants, haberdasheries, and furriers—were reincarnated as vegetarian restaurants, feminist bookstores, and hip clothing boutiques.
Initially, newcomers and old-time residents found common cause, coming together to fight the long-planned Cross Town Expressway that would have leveled South Street in an effort to attract suburban commuters back to the city. For years, the extant Black, Polish, and Jewish communities had mobilized to thwart the plan. By the late 1960s, middle-class newcomers joined their fight. This was a rare type of coalition: cross-class and multiracial, gentrifiers allied with the existing population to reject the destruction of modernist city planning. Ultimately, this partnership succeeded in defeating the proposed expressway.
Queen Village's heyday of diversity and cooperation proved to be short-lived, however. Like many Philadelphia neighborhoods that experienced a middle-class influx, rising rents and tax assessments made life increasingly difficult for poorer residents. One 1978 study estimated that real estate taxes in Queen Village had increased almost 300 percent since the start of the decade. Real estate prices skyrocketed, too; an abandoned row house that might have sold for $300 in the 1960s now commanded up to $30,000. As in Society Hill, Queen Village's African Americans were the most dramatically affected by gentrification. In 1970, the neighborhood was nearly 50 percent Black. By 1990, that figure had fallen to 20 percent. By 2010, only about 5 percent of Queen Village residents were African American.
There were also cultural conflicts between old-timers and newcomers. Long-time residents resented the intrusion on their tight-knit ethnic communities. Many were put off by their new neighbors' perceived unfriendliness or condescension. Newcomers' cosmopolitan tastes contributed to the alienation of the neighborhood's working-class residents. On South Street, the Theatre of the Living Arts put on avant-garde works under artistic director Andre Gregory. In the late 1970s, dozens of chic businesses catering to the upper middle class opened. National food writers raved about South Street's burgeoning selection of gourmet restaurants, where diners could enjoy soft-shell crab tempura or salmon with sorrel beurre blanc. In a few short years, the once-conservative immigrant neighborhood had become a hotbed of hip nightlife. By the end of the millennium, the transformation of Queen Village was complete; the languishing ethnic enclave had been entirely remade into a middle-class haven.
Revitalization or Decline?

The gentrification of Queen Village and Society Hill were exceptions in a region that continued to suffer the effects of deindustrialization and decline. Indeed, the effect of these localized neighborhood transformations could not stem the continued exodus from the city. From 1970 to 1990, Philadelphia lost over 18 percent of its remaining residents, its population falling to nearly a half a million people below its postwar peak. As manufacturing jobs continued to decline—from 350,000 in 1950 to a meager 31,000 by 2005—white working-class residents fled to suburbs in Pennsylvania and Southern New Jersey.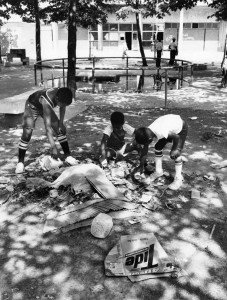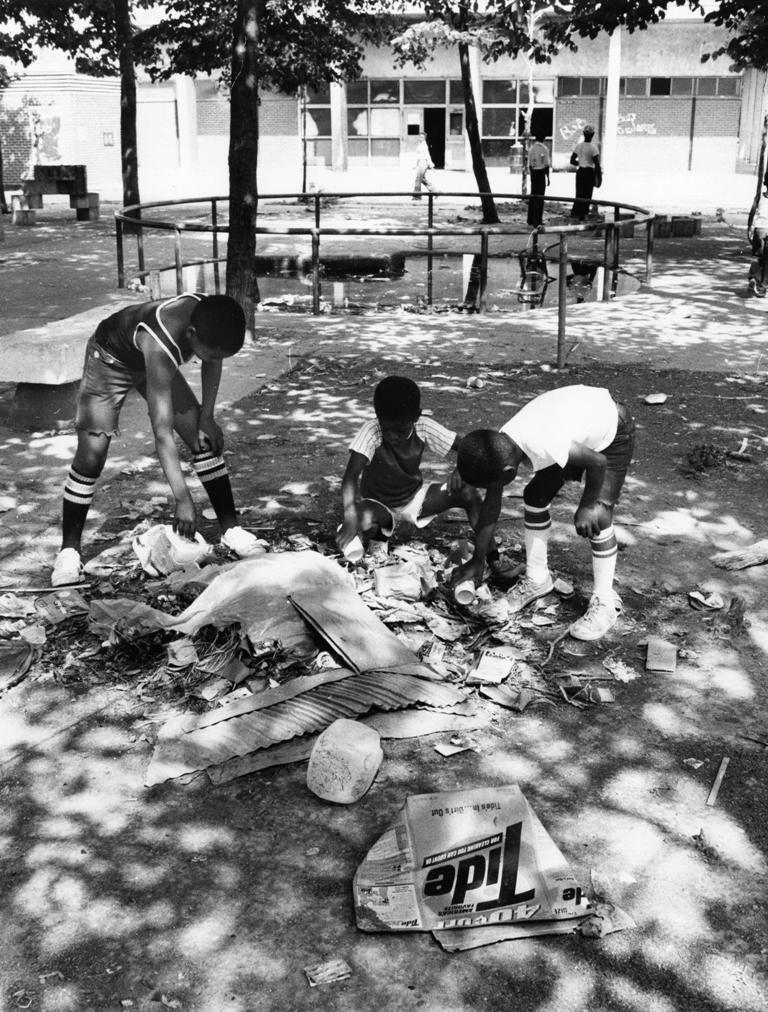 Yet even in the midst of this apparent nadir, there were glimmers of hope. As industrial jobs evaporated, Greater Philadelphia's institutional service sector expanded. Universities and hospitals, which could not move their operations out of the city, fueled this growth. By 1980, the University of Pennsylvania was the city's largest private employer. As these anchor institutions continued to attract thousands of young, highly-educated residents to Philadelphia, previously disinvested neighborhoods—from Spruce Hill, near the University of Pennsylvania,and Washington Square West, which adjoined Jefferson and Pennsylvania Hospitals—saw increases in population and property values.
During the 1980s, new federal tax credits helped fund the redevelopment of other overlooked neighborhoods. With the passage of the 1981 Economic Recovery Tax Act, developers could enjoy up to a 25 percent tax credit on the cost of rehabilitating certified historic structures. Tax inducements helped make the renovation of older buildings economically feasible. From 1982 to 1984, Philadelphia led the nation in the number of claims for such tax credits.
In the Old City area just north of Society Hill, those tax incentives encouraged developers to convert abandoned workshops into stylish loft apartments. With their artistic connotations, these post-industrial spaces attracted white-collar workers looking for a taste of bohemian lifestyle. During the 1980s, demand for these apartments exploded, and developers scrambled to meet it. In 1970, the neighborhood had only 90 housing units; by 1990, it had 1,665. Galleries and restaurants followed the arriving middle class. So, too, did a greater police presence, designed to enforce the newly genteel social order. In rapidly changing neighborhoods like Old City, minority residents often suffered the brunt of such measures.
In the same period, tax credits helped spur commercial revivals in other historic neighborhoods. Manayunk, a working-class mill district along the Schuylkill River to the northwest of Center City, was one such area. After a city-funded refurbishment effort, its Main Street began to draw young artists and boutique owners in search of a quaint, pedestrian-oriented corridor. This process accelerated after its inclusion on the National Register of Historic Places in 1984. By the late 1980s, Manayunk's Main Street boasted dozens of new shops, bars, and restaurants, many housed in refurbished historic buildings. Residential gentrification soon followed the growth in commercial activity. In the 1990s, young urban professionals flocked to the area. By 2000, over 44 percent of Manayunk's residents worked in managerial or professional positions, up from just 12 percent in 1970.
Affluent homesteaders also continued to rehabilitate row houses in neighborhoods closer to the urban core. Spring Garden—with its attractive housing stock and proximity to Center City—began to experience gentrification by the mid-1970s. Housing prices soared even more quickly than they had in Queen Village. An average row house costing $7,400 in the 1960s sold for over twenty times that amount in 1990. The rapid influx of wealthier homebuyers triggered alarming demographic changes. Nearly one-third Latino in 1960, the neighborhood was only 14 percent Latino by 1990. Much of Spring Garden's Puerto Rican community decamped for neighborhoods farther north and east of Center City after their demands for affordable housing went unmet.
At the same time, Greater Philadelphia enjoyed an influx of foreign immigration, which helped to repopulate neighborhoods in South and West Philadelphia. The late 1970s saw the arrival of thousands of Southeast Asians; in the 1980s, 1990s, and 2000s, they were joined by waves of Indians, Koreans, Chinese, and Mexicans. Many of these working-class immigrants were employed in restaurant and domestic services—a sector that grew along with Philadelphia's affluent urban class.
Gentrification Takes Off: 1990s and 2000s
W.E.B. DuBois' seminal 1899 work of urban sociology, The Philadelphia Negro, catalogued the lives and labors of those living in the predominantly African-American Seventh Ward—a narrow rectangular strip that spanned the southern edge of Center City Philadelphia, from the Schuylkill River on the west to Sixth Street on the east. At mid-century, the area remained a bastion of Black life, teeming with blues and jazz clubs, barrooms, and Black-owned businesses.
Yet by the turn of the twenty-first century, things were changing rapidly in DuBois' Seventh Ward. In particular, the western stretch of this area—rebranded as "Graduate Hospital"—saw a dramatic influx of young, white, well-off residents, drawn by its proximity to tony Rittenhouse Square and easy accessibility to the University of Pennsylvania. Others were lured by the city's development incentives, which in the late 1990s included a ten-year tax abatement for new construction and large-scale rehabilitations. Real estate prices soon reflected this surge in demand. From 1997 to 2007, the median price of a single-family home rose from $86,000 to $275,000. As in Society Hill and Queen Village, the gentrification of Graduate Hospital triggered striking demographic changes. At 78.5 percent African American in 1990, the neighborhood was less than one-third Black by 2014.
In the 2000s, the effects of gentrification began to spill over into other neighborhoods adjacent to Center City. Callowhill, a former manufacturing district just north of Chinatown and east of Spring Garden, blossomed into the city's "loft district." Members of the "creative class"—graphic designers, software developers, theatre performers—were drawn by its affordability, its edgy post-industrial aesthetic, and its location close to Center City. Developers met the demand, refashioning old factories into spacious lofts. They also converted spacious industrial spaces into arts and music venues. As more creative class consumers moved to the neighborhood, they were followed by cafes and bars that catered to their bohemian tastes.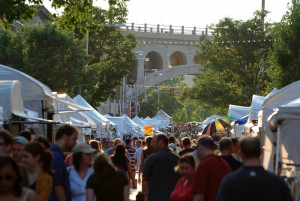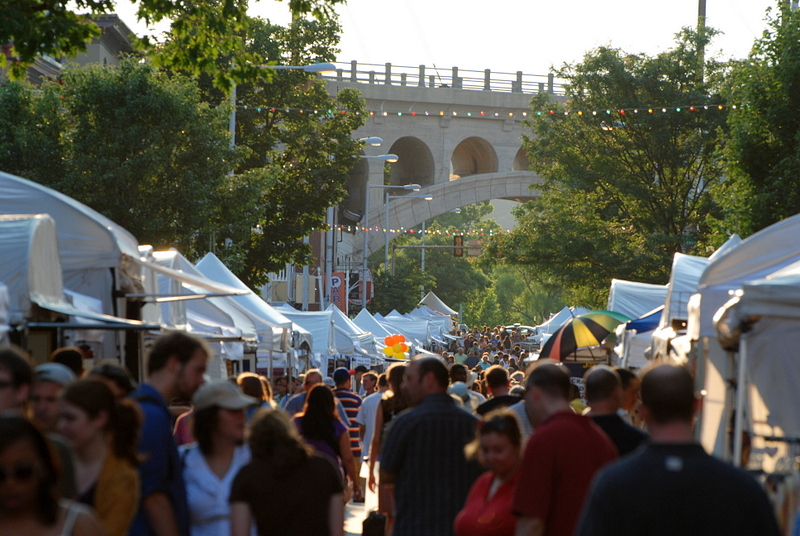 As Philadelphia's population rose for the first time since World War II, an increasing number of neighborhoods outside of Center City began to experience a revival. This resurgence was fueled by a demographic upheaval which found baby boomers, new immigrants, and young college graduates choosing cities over suburbs. Factors that had once driven people away from cities—their density, their older housing stock, the presence of ethnic and racial minorities—now drew them back to the urban core. As a result of these secular changes, more formerly depressed neighborhoods saw increased investment. One example was Fishtown, an enclave of working-class whites bordering Northern Liberties. By the early 2000s, it boasted scores of infill projects and row-house rehabilitations. Seemingly overnight, gastropubs and vintage clothing stores appeared along Girard Avenue, Fishtown's commercial corridor.
Universities also continued to play an outsized role in the transformation of their surrounding neighborhoods. In West Philadelphia, the University of Pennsylvania worked with the city's Redevelopment Authority, starting in the 1950s, on a massive program of urban renewal that cleared the way for its expansion. In the following decades, it encouraged professors to invest in the neighborhood by providing mortgage incentives and funds for building rehabilitations. Along with other area institutions, it created the University City District, a nonprofit organization tasked with promoting development in the area. It succeeded in upgrading real estate values but also faced criticism from long-established residents. The area around Temple University in North Philadelphia also witnessed rapid changes. Speculative developers rushed to build housing for Temple's expanding off-campus student population in a poverty-stricken African American district west of Broad Street. But tensions rose as young, mostly white, suburban-raised Temple students began to move in. Longtime residents complained about loud parties and unkempt rental properties. While Temple's administration tried to encourage better relations between students and residents, it did little to discourage the spread of private development around its campus.
Ongoing Concerns
By the 2010s, Greater Philadelphia was grappling with issues familiar to all urban areas in the midst of gentrification. Residents of neighborhoods undergoing the most rapid changes watched as their longstanding social networks evaporated. One by one, local associations, congregations, and ultimately whole communities fell prey to the vicissitudes of the real estate market. Many uprooted residents resettled elsewhere in the city—some moving to adjoining neighborhoods still awaiting rehabilitation, some following cheaper rents to inner-ring suburbs.
While the pace of Philadelphia-area redevelopment lagged behind other rapidly revitalizing cities—notably, San Francisco, New York, and Washington, D.C.—the specter of displacement troubled government officials and longtime residents alike. Gentrification had become a policy problem necessitating a public response. In the 2010s, Philadelphia began experimenting with measures designed to stem gentrification's worst effects. In 2014, Philadelphia City Council enacted the Longtime Owner Occupants Program (LOOP). This initiative froze tax increases for residents who had occupied their homes for more than ten years and faced higher assessments as a result of skyrocketing property values. While LOOP promised some relief for homeowners, maintaining the diversity of revitalizing neighborhoods remained a challenge. Other gentrifying cities experimented with "inclusionary zoning," which ensured new projects would include a percentage of affordable units. The Philadelphia City Council, however, failed to pass a similar measure. As market-rate development proliferated, nearly 110,000 households remained on a waiting list for subsidized or low-cost housing.
Even as the city government struggled to balance the costs and benefits of neighborhood revival, many areas remained untouched by the effects of gentrification. Further from the booming downtown, neighborhoods continued to suffer from abandonment and decay. In 2013, there were still 4,000 buildings and over 10,000 lots sitting empty in Lower Northeast Philadelphia. For every new town house  built in Graduate Hospital or Queen Village, scores of crumbling row houses were demolished in Nicetown and Kensington. Across the Delaware River, Camden, New Jersey, still awaited significant revitalization. Disinvestment only intensified after the financial crisis of 2008, as banks tightened up loan requirements and refused to extend credit to the most blighted areas.
Ultimately, the return of the middle and upper classes to the city was not a panacea for all of the region's ills. But neither was it entirely unwelcome. To many Philadelphians, neighborhood renewal represented the best hope for the city's revitalization. In the 2010s, Philadelphia tried to strike an equilibrium between development and stasis, renewal and disruption, gentrification and decay. It remained to be seen if the city could enjoy the fruits of revival without obliterating its legacy of diverse and vibrant neighborhoods.
Dylan Gottlieb is a Ph.D. student at Princeton University, where he works on recent American urban history. His latest publication is " 'Closer to Heaven': Race and Diversity in Suburban America," which will appear in the Journal of Urban History in 2015. (Author information current at time of publication.)
Copyright 2014, Rutgers University