Essay
In 1970, Philadelphian Maggie Kuhn (1905-95), a white middle-class woman and frustrated victim of mandatory retirement at age 65, formed an anti-ageist organization called the Gray Panthers. From challenging mandatory retirement to critiquing ageist media depictions of older Americans, the Gray Panthers fought to recreate the image, expectations, and roles of middle-class retirees in American society. Inspired by social movements of the 1960s, emboldened by their own lengthy activist backgrounds, and frustrated by the absence of an anti-ageist movement, these Gray Panther activists remained politically and socially active by fighting against ageism in their retirement years.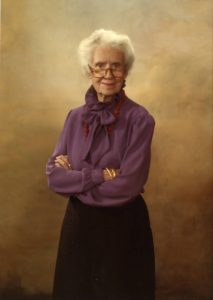 After being subjected to mandatory retirement in 1970, months before her sixty-fifth birthday, Kuhn along with five other older, professional women facing retirement founded the Consultation of Older Persons, later named the Gray Panthers. A janitor's broom closet in the Tabernacle Church in West Philadelphia served as their first office, and retirees volunteered their time to organize local events. These women believed that older persons were "a great national resource which has largely been unrecognized, undervalued and unused" and that retirees should remain politically and socially "involved in new and significant ways." The movement quickly gained overwhelming support as thousands, both young and old, joined the Gray Panthers to fight against ageism.  
 In 1972, Kuhn, by then 67 and nationally recognized, addressed reporters and introduced the radical Gray Panthers to the nation as a new liberation movement to motivate seniors to "get out of their rocking chairs and into public affairs." This movement was unlike the economic-driven struggles during the 1930s and the membership organizations for retirees founded during the 1950s and 1960s. Distinctly, Kuhn mobilized the elderly toward social activism. The Gray Panthers was an organization of the aged acting on behalf of the aged. Kuhn and the Gray Panthers encouraged grassroots organization and emboldened older, retired Americans to be vocal and active in society and address political issues that both applied to their specific age-based concerns and transcended age. 
Reform Successes
 The organization's greatest accomplishments included a role in changing mandatory retirement laws, reforming nursing homes, critiquing media depictions of older Americans, and raising public awareness to the vulnerability of older people. Gray Panther members regularly testified before Congress, served on the White House Council of Aging, and helped found the Older Women's League, the Black Caucus for the Aged, the National Shared Housing Resource Center, and the National Coalition for Nursing Home Reform as well. At one point, the Gray Panthers recorded over 75,000 members and 122 networks in forty-three states throughout the nation.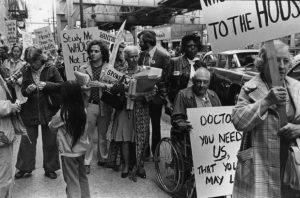 In one example of their activist activity, during the 1976 Christmas season, the Gray Panthers picketed businesses in Philadelphia and Chicago. After being informed that all John Wanamaker department store employees over the age of 65 were going to be let go the day before Christmas, the Gray Panthers networks in Philadelphia; Willingboro, New Jersey; and South Jersey staged a two-hour demonstration at the stores, handing out over three thousand pink slips to shoppers "telling the story of 'Scrooge Reincarnated." That same week in Chicago, Gray Panthers in Santa Claus suits picketed the department store Carson, Pirie, and Scott for its mandatory retirement policies. Standing on State Street, Panthers held signs that read, "Santa Claus is too old to work for Carson, Pirie, Scott." The protesting Santa Clauses sang Christmas carols such as "Deck the Halls" and abruptly stopped and pulled enormous white handkerchiefs to cry into. Both events were well covered by local news and radio stations.
The Gray Panther networks served as gatherings where older, predominantly white middle–class Americans came together to critique society's social, economic, and cultural expectations of the aged, redefine old age, and be empowered. Indeed, older Americans challenged the social and cultural expectations of older people in various spheres, eschewed images of the aged as static, traditional, and sedentary individuals, and fought to create a new image of older Americans as dynamic, productive, and a necessary component of American society.
The Gray Panthers continued to be active in the early decades of the twenty-first century, though on a much smaller scale. Their national office moved to Washington, D.C., and networks existed in many states—some more active than others. Their primary concerns focused on universal health care, protecting the environment, promoting peace, civil rights and liberties as well as jobs and economic security, extending the legacy of the Philadelphia-born Gray Panthers.  
Emily Krichbaum is an Ohio-based writer and historian whose Ph.D. dissertation was about the Gray Panthers. She has published work on Frederick Douglass, Elizabeth Cady Stanton, the Older Women's League, and other subjects. (Author information current at time of publication.)
Copyright 2020, Rutgers University