Essay
Philadelphia Saving Fund Society, known as PSFS, was the first savings bank in the United States, founded in 1816. For most of its history, PSFS emphasized practicality in its operations, architecture, and community orientation. The historic organization added a modern accent to the Philadelphia skyline in 1932, when it opened a new, International-style building at Twelfth and Market Streets.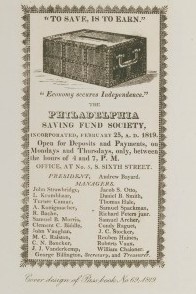 The merchants who organized PSFS, led by Condy Raguet (1784-1842), hoped to replicate the success of savings banks in Great Britain. PSFS founders avoided using the word "bank" in the name due to public suspicion of financial institutions.
PSFS had a modest mission: to uplift poor and working-class communities through the virtue of saving. The bank placed a priority on accessibility for customers and long-term stability. Reflecting this caution, PSFS invested primarily in government bonds and mortgage-backed loans.
Management's pragmatism led to compromises and adaptations. To secure incorporation in 1819, PSFS leaders agreed to let the commonwealth set deposit limits. Depositor behavior—particularly migrants' short-term use of accounts to accrue targeted savings—also shifted bank policy. PSFS hired interpreters to assist its large immigrant customer base and stood ready to pay out balances on short notice. During the Civil War, PSFS leaders donated to the city's defense.
Evolving bank policies combined with Americans' increasing use of savings banks to yield a rapidly growing customer base, including significant populations of African Americans, immigrants, and women. By 1900 approximately 15 percent of Philadelphians held PSFS accounts.
PSFS relocated several times during the nineteenth century, driven by increased business to seek larger facilities. Modest beginnings at Sixth and Minor Streets gave way to locations in the 300 block of Walnut Street. In 1868, PSFS built an expansive headquarters at 700 Walnut Street. During the early twentieth century, several branch locations served a suburbanizing population.
The PSFS building that opened at Twelfth and Market Streets in 1932 was an instant landmark. Designed by George Howe (1886-1955) and William Lescaze (1896-1969) in the functional International style, the glass and steel high-rise garnered criticism and acclaim. It was anything but low profile. The thirty-two-story tower, the first International-style skyscraper in the United States, became a dominant part of the Philadelphia skyline. Observers could not miss the red neon PSFS lettering on top or the WCAU antenna tower added in the late 1940s.
By 1940 PSFS was the largest financial institution in Philadelphia, and grew to serve 80 percent of local households. Many children knew PSFS through its school banking program.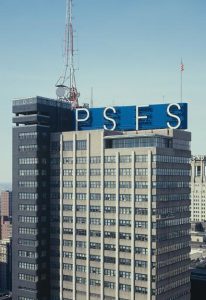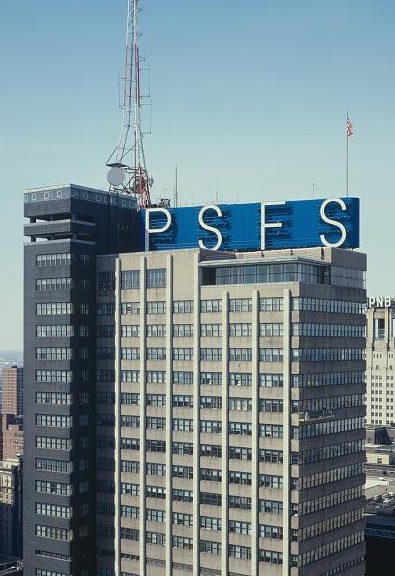 PSFS also tackled urban problems. In 1968, civil rights leader Cecil B. Moore (1915-79) partnered with PSFS President R. Stewart Rauch (1914-2001) to bring black and white leaders together to form the Good Friday Group. Hoping to prevent riots, the group raised $1 million to support an array of social programs. In 1975, PSFS joined with two other banks in the Philadelphia Mortgage Plan, aiming to lend in formerly redlined neighborhoods.
By the early 1980s, PSFS had become the nation's largest mutual savings bank, but it struggled to adapt to deregulation. In quick succession PSFS absorbed the troubled Western Savings Fund Society, changed its name to Meritor Financial Group, and abandoned mutual ownership to become a publically traded stock. Subsequent attempts to diversify investments were unprofitable. Meritor sold fifty-four branches and the PSFS name to Mellon Bank in 1989, but the institution did not survive long. Regulators seized and sold Meritor's remaining assets in December 1992.
In its prime, PSFS encouraged savings and homeownership, built significant infrastructure, and acted as a concerned corporate citizen. After the demise of PSFS/Meritor in 1992, real estate developers transformed its flagship office tower into a Loews hotel. They preserved many design elements, including the neon lettering, to remind visitors of a once-prominent institution.
Alyssa Ribeiro is an Assistant Professor of History at Allegheny College. Her research has examined relations between Puerto Rican and African American residents in postwar Philadelphia.
Copyright 2017, Rutgers University.