Essay
Located on the west bank of the Schuylkill River, Bartram's Garden, considered the oldest surviving botanic garden in North America, has served as a monument to the storied history of Philadelphia's botanical endeavors and to the genius of John Bartram (1699–1777) and his descendants. Established as a family farm and garden by John Bartram in the early eighteenth century, the garden has functioned as a commercial and public botanic garden, a private retreat, a native plant repository, and a botanical education center of national and international importance.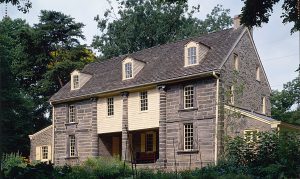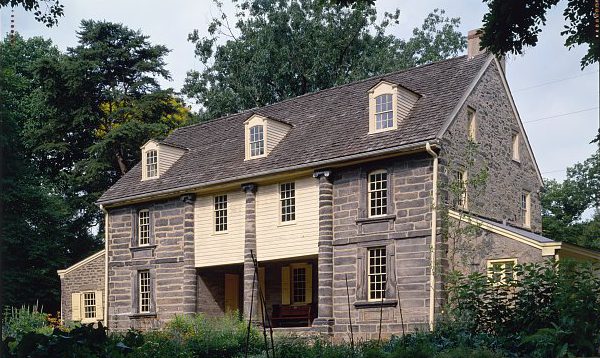 Originally part of a thousand-acre tract of land in Kingsessing Township first settled by the Swedish in the mid-seventeenth century, Bartram's Garden began in 1728 when John Bartram purchased a 102-acre tract for his family farm. Bartram was a self-taught naturalist who sought out the company of other like-minded individuals, both at home and abroad. Bartram's friendships with Benjamin Franklin (1706–90) and James Logan (1674–1751) led to his introduction to London and Royal Society Fellow Peter Collinson (1694–1768), with whom he began a correspondence in 1731. Bartram and Collinson soon began to exchange plants along with botanical notes on experiments and other discoveries. By 1750, Bartram was sending regular shipments of North American seeds to a wide variety of European collectors, including Sir Hans Sloane (1660–1753) and Carl Linnaeus (1707–78), and advertising his seeds for sale in London periodicals. Bartram expanded his garden to keep up with his growing plant trade business and performed experiments on the lychnis dioica that corroborated Logan's experiments on Indian corn. As Bartram's fame grew, so did his garden. He traveled farther and farther afield to collect new plants and seeds, and he recreated their environments at home by constructing ponds and swamps for aquatic plants, areas of forest and grassland, as well as sections for nursery seeds and greenhouses for more tropical specimens. By the turn of the century, Bartram's Garden boasted the most varied collection of North American plants in the world.
When John Bartram died in 1777, his sons, John Bartram Jr. (1743–1812) and William Bartram (1739–1823), continued the business. They expanded the grounds as well as the garden's reputation in national and international circles through their commercial and educational activities. William Bartram's growing renown as a botanical illustrator and plant collector attracted botanical enthusiasts from near and far who came to exchange both plants and knowledge. French botanist André Michaux (1746–1802) visited Bartram's Garden during his North American sojourn, as did botanists from closer to home, such as Benjamin Smith Barton (1766–1815), Thomas Say (1787–1834), Thomas Nuttall (1786–1859), and Frederick Pursh (1774–1820).
Both George Washington (1732–99) and Thomas Jefferson (1743–1826) visited and purchased plants from Bartram's Garden for their own estates in Virginia, and near neighbor William Hamilton (1745–1813) exchanged many plants with the Bartrams, even sending William Bartram one of the three ginkgo trees he introduced to America from England in 1785. Bartram's Garden's reputation as a destination grew, especially among the delegates to the Continental Congress in Philadelphia. In 1784, the congress ended a session early to allow several delegates to indulge their curiosity about Bartram's Garden and venture across the Schuylkill River for an afternoon visit with the family in their garden.
In the early decades of the nineteenth century, Bartram's Garden expanded again under the third generation of Bartrams. Ann Bartram Carr (1779–1858) and her husband, Colonel Robert Carr (1778–1866), took over the business from Ann's father, John Bartram Jr., and expanded both the commercial business and the garden itself. At its largest, Bartram's Garden comprised twelve acres of gardens and ten greenhouses filled with over fourteen hundred native plant species and as many as one thousand varieties of more far-flung exotics. In 1844 and 1845, the Carrs added another dimension to Bartram's Garden when they opened the grounds as a summer pleasure garden, selling ice cream and other refreshments to visitors and offering steamboat trips three days a week from the Delaware River wharves.
By midcentury, however, increasing financial difficulties forced the Carrs to sell Bartram's Garden. Railroad magnate and industrialist Andrew Eastwick (1811–79) purchased the house and grounds in 1850. Eastwick planned to construct a villa near the original Bartram house. Recognizing the historic significance and aesthetic appeal of the site, he preserved the original house and grounds as part of his private estate and even lived in the Bartram house during construction of his villa, "Bartram Hall."
After Eastwick's death, Bartram's Garden fell into neglect until Eastwick's former gardener, Thomas Meehan (1826–1901), aided by Boston botanist and head of the Arnold Arboretum Charles S. Sargent (1841–1927), conceived a plan to purchase the acres of Bartram's Garden for the city as part of Meehan's campaign to create parks in Philadelphia. After a prolonged campaign by Meehan, who was a member of Philadelphia's Common Council, and others, in 1888 the city added a portion of the original Bartram's Garden to the city plan and marked it for preservation. Bartram's Garden finally came under the control of the City of Philadelphia in 1891.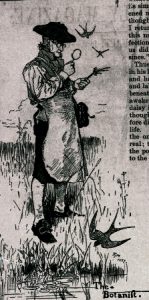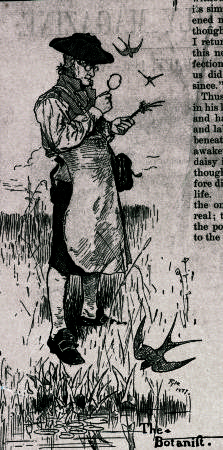 Two years later, in 1893, descendants of John Bartram organized the John Bartram Association and reasserted their influence over the direction of the garden. With the aid of University of Pennsylvania botany professor and director of the university's botanic garden John Muirhead Macfarlane (1855–1943), the association established a library and archives relating to the Bartram family and their botanic activities at Bartram's Garden. In 1923, the Fairmount Park Commission assumed control of the property and worked to preserve and restore the gardens and buildings while continuing to operate the garden as a city park.
In October 1960, the secretary of the Interior designated Bartram's Garden a National Historic Landmark in acknowledgement of the importance of the garden to John Bartram's career as a botanist and to the history of American botany. Through restoration and interpretation of the site, The John Bartram Association continued to preserve the historical and contemporary gardens for visitors into the twenty-first century, including the original ginkgo tree (1785), a yellowwood tree sent by Michaux (1784), the Franklinia alatamaha from which all current examples descend, and the Bartram oak. Since the third decade of the eighteenth century, Bartram's Garden served as a repository of North American plants of national and international importance, bringing together the commercial, public, and educational aspects of Philadelphia's botanical legacy.
Sarah Chesney is a historical archaeologist who earned her Ph.D. in anthropology from the College of William and Mary in 2014. She has worked on several landscape archaeology projects in Philadelphia, exploring the intersection of archaeology, landscape, and early modern science. Her publications include "The Root of the Matter: Searching for William Hamilton's Greenhouse at The Woodlands Estate, Philadelphia, Pennsylvania," in Historical Archaeology of the Delaware Valley, 1600–1850, edited by Richard F. Veit and David G. Orr (University of Tennessee Press, 2014). (Author information current at time of publication.)
Copyright 2017, Rutgers University