Essay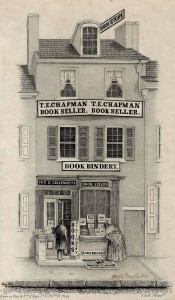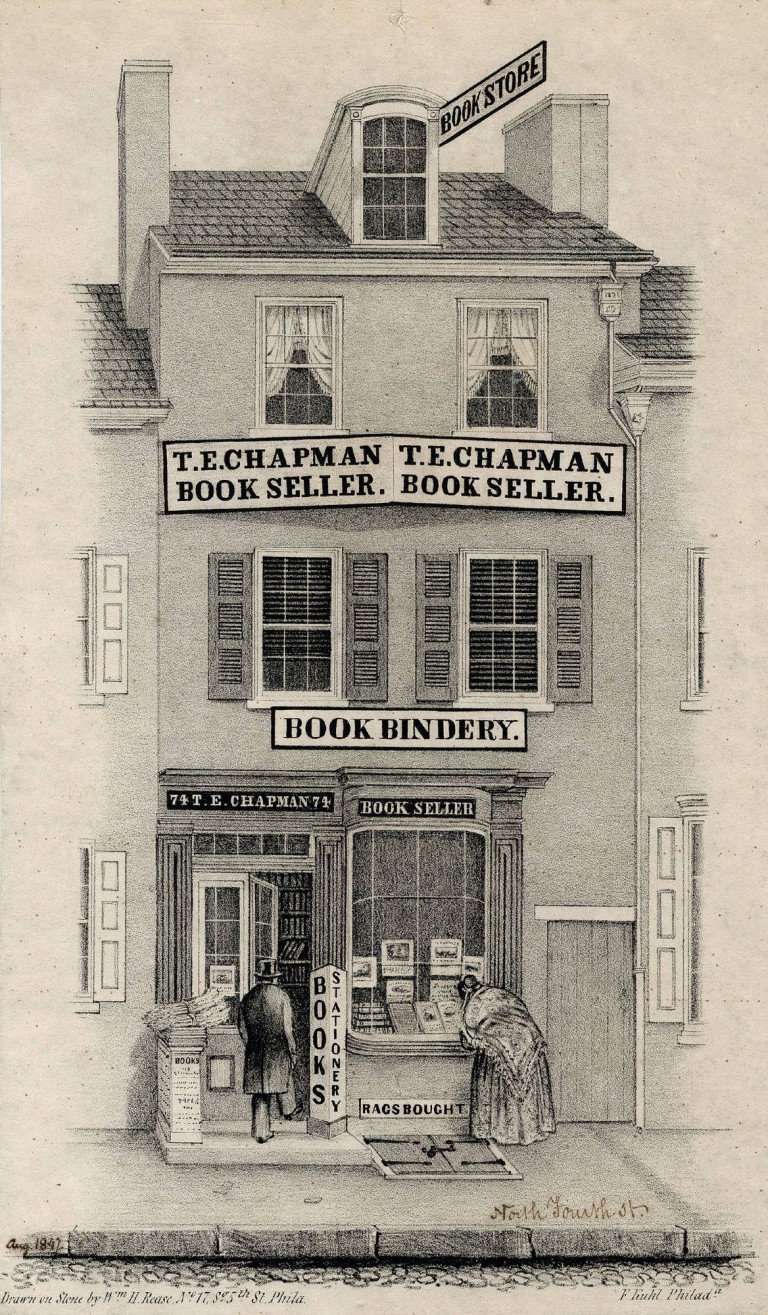 Bookstores have long been an important part of the economic and cultural fabric of Philadelphia. As early as the eighteenth century, booksellers set up shop in the city, eager to serve a highly-educated population hungry for information. In the nineteenth and early twentieth centuries, the number of bookstores continued to rise. These stores sold a wide variety of titles, from the latest best sellers to rare first editions. During the last quarter of the twentieth century, however, bookselling began to change in significant ways. The growth of chain bookstores, and, later, the Internet, resulted in the closing of independent bookstores across the region.
In colonial America, many printers were also booksellers. Bookselling helped provide the capital that men like William Bradford (1663-1752), Benjamin Franklin (1706-90), Thomas Dobson (1751-1823), and Mathew Carey (1760-1839) needed to finance their printing and, later, publishing operations. During this period, booksellers imported most of their stock from Europe. Religious texts, almanacs, and schoolbooks sold particularly well. Booksellers also sold stationery and other items. One of Philadelphia's earliest bookstores was run by the Martinique-born author Médéric Louis Élie Moreau de Saint-Méry (1750-1819), who first came to Philadelphia to escape the violence of the French Revolution. He opened his shop at Front and Walnut Streets in 1794, selling a variety of foreign-language books. His bookstore quickly became a center for the French expatriate community in the city.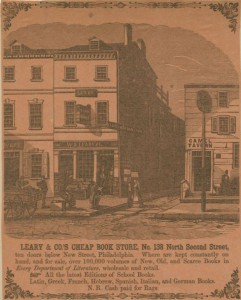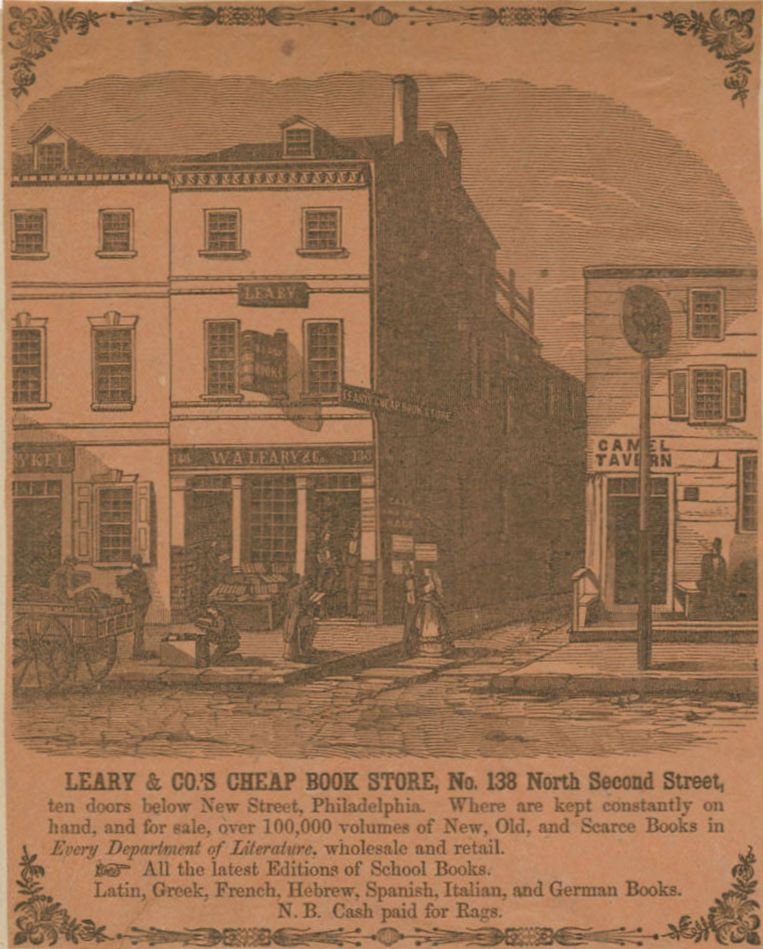 Bookstores thrived in Philadelphia during the nineteenth century, as literacy rates continued to climb and reading became an important part of American self-improvement efforts. Although several local publishers, such as J.B. Lippincott & Co., ran retail stores, as the century progressed bookselling became largely independent from printing and publishing. Leary's Book Store, founded in 1836 by Maryland-born William A. Leary (1816-65), became one of the city's most popular places to buy books. The store, which had several locations including 138 N. Front Street (1836), Fifth and Walnut Streets (1868), and 9 S. Ninth Street (1877), did not gain prominence until it was taken over by former employee Edwin S. Stuart (1853-1937) in 1876. Leary's became known for its large stock of used books as well as for its distinctive sign, which featured an older man on top of a ladder with his hands full of books. In 1891, Stuart became mayor of Philadelphia, and, in 1907, he became governor of Pennsylvania. Stuart's brother, William H. Stuart, took over the operation of the store. Under William, Leary's continued to thrive. Writer Christopher Morley (1890-1957), who frequented the shop, used it as the inspiration for his mystery novel The Haunted Book Shop (1919). By 1950, Leary's was selling almost 40,000 books a week. The store closed in 1968.
Beginning in the late nineteenth century, books could be found not only in bookstores but also in department stores as well. John Wanamaker (1838-1922) started selling a few children's books in his Philadelphia store in 1877. By 1884, he was selling $10,000 worth of books a day. He even published the monthly magazine Book News to advertise his offerings. Before long, other Philadelphia department stores began selling books, including Gimbels, Strawbridge and Clothier, and Snellenburg's.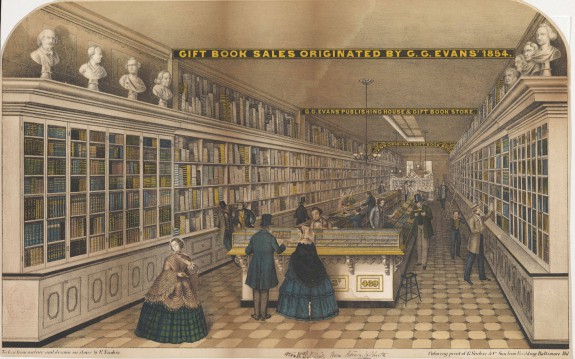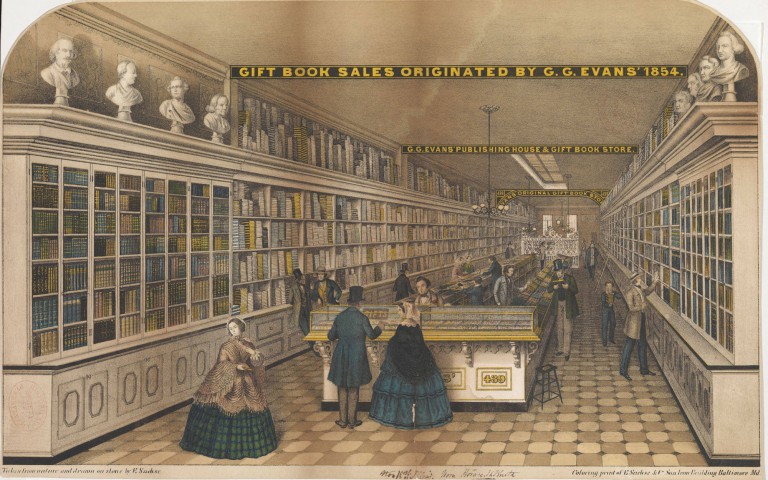 During the twentieth century, women became more prominent in the bookselling business. One advocate for women in bookselling in the region was Georgiana Hall, who worked for Wanamaker's. In 1914, Hall gave a speech on the subject in front of the Philadelphia Booksellers' Association. Hall argued that in addition to careers in teaching and librarianship, college-educated women should also consider bookselling. Another important woman in the bookselling business was Elisabeth Woodburn (1912-90). Woodburn sold books out of her farmhouse in Hopewell, New Jersey, where she specialized in agricultural and horticultural books. Woodburn was a founding member of the Antiquarian Booksellers' Association of America (ABAA) and later became the group's president.
Woodburn was one of many antiquarian booksellers who clustered in and around Philadelphia in the early twentieth century. Perhaps the most famous was A.S.W. Rosenbach (1876-1952), who started the Rosenbach Company at 1320 Walnut Street in 1903. Known for offering extremely rare books, including Gutenberg Bibles and Shakespeare Folios, Rosenbach sold to some of the richest men in the United States, including Henry E. Huntington (1850-1927) and Henry C. Folger (1857-1930). Rosenbach and his brother Philip Rosenbach (1863-1953) established the Rosenbach Museum and Library in 1954 to showcase their personal collection of books. In 2013, it became part of the Free Library of Philadelphia.
One of Rosenbach's neighbors and competitors, the Vienna-born bookseller Charles Sessler (1854-1935), opened his shop on 1314 Walnut Street in 1906. Sessler sold all sorts of rare books, but he specialized in the work of Charles Dickens. Sessler's assistant, Mabel Zahn (1890-1975), began working at the store when she was only fifteen years old and took over the store when Sessler died. Zahn became president of Sessler's in 1955.
The 1960s and 1970s brought new energy to Philadelphia, with the growth of the counterculture and new social movements. The city's bookstores reflected these changes. Robin's Book Store was founded by David Robin (1901-74) in 1936 at 21 N. Eleventh Street. Eventually moving to 6 N. Thirteenth Street, Robin's gained notoriety in the 1960s as one of the few bookstores in the city willing to sell Tropic of Cancer by Henry Miller (1891-1980). Many people considered the book controversial because of its sexually explicit content, and the city's district attorney tried to ban bookstores from carrying it. Robin's refused and ended up selling 7,000 copies in one week. In 1980, Robin's moved to 108 S. Thirteenth Street. The store closed in 2012.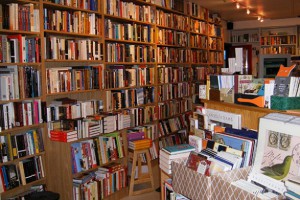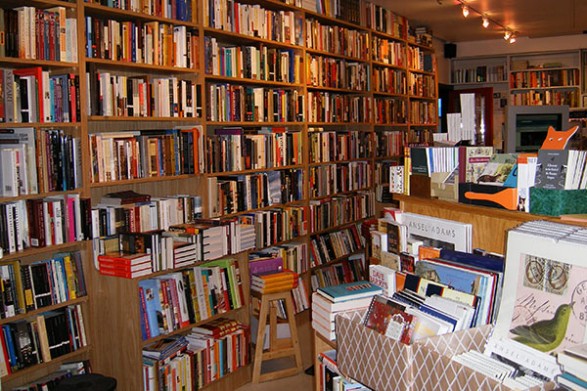 Other bookstores served specialized audiences. New World Book Fair was located at 113 S. Fortieth Street in West Philadelphia. Opened by William H. Crawford (1911-2002) in 1961, the store sold Marxist and African American books and became known as a gathering place for local activists. It closed in 1974. Giovanni's Room, one of the first gay book shops in the United States, opened in Center City in 1973. Founded by Tom Wilson Weinberg (b. 1945), Dan Sherbo (b. 1950), and Bern Boylethe (1951-92), the shop took on an especially important role during the AIDS epidemic of the 1980s, when it sold books about HIV that could be found nowhere else. In 1975, activist Sheila Lee Goldmacher (b. 1934) helped found Alexandria Books, Philadelphia's first lesbian and feminist bookstore. The shop closed two years later. Two other important activist bookstores that were founded during this time were House of Our Own, which opened in 1970 at 3920 Spruce Street, and Wooden Shoe Books, which opened in 1976 at 112 S. Twentieth Street.
Beginning in the 1980s, independent bookstores in the Philadelphia region faced stiff competition from large chain bookstores like B. Dalton, Waldenbooks, Barnes & Noble, and Borders, which could afford to heavily discount their books. During this period the Booksellers' Association of Philadelphia, which had 250 members in the 1950s, disbanded. By the 1990s, the online retailer Amazon.com began offering books for even lower prices. Many independent bookstores closed, but others managed to find their niche. Joseph Fox Books was founded in 1951 by Madeline and Joseph Fox in Rittenhouse Square. In the mid-1990s, the store, which by then had moved to 1724 Sansom Street, started hosting authors' events to draw readers to the store. As of 2016, it was the oldest independent bookstore in the city. Despite the dominance of Amazon.com and the rise of ebooks, the opening of several new independent bookstores, including Big Blue Marble Bookstore and Port Richmond Books, continued to make print books available to Philadelphia readers.
Ann K. Johnson is the Library Publishing and Scholarly Communications Specialist at Temple University. She holds a Ph.D. in history from the University of Southern California. (Author information current at time of publication.)
Copyright 2016, Rutgers University