Essay
From the founding of Philadelphia in 1682 until the late 1800s, a vibrant community of cabinetmakers plied their skills alongside specialists in carving, chair making, and turning. Others who worked with wood included carpenters, coopers, shipwrights, and wheelwrights. These tradesmen were as diverse as the city itself, and their complex webs of language, ethnicity, religious beliefs, family ties, and transatlantic styles helped shape the region's distinctive furniture traditions and make Philadelphia one of the foremost centers of cabinetmaking in early America. Outside the city, many locally distinct vernacular traditions developed, particularly in areas of heavily German and Quaker settlement. The Philadelphia furniture industry prospered through the 1800s but then sharply declined by the mid-1900s due to the rise of mass-produced, inexpensive furniture from both domestic and global manufacturers. It never entirely died out, however, as some woodworkers found success making handcrafted studio furniture and have continued Philadelphia's longstanding cabinetmaking tradition.
The earliest craftsmen in "Penn's Woods" had ready access to an abundance of native trees suitable for cabinetmaking as well as imported tropical hardwoods—especially mahogany—due to Philadelphia's role as a major port city. Walnut, cherry, and maple were the primary native woods of choice, with tulip poplar, pine, cedar, and oak frequently used as secondary woods for drawer sides, bottoms, back boards, and the like. From these materials came an astonishing range of products made by more than 440 cabinetmakers, joiners, chair makers, carvers, carpenters, and turners who were active in Philadelphia and its environs between 1682 and the 1760s.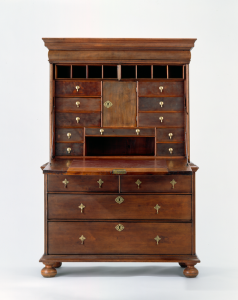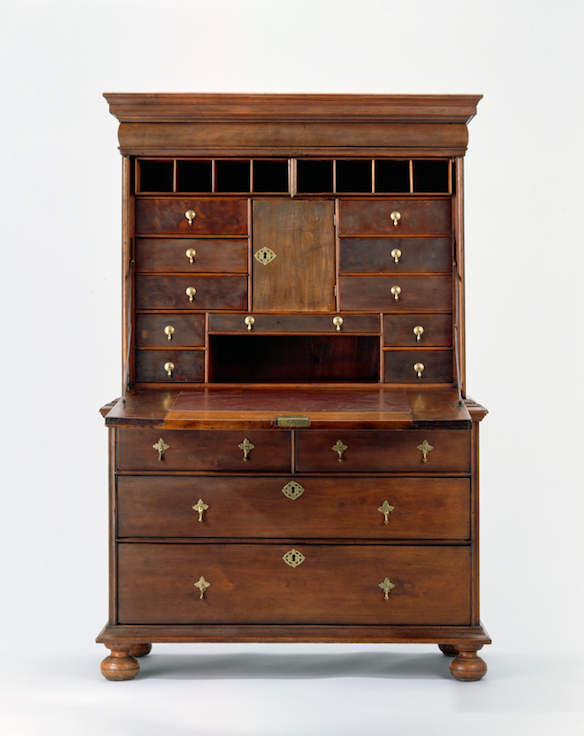 Furniture, account books, and drawings survive to document cabinetmaking during Philadelphia's first decades. Most workshops were fairly small at this time, run by the master cabinetmaker with the assistance of several apprentices and possibly a journeyman. The earliest known signed and dated example of Philadelphia furniture is an escritoire or desk-and-bookcase dated 1707 and stamped by Edward Evans (1679-1754). Raised on a farm along the east bank of the Delaware River in West New Jersey, Evans completed his apprenticeship in 1704. His clients included William Penn (1644-1718), who paid him £7 for making a chest of drawers, and prominent merchants including Isaac Norris, James Logan, and William Trent. One of the best documented joiners of this early period, John Head (1688-1754), kept an account book that can be linked to surviving objects, including dressing tables, high chests, and clock cases. In a notebook, English joiner John Widdefield (1673-1720), who immigrated to Philadelphia by 1705, documented the production of items such as spice boxes as well as instructions on everything from sharpening tools to making coffins and clock cases.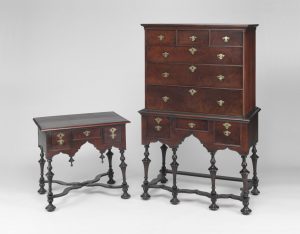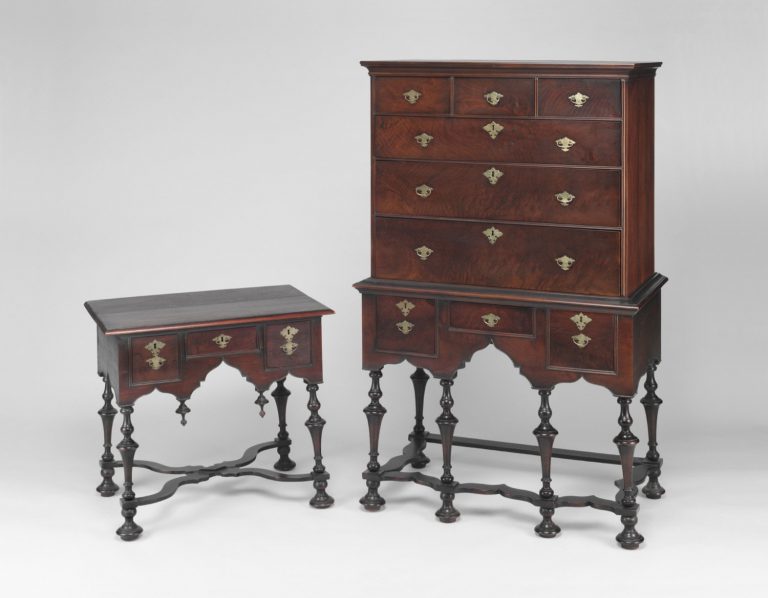 Many of the cabinetmakers who worked during this early period trained their sons in the trade, in some cases establishing multigenerational woodworking dynasties. For example, woodturner Jacob Schumacher (Shoemaker) Sr., a Quaker and one of the earliest settlers of Germantown, emigrated from Mainz, Germany, in 1683 and moved to Philadelphia about 1715. In 1722 he bequeathed his woodturning tools to his son Jacob Shoemaker Jr. (1692–1772), a joiner/turner whose son Jonathan Shoemaker (1726–1793) became a cabinetmaker. Another multi-generational workshop originated with joiner Joseph Claypoole (1677-1744), and extended to his sons Josiah Claypoole (1716/17-1757) and George Claypoole (1706-93) and grandson George Claypoole Jr. (1733-93).
Emigré Carvers
Philadelphia's cabinetmaking trade expanded greatly during the mid to late 1700s, leading to increasingly sophisticated craftsmanship and specialization. Highly skilled emigré carvers helped elevate Philadelphia furniture and architectural woodwork to new heights, and the work of London cabinetmaker Thomas Chippendale (1718-79), who in 1754 published The Gentleman and Cabinet Maker's Director, influenced many designs. Two of these craftsmen, Hercules Courtenay (c. 1744-84) and John Pollard (1740-87), worked in the shop of Benjamin Randolph (1721-91), one of the foremost cabinetmakers in colonial Philadelphia. His shop was located on Chestnut Street, identified as the Sign of the Golden Ball beginning in 1769. Randolph's shop produced both the lap desk on which Thomas Jefferson wrote the Declaration of Independence and, together with Thomas Affleck (1740-95), the ornate furnishings for the Philadelphia town house of John Cadwalader (1742-86). Other prominent city woodworkers included Samuel Harding (?- 1758), Nicholas Bernard (?-1789), Martin Jugiez (?-1815), Jonathan Gostelowe (1744-1806), and Daniel Trotter (1747-1800).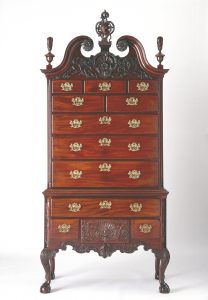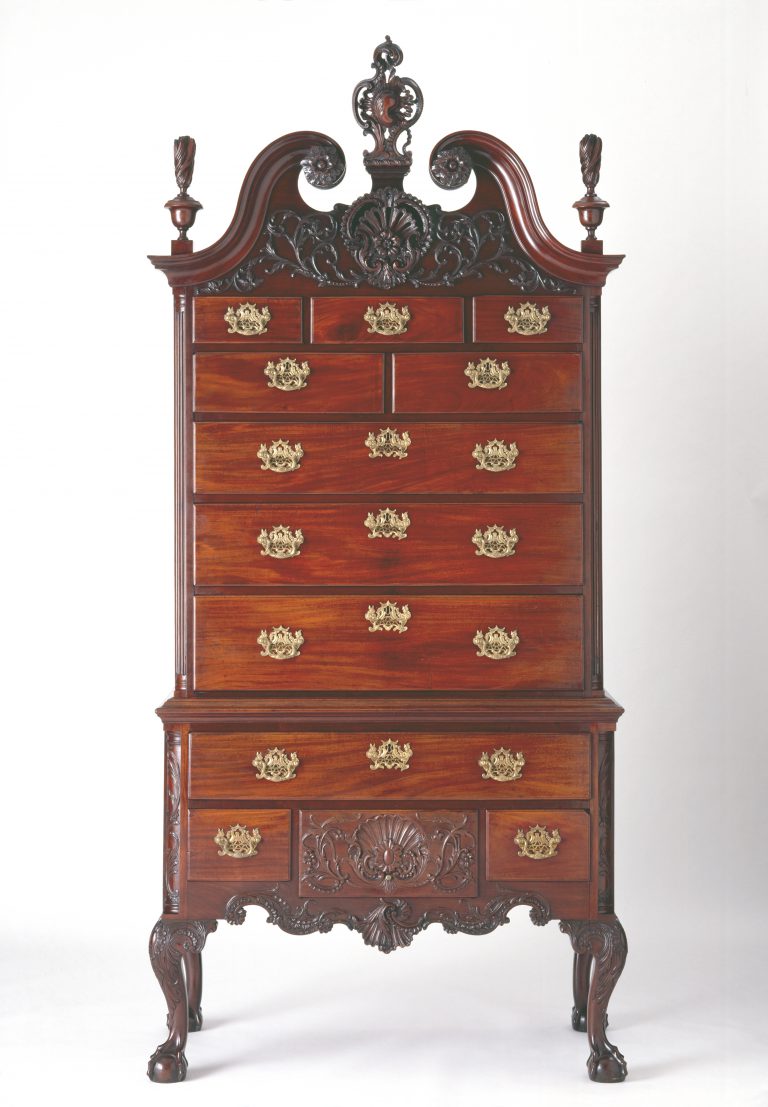 Some of the most celebrated pieces of Philadelphia furniture were crafted during this period, including a high chest made in 1769 for Michael Gratz (1740-1811) and his wife Miriam Simon (1749-1806), prominent members of Philadelphia's Jewish community. Made of highly figured mahogany with ornately carved foliate-and-shell motifs and pierced chinoiserie brasses, the Gratz high chest is an extraordinary example of Philadelphia furniture. Its elaborate scrollwork, sinuous curves, asymmetrical designs, and naturalistic motifs including shells and flowers, epitomize the rococo or late Baroque style that was popular in America during the mid to late 1700s.
Philadelphia's diverse furniture makers—which included English Protestants, German Lutherans, French Catholics, Welsh Quakers, and others—developed a furniture tradition that was more regionally specific than it was to any one ethnic group. They generally conformed to a standard design aesthetic rather than developing their own more individualized expressions. For example, Philadelphia Chippendale chairs typically have certain construction features such as side rails that are tenoned through the rear stiles and two-part vertical glue blocks—regardless of the maker's ethnicity. Outside the city, many cabinetmakers drew on Philadelphia styles, but others developed highly localized forms of decoration and construction techniques. In Lancaster County, for example, Pennsylvania German woodworkers inlaid some of their furniture with molten pewter or sulfur. Other craftsmen of Germanic heritage made painted chests decorated with images of flowers, birds, and even unicorns and camels. Typical Germanic construction techniques included the use of wooden pegs (rather than nails) to attach drawer bottoms and moldings as well as the insertion thin wooden wedges into the pins of dovetail joints for a tighter fit. Quaker cabinetmakers, primarily working in southern Chester County, embellished some of their work with line-and-berry inlay. Their construction practices reflected common English construction methods, including a preference for nails rather than wooden pegs.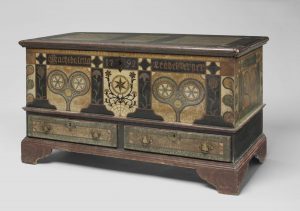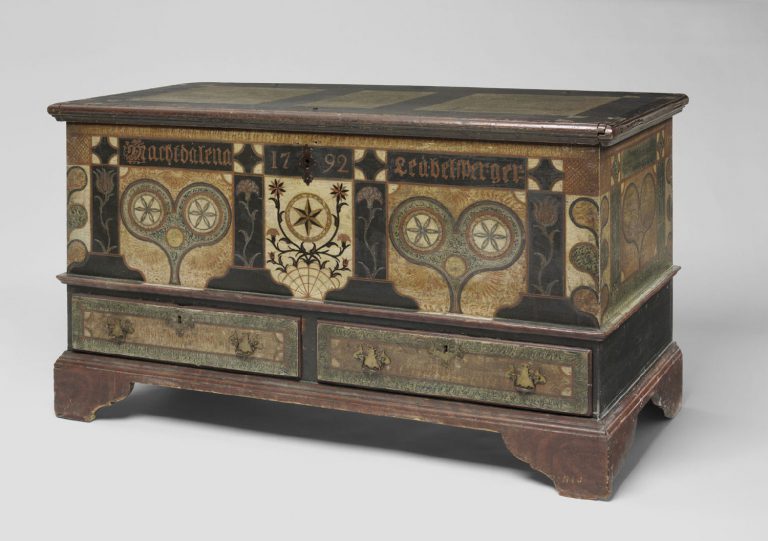 Although well-documented examples are limited, consumers made a variety of choices about their furniture. In Philadelphia, affluent and status-conscious consumers were first and foremost concerned with acquiring suitably fashionable furnishings for their homes. It probably did not matter much to them how the objects were constructed, so long as they were well-built and suitable in overall appearance. Research into the city's German population has suggested some preference for patronizing German craftsmen, but many of the best-documented objects made and owned by Philadelphia Germans show no trace of the owner or maker's ethnic background. By furnishing their houses with fashionable furniture, elite Pennsylvania Germans were not rejecting their German heritage so much as they were expressing their social status.
Specialization and Diversification
Increasing competition among craftsmen prompted the 1772 printing of Prices of Cabinet and Chair Work, an attempt by Philadelphia joiners to standardize retail prices and journeymen's wages. Competition also spurred specialization and diversification. For example, Welsh Quaker cabinetmaker David Evans (1748-1819), who lived and worked at 115 Arch Street, began to batch-produce coffins and Venetian blinds in the late 1780s. Leonard Kessler (1736-1804), a German Lutheran who made furniture for leading German families such as the Muhlenbergs, became an undertaker and invested in a potash works. William Savery (1721/22-87) became one of the city's foremost chair makers. While Savery made primarily slat-back, rush seat chairs, other craftsmen such as Thomas Gilpin (1700-66), Francis Trumble (c. 1716-98), and Joseph Henley Sr. (c. 1743-1796) specialized in Windsor chairs. Philadelphia became such a center of Windsor chair making that venture cargoes were shipped to other colonies and the Caribbean.
The decades following the American Revolution, 1790-1820, saw the rise of a lighter, classically-inspired style influenced by the publication of George Hepplewhite's Cabinet Maker and Upholsterer's Guide in 1788 and Thomas Sheraton's Cabinet Maker's and Upholsterer's Drawing Book three years later. In Philadelphia, which served as the nation's capital during the 1790s, leading cabinetmakers such as Adam Hains (1768-1846), Henry Connelly (1770-1826), John Aitken (?-1839), and Joseph Barry (1757-1838) readily adopted the new Federal style. An influx of French refugees also ushered in a vogue for furniture in the French taste.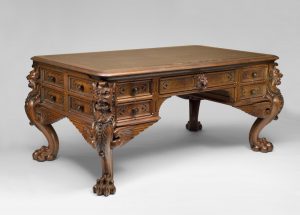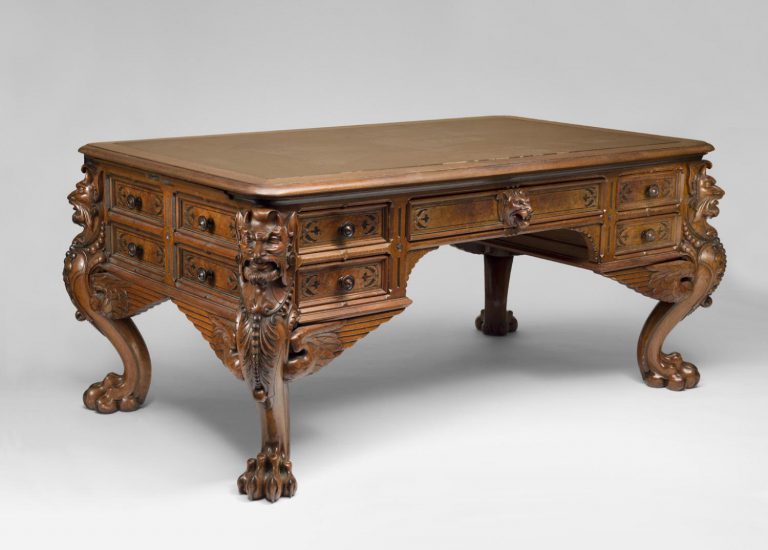 During the Federal period, Philadelphia also became home to a small but highly important group of piano makers, many of whom first trained as joiners. In 1789, German émigré Carl or Charles Albrecht (c. 1760-1848) built the earliest known American-made piano. A prolific maker, by 1798 Albrecht had produced at least ninety-three pianos in his shop at 95 Vine Street for clients including Peter Muhlenberg (1746-1807) of Philadelphia; Peter Dieffenbach (1755-1838) of Berks County, Pennsylvania; and Abner Lord (1760-1821), a Connecticut native who moved to Marietta, Ohio, about 1800. More than twenty examples survived into the twenty-first century in museum and private collections.
Advances in transportation between 1820 and 1840, including improved roads, new canals, and the introduction of railroads, created new or expanded markets for goods throughout the United States. Philadelphia's cabinetmaking trade grew significantly, propelled by more than 2,100 furniture makers, including 1,290 cabinetmakers, 300 chairmakers, and 250 turners. The output of these craftsmen—nearly 130,000 pieces of furniture, mostly chairs—reached far beyond Philadelphia to about fifty domestic cities and twenty abroad. New merchandising techniques, particularly wholesaling and furniture showrooms, also developed. Retailers could purchase ready-made furniture and ship it to distant locations for resale, while consumers could acquire furniture that was already made rather than ordering, and waiting, for pieces made to order.
Apprentice System Erodes
With increasing production, the traditional apprenticeship system began to erode. Master cabinetmakers increasingly directed the work of journeymen and apprentices rather than making furniture themselves. Conflicts over wages and increasing use of unskilled labor led to strikes in 1796 and 1825. In 1829, the Society of Journeyman Cabinetmakers, founded in 1806 as a benevolent organization, revised its constitution and pushed for set minimum wages and an eleven-hour working day. Unsuccessful in these efforts, the society founded a cooperative furniture wareroom in 1834; it soon became one of the largest furniture retail stores in Philadelphia.
Immigration also continued to shape the trade. Beginning in the 1830s, a new influx of Germans included many skilled cabinetmakers; by 1850, more than one-third of Philadelphia's cabinetmakers were German-born. Foremost among them was Daniel Pabst (1826-1910), who helped usher in a vogue for curvilinear, rococo revival furniture.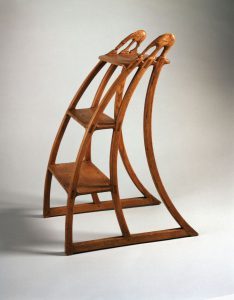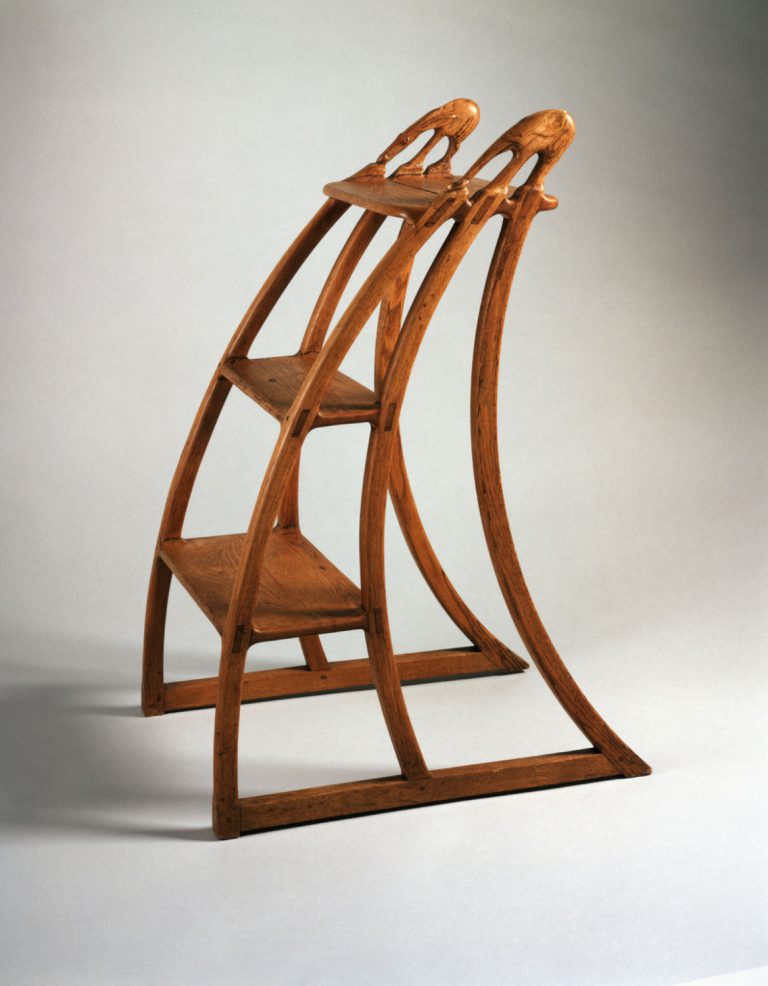 The Philadelphia furniture industry prospered through the late 1800s, but it faced increasingly stiff competition from other regions, including New York, North Carolina, and Michigan. With its highly diversified array of small- to medium-scale industries, Philadelphia became known as the "Workshop of the World" by the early 1900s. But as mass production and marketing gave consumers access to standardized, inexpensive goods made by domestic and global manufacturers, the city's furniture industry declined and virtually disappeared by the mid-1900s. By the 1970s even the Philco company, renowned for making high quality audio systems housed in "Mastercraft" furniture cabinets, switched to cheaper wood composites and faux wood components made of vinyl and plastic. The radios were also replaced with imports from Taiwan.
Not all furniture making switched to an industrial scale. Followers of the Arts and Crafts movement, part of a larger reaction to the industrial revolution that emerged in the late 1800s, advocated for a return to handcraftsmanship. In the early 1900s, members of the Rose Valley Association (a utopian living experiment in Media, Pennsylvania) made furniture—much of it with heavy carving in the Gothic style—for their own use and to sell to wealthy clients in the Greater Philadelphia area. Several decades later, craftsmen such as Wharton Esherick (1887-1970) and George Nakashima (1905-1990) found success making studio furniture in the mid-1900s and beyond. Their innovative designs combined naturalistic forms and use of figured woods with traditional joinery techniques—continuing Philadelphia's longstanding heritage in cabinetmaking.
Lisa Minardi is an assistant curator at Winterthur Museum and a Ph.D. candidate in the History of American Civilization program at the University of Delaware, where she is studying the German population of early Philadelphia for her dissertation. Her publications include numerous books and articles on Pennsylvania furniture, architecture, and folk art. (Author information current at time of publication.)
Copyright 2017, Rutgers University