Essay
The Philadelphia region served as an important diffusion ground for log cabins in America as Swedes, Finns, and later Germans transposed their traditional building practices to the Delaware Valley, melding old-world models with the bounty of timber but adapting to the lack of tools and skilled craftsmen. By the mid-nineteenth century, log cabins had become far removed from mainstream, middle-class building practices. However, they experienced a symbolic revival in nineteenth-century political campaigns and served as nostalgic building models for twentieth-century back-to-wilderness and back-to-the-land movements.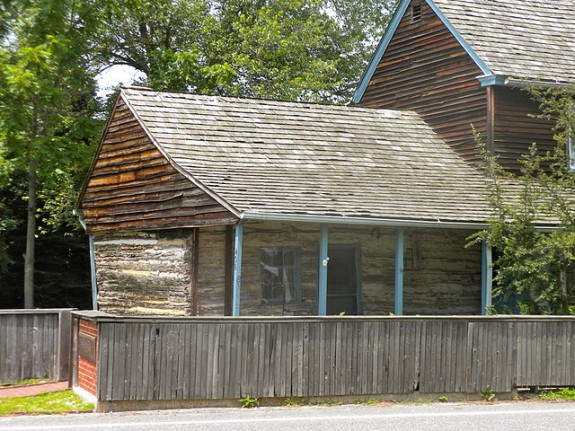 Scholars debate the specific origins and diffusion of the American log cabin, but the Delaware Valley was central to its introduction. Scandinavians introduced the log cabin to America when they settled New Sweden in the area of the Delaware Bay in 1638. In the seventeenth and eighteenth century, German and Swiss settlers brought the concept of the "continental" log building, which was divided into three rooms and organized around a central hearth. Welsh and Scots Irish settlers adapted the log cabin to their building traditions by shifting the chimney to the gable ends and carried the practice into the hinterland and western frontier. (English settlers, preferring frame construction, did not adopt log construction until the eighteenth century.)
The colonists who introduced log cabins to the American landscape used their carpentry skills and knowledge of construction to work forests of timber into hewn logs and stack them into shapes that would have been recognizable back home. In doing so, they expressed their hopes and ambitions for new lives in America. The log cabin was generally considered a temporary structure, typically one or one-and-a-half stories with one room that might be divided into two.
Two Axes and a Saw
Its construction depended on access to woods, demanded basic skill, and required few tools—a felling axe, a broad axe, and a hand saw or crosscut saw. In contrast, log houses, which were meant to be permanent, often had two stories and more complex floor plans mimicking more-sophisticated frame or masonry dwelling construction. Both forms of log building existed in the Philadelphia area, but the tradition was abandoned for frame construction or more refined brick or stone. By the twenty-first century, few log cabins existed and most log houses had been sided over, obscuring their rustic beginnings.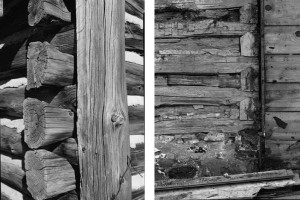 In its most basic form, the log cabin consisted of four walls joined at the corners, forming a single "pen," or "crib." Within this room builders could install partitions and often added lean-tos on the back. Chimneys, normally constructed of stone or brick, stood entirely inside the house in cold-climate regions like the Mid-Atlantic. Foundations for log cabins often consisted of wooden posts or a course of stones or logs on the ground with the first "sill log" set directly on top. Builders, particularly the Swedish, filled the gaps between logs and insulated the walls with chinking (a mixture of fill such as wood or stone packed together with oakum, moss, clay, or dried animal dung) and daubing (a finish layer of clay and lime). The Upper (now demolished) and Lower Swedish Log Cabins in Upper Darby, Pennsylvania, both likely constructed in the 1640s, exemplified the typical Swedish log cabin, constructed out of logs with clay chinking and clapboard gables.
Even in urban areas like Philadelphia, log cabins served as housing for those who could afford no better. Few examples in Philadelphia were documented, and all historic log buildings were demolished or relocated. However, a photograph taken in 1869 of the "old log cabin" in Kensington survives in the collections of the Free Library of Philadelphia as a depiction of an urban log cabin standing dilapidated under its towering brick neighbors.
The Cabin as Symbol
In the mid-nineteenth century, the log cabin became an important symbol in American political rhetoric. After being nominated in Harrisburg in 1839, Whig presidential nominee William Henry Harrison (1773-1841) and his supporters launched the "Log Cabin Campaign," tying the log cabin to simple, self-sufficient, democratic ideals of many mid-nineteenth-century Americans in stark contrast to elite ideals of refinement. As he stumped around the country, including Philadelphia, supporters received tokens with the cabin image. The most well-known example of a cabin-linked president was Abraham Lincoln (1809-65), whose Kentucky birthplace log cabin was later reconstructed. Thereafter, the log cabin became romanticized to reflect a way of life long removed from modern, industrial society. For this reason, it became a key element of the American romantic and wilderness movements.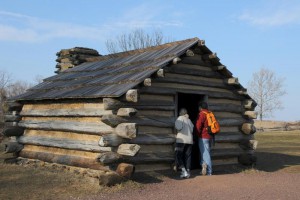 The nostalgic reframing of the log cabin made preservation and reconstruction a popular activity for patriotic celebrations, pageants, and memorials. The Centennial Exhibition of 1876 hosted by Philadelphia had a reconstructed log cabin that was ironically credited to the New England tradition, rather than the Philadelphia region where the log cabin actually originated. Later, the soldiers' cabins at Valley Forge were reconstructed to represent the 1777-78 winter encampment, when Continental troops constructed nearly 2,000 makeshift log "huts," or cabins, measuring 14 by 16 feet with wood chimneys lined with mud. Most of the original cabins were quickly dismantled and others deteriorated. However, with the American fondness for log cabins firmly in place, enthusiasts from the Daughters of the Revolution began reconstructing them in 1905. After the designation of Valley Forge State Park (later Valley Forge National Historical Park), staff reconstructed more cabins in the 1940s. Many of these were rebuilt again in 1961.
While no historic log cabins survived within Philadelphia's city limits, a more recent example is tucked into the neighborhood of Northern Liberties, north of Center City. In 1985, artist Jeff Thomas constructed a two-story log house from logs and mortar on four vacant lots. Inspired by the "back-to-the-land" movements of the 1970s, it became a much-loved novelty in Philadelphia's modern urban landscape, continuing a form of rustic but comfortable housing first introduced to America in the Philadelphia region.
Amanda Casper is a Ph.D. candidate in History at the University of Delaware. She has an M.S. in Historic Preservation from the University of Pennsylvania and an M.A. in History from the University of Delaware. She works as a historian for the National Park Service Northeast Regional Office. (Author information current at time of publication.)
Copyright 2016, Rutgers University
Backgrounders
Connecting Headlines with History