Essay
New Year's celebrations in the Philadelphia region have often included parties, formal wear, fireworks, and parades as part of a two-day, secular celebration from December 31 to January 1. The changing of a calendar year from one to the next has long been cause for commemoration and reflection, and the city's diverse communities have shaped the holiday. Throughout Philadelphia's history, New Year's celebrations have ranged from sacred to silly and occurred throughout the year as ethnic and religious groups gathered and shined light on their own traditions.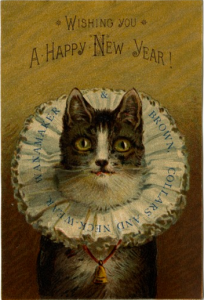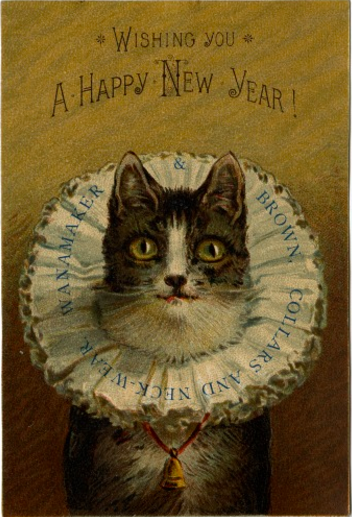 When William Penn (1644-1718) founded Pennsylvania in 1681, Great Britain and her colonies were still using the Julian calendar, twelve months long but based on the solar year. Under this calendar, the New Year began on March 25, around the spring equinox. In 1751, Britain adopted the Gregorian calendar and the New Year began on January 1, 1752. Later in the year, eleven days between September 2 and September 14 were dropped in order to align completely with the Gregorian calendar. The first new year to fall in January in Philadelphia was January 1, 1752, the same day that famed Philadelphia flag maker Elizabeth "Betsy" Griscom Ross (1752-1836) was born.
During the colonial period, the New Year's celebration was relatively quiet compared to twenty-first century parties and galas. Christmas celebrations had yet to be wholly commercialized and the extended holiday season was primarily spent attending church services, eating a meal with family, and paying visits to friends. Initially December 26, or "Second Day Christmas" as the Swedish call it, was the time to visit the homes of friends, but New Year's Day also became a particularly popular time to call on loved ones. Neighbors often held open houses and provided punches, cakes, and good company for those who visited. Festivities included Dutch food traditions and sharing and eating New Year's cake to bring good luck. Those of German background continued the tradition of eating pork on New Year's into the twenty-first century, with the pig symbolizing progress with its snout pushed forward into the ground.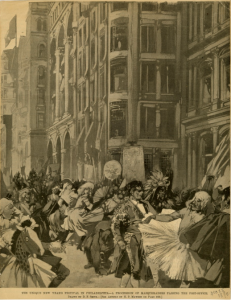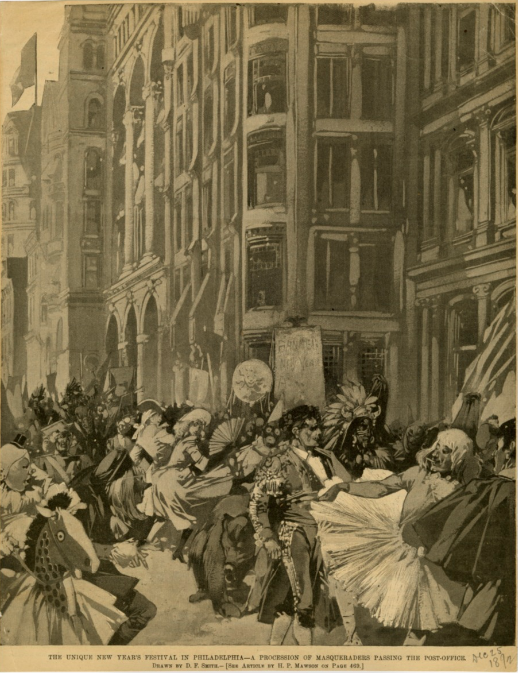 When Philadelphia served as the capital of the United States during the 1790s, President George Washington (1732-99) began the official tradition of visiting homes on New Year's Day. While the president called on friends, groups of men known as mummers celebrated in their own way. The mumming tradition can be traced to ancient Rome and Greece, however its modern roots stem from a mixture of English, Scottish, German, Irish, and French traditions that culminated in the distinctly Philadelphian pasttime. Mummers, often groups of working-class men, roamed the streets singing, dancing, and performing as clowns or minstrels. The men would go door to door, in a fashion somewhat similar to modern Halloween trick-or-treating, and sang songs to receive food and drink. Some found the mummers entertaining and enjoyable, while others found them to be obnoxious drunks. By 1808, masquerading was considered a public nuisance and a punishable offense.
For Philadelphia's Methodist population, New Year's Eve meant holding a night of prayer and reflection inside their church, often referred to as a watch night. These watch nights trace their Methodist history to 1770, where the first Watch Night was held in St. George's Methodist Church at 235 N. Fourth Street. Religious observances served to distract participants from the revelry outside, since the mummers continued their activities into the 1850s, when the public nuisance law was repealed.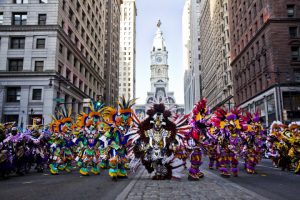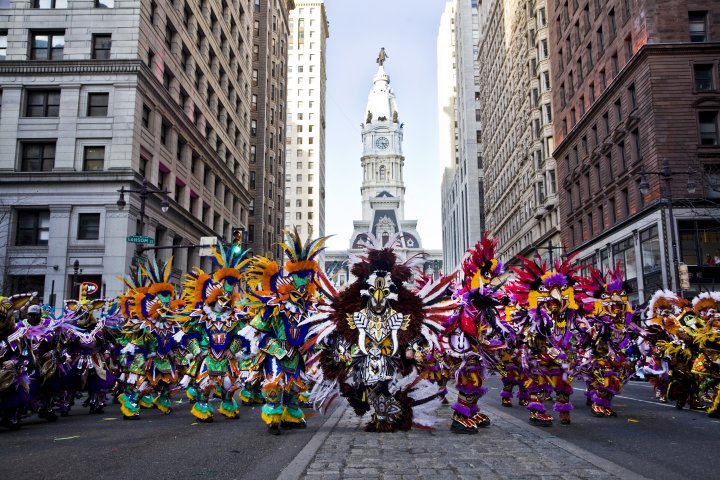 Mummery became popular again after the Civil War, and by 1888 the once haphazard gangs had formed organized clubs. Small parades took place in the last decade of the nineteenth century, and by 1901 the first officially sponsored Mummers Parade took place. Over the next century the Mummers Parade became a symbol of New Year's Day in Philadelphia, often drawing a large number of participants and spectators on January 1.
In the twentieth and twenty-first centuries, New Year's celebrations at the end of December have continued the spirit of merrymaking that was once frowned upon by the elite class. Philadelphia's own Dick Clark (1929-2012), producer and host of American Bandstand, hosted the televised Dick Clark's New Year's Rockin' Eve from 1974 to 2004, and again from 2006 until his death in 2012. Held in New York City's iconic Times Square, the event's central focus was the countdown to midnight, accompanied by a gigantic crystal ball that "dropped" as spectators watched.
Around Greater Philadelphia in the early decades of the twenty-first century, cities and towns hosted their own countdowns and "dropped" a number of objects to welcome the new year. In 2014, Kennett Square, Chester County, dropped a steel mushroom, to signify the borough's place as "Mushroom Capital of the World." Annually in Lancaster and York, Pennsylvania, the drop featured roses, red and white, respectively, while Lebanon, Pennsylvania, dropped a piece of famed Lebanon bologna. North of Philadelphia, Allentown dropped a replica of the Liberty Bell, to symbolize the time the bell was stored there during the American Revolution. In Center City Philadelphia, there was no ball dropping, but revelers watched fireworks displays over the Delaware River and attended parties at Penn's Landing as well as the Adventure Aquarium in Camden, New Jersey. Along the Jersey Shore, families gathered at many beach towns, while Cape May's Congress Hall hosted the annual Glitter Ball and Atlantic City's clubs and casinos threw parties. For those who preferred to stay inside on New Year's Eve, television broadcasts brought Philadelphia's fireworks displays in to homes across the area, where families and friends gathered to ring in the new year together.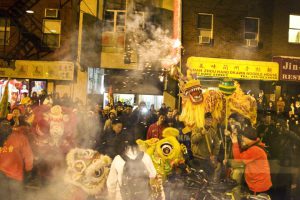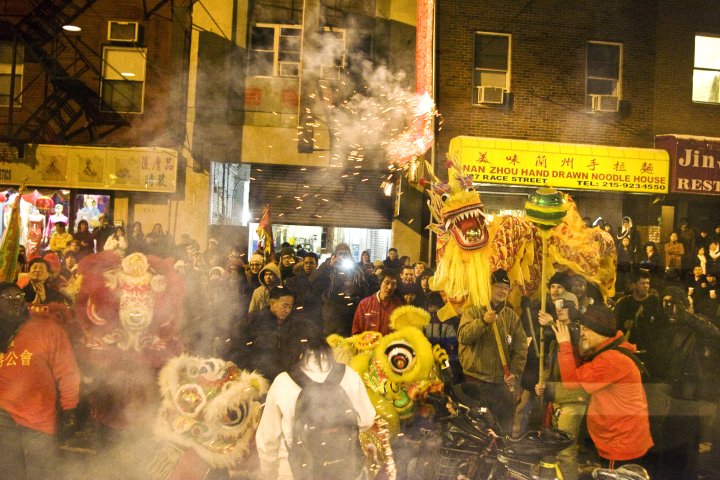 Ethnic and religious diversity introduced different or additional New Year's festivities. In late September or early October, Philadelphians of Jewish faith celebrated Rosh Hashanah, which marks the transition from one year to the next, based on their traditional lunar calendar. Chinese communities worldwide celebrated their lunar New Year, also known as the Chinese New Year, about a month after the civil calendar celebration. The Chinese New Year falls on first new moon sometime between January 21 and February 20. In Philadelphia's Chinatown neighborhood, a vibrant parade and celebrations marked the occasion and continued for fiften days after the new moon.
In Philadelphia's African American communities, Kwanzaa was annually celebrated from December 26 to January 1. Created by Maulana Karenga (1941-), the secular holiday was the first specifically African American holiday and it culminated in feasts and gift giving. Although Kwanzaa ended on January 1 it was not specifically a New Year's celebration. That title went to the ODUNDE Festival, which began in 1975 and takes its name from the word meaning "Happy New Year" in the Yoruba language of Nigeria and was held the second Sunday in June. Although based on the Yoruba Oshun Festival, the celebration encouraged cultural pride among all Africans around the world. During ODUNDE, thousands of participants and spectators gathered annually near Twenty-Third and South Streets to highlight their history and heritage as they welcomed a new year.
Whatever the month, and encompassing all traditions of diverse populations, New Year's celebrations have offered a time for Philadelphians to reflect, revel, and focus on their plans for the year ahead.
Mikaela Maria is an editorial, research, and digital publishing assistant for The Encyclopedia of Greater Philadelphia. She received her M.A. from Rutgers University and works as a public historian and museum professional in Philadelphia. (Author information current at time of publication.)
Copyright 2016, Rutgers University