Essay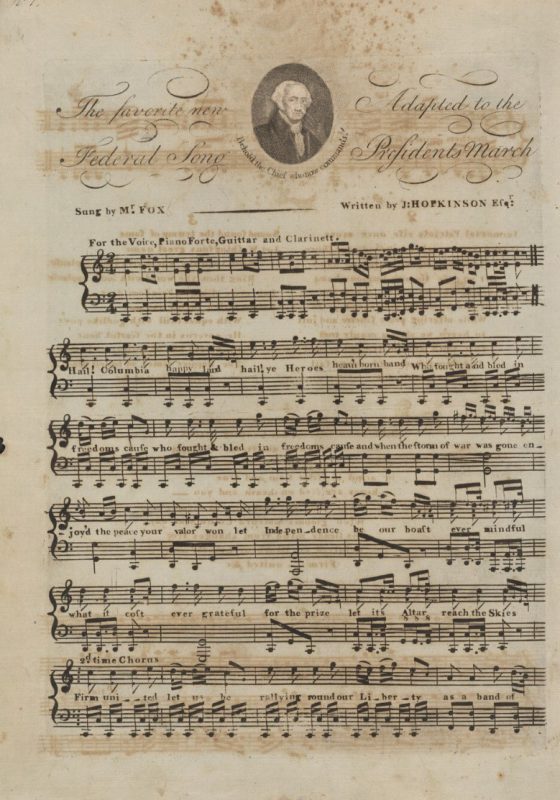 "Hail, Columbia," written in Philadelphia in the closing years of the eighteenth century, became a popular patriotic song in early America and served for many years as the unofficial national anthem. Bands began to play it in honor of the vice president of the United States in the 1830s, and later it became the official song of that office.
Philadelphia lawyer Joseph Hopkinson (1770–1842) created "Hail, Columbia" in the spring of 1798 when he put lyrics to the tune of the "President's March," a patriotic instrumental piece written in 1789 by Philip Phile (1734?–93), a German immigrant musician active in Philadelphia in the 1780s and 1790s.
In his later years, Hopkinson related the story behind the song: In April 1798 a young singer-actor named Gilbert Fox (1776–1807?) asked Hopkinson to write a song for Fox to perform at an upcoming benefit concert in Philadelphia. Fox needed a rousing song for the concert and asked if Hopkinson could write lyrics to Phile's "President's March." Hopkinson obliged and came up with lyrics that opened with the stirring proclamation "Hail Columbia, happy land! Hail, ye heroes, heav'n born band." With Philadelphia then serving as the nation's capital and the United States on the verge of war with France, Hopkinson envisioned the song as a patriotic rallying cry.
The public first heard the song when Fox performed it at the Chestnut Street Theatre on April 25, 1798. The audience loved it and demanded multiple encores. A Philadelphia music publisher issued a sheet music version a few days later and the song quickly became very popular in both Philadelphia and New York.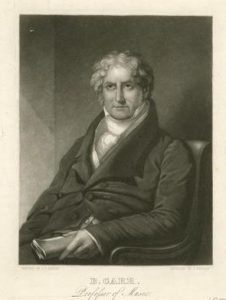 Unlike other early American patriotic songs such as "The Star-Spangled Banner" and "America (My Country Tis of Thee)," which featured new lyrics set to traditional English melodies, both the words and music to "Hail, Columbia" were written in the United States. Philip Phile, who wrote the tune, first appears in the mid-1780s as a performer, composer, and music teacher in Philadelphia and New York. In 1785 he led the orchestra at Philadelphia's Southwark Theatre. He wrote the "President's March" in 1789, reportedly in honor of the presidential inauguration of George Washington (1732–99). Philadelphia music publisher Benjamin Carr (1768–1831) first published the piece in 1793. Phile died later that year in Philadelphia, perhaps a victim of the city's infamous yellow fever epidemic.
Joseph Hopkinson, son of well-known Philadelphia patriot and signer of the Declaration of Independence Francis Hopkinson (1735–91), was a prominent lawyer who later served as a U.S. congressman and federal judge. Joseph followed in his father's footsteps in mixing law, statesmanship, and the arts. Francis Hopkinson, in addition to being a lawyer and judge, also became well known as a poet and musician.  Considered America's first "Poet-Composer," Francis Hopkinson was the first native-born American to write a popular song, "My Days Have Been So Wondrous Free," composed in 1759.
"Hail, Columbia" remained popular through the centuries and was one of several songs that served as an unofficial American national anthem until Congress officially gave that designation to "The Star-Spangled Banner" in 1931.  Written in the new nation's first capital during a formative period in American history, "Hail, Columbia" was one of the first pieces of music to define the young United States in song.  Later, as the official song of the vice president, it continued to play a role in America's musical identity.
Jack McCarthy is a music historian who regularly writes, lectures, and gives walking tours on Philadelphia music history. A certified archivist, he is currently directing a project for the Historical Society of Pennsylvania focusing on the archival collections of the region's many small historical repositories. Jack has served as consulting archivist for the Philadelphia Orchestra and the 2014 radio documentary Going Black: The Legacy of Philly Soul Radio and is giving several presentations and helping produce the Historical Society of Pennsylvania's 2016 Philadelphia music series, "Memories & Melodies." (Author information current at time of publication.)
Copyright 2016, Rutgers University