Listen to the Mocking Bird
Essay
Written in 1855 by a Philadelphia songwriter who was inspired by the whistling of a street musician, "Listen to the Mocking Bird" was one of the most popular songs of the nineteenth century. It sold millions of copies of sheet music and was sung (and whistled) throughout the United States and parts of Europe.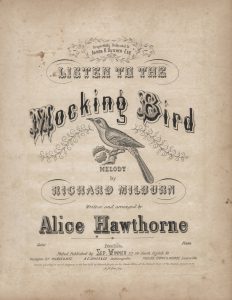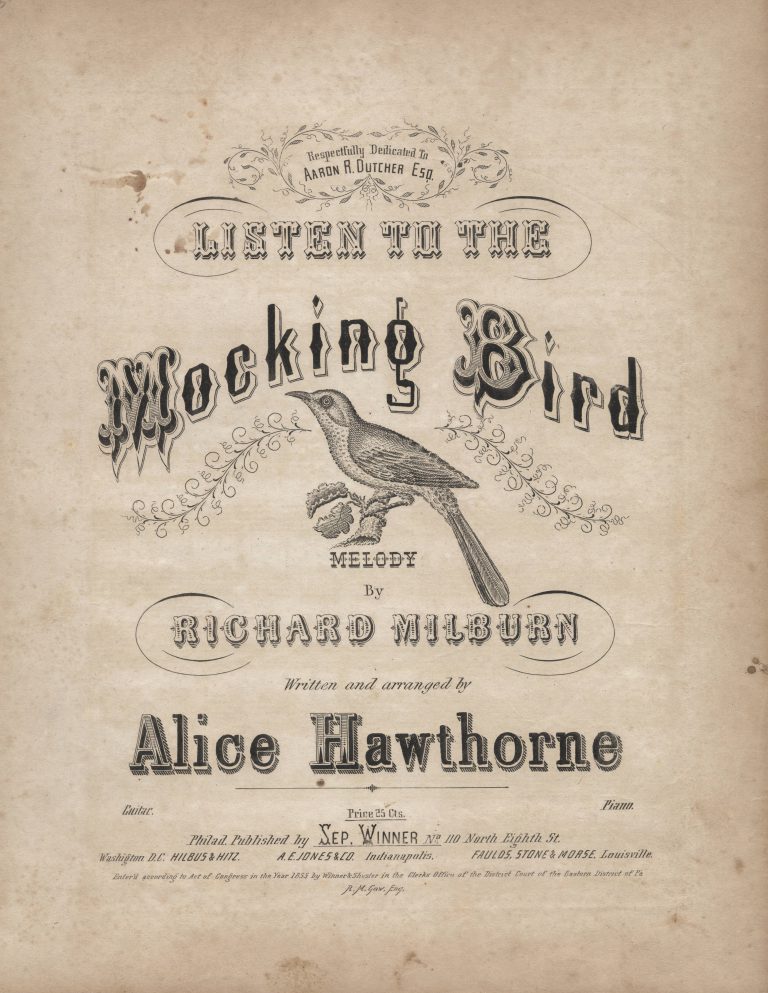 Philadelphia songwriter and music businessman Septimus Winner (1827–1902) wrote the song using a tune he heard an African American street musician whistle. Richard Milburn, known as "Whistling Dick," played guitar and whistled on Philadelphia streets for money in the mid-nineteenth century. One of his entertainments was to imitate a mockingbird by whistling a particular melody. Winner took this melody and wrote lyrics to it. With its catchy "listen to the mockingbird" refrain, the song became hugely popular.
Septimus Winner was a well-known songwriter, music teacher, music publisher, and proprietor of a music store in mid to late nineteenth-century Philadelphia.  He wrote many successful popular songs and was a poet as well. Like many writers of his era, Winner wrote under an assumed name, "Alice Hawthorne." Hawthorne was the maiden name of Winner's mother, who was a relative of the writer Nathaniel Hawthorne (1804–64). Winner first published "Listen to the Mocking Bird" in 1855 through his own publishing company, Winner & Shuster, and listed the songwriting credits as "Melody by Richard Milburn . . .  Written and arranged by Alice Hawthorne." He later sold the copyright to the song to another Philadelphia publisher, Lee & Walker, whose subsequent editions omitted Milburn and gave the writing credit solely to Hawthorne.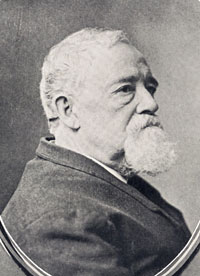 Winner did not reap significant financial rewards from "Listen to the Mocking Bird," as he sold the copyright for five dollars soon after the song's original publication. A Philadelphia newspaper in the early twentieth century estimated that the song's sheet music sales had totaled over twenty million copies in America and Europe in the fifty years since its publication. It is doubtful that Richard Milburn profited much from the song either. Winner employed him for a time running errands at his music store. Milburn also may have worked as a barber.
Although the melody to "Listen to the Mocking Bird" was upbeat, Winner's lyrics were in the tradition of the mid-nineteenth-century American sentimental ballad. Songs with sad, often maudlin lyrics of mourning the loss of a loved one, longing for home, or cherishing memories of happier times were very popular in this period. In "Listen to the Mocking Bird," the singer is mourning the loss of his beloved Hally, visiting her gravesite and listening to a mockingbird sing, as they often did together when she was alive.
Curiously, some of the sheet music versions of "Listen to the Mocking Bird" listed it as an "Ethiopian" ballad. "Ethiopian" was a designation for a minstrel song, another very popular type of song at that time that featured stereotypical, derogatory depictions of African Americans, lampooning them with "Negro dialect" lyrics and music. While labeled on some sheet music covers as a "sentimental Ethiopian ballad," neither the words nor the music to "Listen to the Mocking Bird" exhibited any characteristics of a minstrel song.
"Listen to the Mocking Bird" became a beloved song in the United States and Europe. Abraham Lincoln (1809–65) described it as "a real song . . . as sincere and sweet as the laughter of a little girl at play," and later in his life King Edward VII of England (1841–1910) recalled whistling it as a little boy. Into the early twenty-first century "Listen to the Mocking Bird" remained one of the most familiar songs in American history.
Jack McCarthy is a music historian who regularly writes, lectures, and gives walking tours on Philadelphia music history. A certified archivist, he recently directed a major project for the Historical Society of Pennsylvania focusing on the archival collections of the region's many small historical repositories. Jack serves as consulting archivist for the Philadelphia Orchestra and the Mann Music Center and worked on the 2014 radio documentary Going Black: The Legacy of Philly Soul Radio. He gave several presentations and helped produce the Historical Society of Pennsylvania's 2016 Philadelphia music series "Memories & Melodies." (Author information current at time of publication.)
Copyright 2017, Rutgers University