Essay
American Bandstand (1952-89) was a massively popular music television program with strong Philadelphia roots, storied national success, and the power to shape the music industry and society.  The show epitomized many important aspects of ever-evolving American popular culture: mass communication, popular music, youth culture, dance and fashion trends, as well as race and gender relationships.  Particularly during the show's prime Philadelphia years (1952-63), Philadelphia youth culture became American culture through American Bandstand.
First called Bandstand, the program premiered October 6, 1952, hosted by Philadelphia radio DJ Bob Horn (1916-66).  It was shot live from Studio B at Forty-Sixth and and Market Streets, where the two-and-a-half-hour show was broadcast regionally on WFIL-TV Channel 6.  Via this network, which advertised itself as "WFIL-adelphia," the show reached almost six million viewers in the Delaware Valley, the nation's third-largest market at the time.  Pennants from local high schools lined the walls of American Bandstand's production studio, emphasizing to viewers and advertisers the show's local orientation.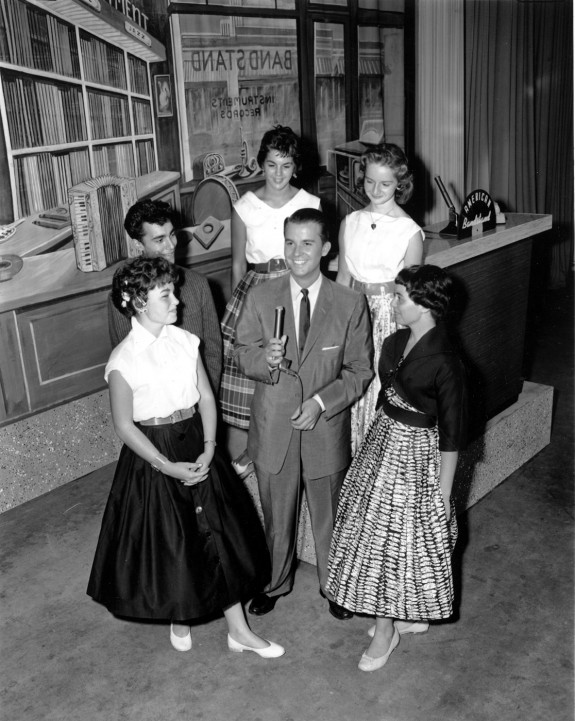 Dick Clark (1929-2012) replaced Horn as host in 1956, just before the show was renamed American Bandstand, shortened to ninety minutes, and expanded to a national ABC audience on August 5, 1957.  The show then aired at 3 p.m., Monday through Friday, corresponding with the typical school day's end.  American Bandstand was an immediate success, with an estimated audience of twenty million viewers.
From its earliest days, the show featured young people dancing to a rock-and-roll soundtrack or other popular genres of the day.  This included dances the Bop, the Twist, the Jitterbug, and the Stroll.  The show also incorporated appearances by acts like Paul Anka, Frankie Avalon, and Connie Francis, who would lip-sync performances.  Being featured on the show all but guaranteed a spike in popularity; even before it moved to a national platform American Bandstand offered a remarkably large audience base for musicians, often generating national popular demand for a new group or single.  Another component of the show was its Rate-a-Record segment—where people evaluated a record on a scale of 35 to 98—which originated the saying, "It's got a good beat and you can dance to it."  For this era's music industry, American Bandstand was arguably the most significant television venue in the country.
Local Teens as National Celebrities
Throughout its Philadelphia years, the show was so popular that it transformed average local-area teens into national celebrities.  On each broadcast day the line of teens hoping to appear on the show snaked around the block; some were granted entry and others denied.  In order to help establish a clean-cut image for the show, guys were required to wear ties with suit jackets or sweaters, while girls dressed in "good taste," for example a high-cut blouse with a dress or skirt.  Clark felt such conventions helped boost the perception of rock-and-roll, which in the 1950s was a controversial genre often disliked by older generations.
Several teens belonged to a select group of taste-making gatekeepers who helped monitor dress code and admission.  Clark and producer Tony Mammorella (1924-1977) dubbed this group "The Committee," led from 1954 to 1956 by future DJ Jerry Blavat.  Such white Philadelphia-area teens (many from South Philadelphia or near the show's production site in West Philadelphia), among others, regularly appeared on American Bandstand.  Many subsequently became celebrities (albeit temporarily), appearing in other media, receiving fan mail, and starting fashion trends.  Many of the show's female dancers wore Peter Pan collars—a feature of their Catholic school uniforms—and at one point this even sparked a nationwide trend imitating the look.
Racial Influences
Arguably, American Bandstand both contributed to racial integration and supported racial segregation.  For instance, the show's producers allegedly practiced discriminatory policies that excluded or limited appearances by African American teen dancers, presumably to appease advertisers.  In the early years of American Bandstand, African Americans were rarely seen on television.  However, musicians such as Chuck Berry, Bo Diddley, and Sam Cooke all made national appearances on American Bandstand during the late 1950s.  Conceivably, this helped promote racial equality and intercultural understanding.
Over the decades, American Bandstand's location, air days, duration, and content changed.  The program moved production in 1964 from Philadelphia to Hollywood, months after it began airing once per week.  In its later years the show was challenged by the diversifying tastes of fragmented audiences.  As music styles evolved, American Bandstand incorporated more emerging genres.  Throughout its run the show featured various types of popular music, such as rock-and-roll, R&B, Motown, British rock, psychedelic rock, disco, new wave, and more.
Despite changes over the years, the show continued to embody and represent evolutions in American music, fashion, dance, and other sociocultural norms.  Still, American Bandstand's Philadelphia years are recalled with particularly impassioned nostalgia.  Emphasizing this sentiment, Philadelphian John Oates (of musical duo Hall & Oates) said, "The show had such an impact on the music business, it set the tone and the pace for teenage style and attitude and everything else across America."
Jordan McClain is Assistant Teaching Professor of Communication at Drexel University.  Amanda McClain is Assistant Professor of Communications at Holy Family University. (Author information current at time of publication.)
Copyright 2012, Rutgers University