Essay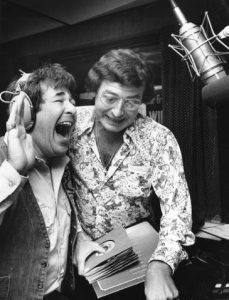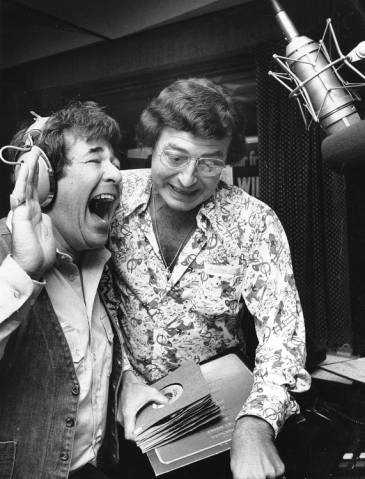 Disc jockeys—"DJs" who play music on the radio—have had a key role in shaping Philadelphia musical tastes since the 1950s. They reflected national and local musical trends, exposed audiences to new music, and in some cases produced records and managed artists. Many Philadelphia DJs became celebrities, actively engaged and influential in the local music scene.
DJs came into being as a result of changes in the radio industry after the advent of television in the 1950s. In the earlier years of radio broadcasting, which began in Philadelphia in 1922, programming featured mainly live entertainment such as dramas, comedy acts, and studio orchestras and singers. When television came into widespread use, the audience for this type of programming largely abandoned radio for the new medium. In response, radio stations began offering a new type of entertainment by having their announcers play records on the air. Thus was born the "disc jockey" or "DJ."
DJs first achieved popularity on AM radio, which predominated in the 1950s and 1960s. Four AM stations ruled the Philadelphia airwaves in the all-important youth radio market in this period: white stations WIBG and WFIL and Black stations WDAS and WHAT. WIBG adopted an all rock and roll format in the late 1950s with DJs Joe "the Rockin' Bird" Niagara (real name Joseph Nigro, 1927–2004), Hy "Hyski" Lit (Hyman Lit, 1934–2007), and others. WFIL switched to rock and roll in 1966 with "Boss Jocks" such as Jay Cook (c. 1938–99), Jim Nettleton (1940–2009), and George Michael (1939–2009).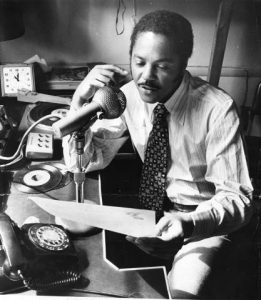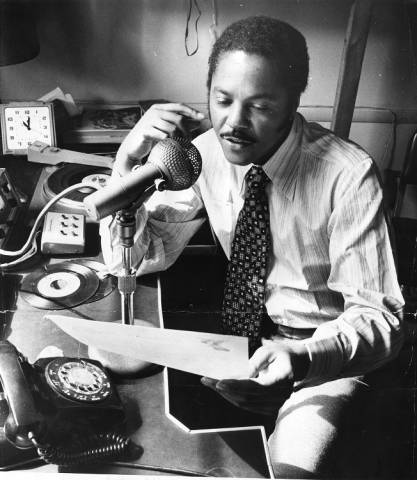 Philadelphia's African American DJs were heard on the far right end of the dial, where the city's two major Black stations, WDAS and WHAT, were located. WDAS was the powerhouse of the two, with legendary DJs Georgie Woods, "the Guy with the Goods" (1927–2005); Doug "Jocko" Henderson, the "Ace from Outer Space" (1918–2000), and Jimmy Bishop. These DJs did more than just spin records. Woods was a noted civil rights activist, Henderson had daily radio shows in both Philadelphia and New York, and Bishop owned a record label and served at times as program director at WDAS and vice president for CBS Records. All three also produced and hosted live music shows at local venues. WHAT never achieved the ratings of WDAS, but it did have a very popular, high-energy DJ in Sonny "the Mighty Burner" Hopson (b. 1937).
WDAS also had popular white DJs who played Black music, including Joe "Butterball" Tamburro (1942–2012) and Harvey Holiday (Harvey William Levy). Holiday was still on the air in the early decades of the twenty-first century, as was another white DJ who regularly featured Black music and whose career was still going strong after over fifty years in Philadelphia radio: Jerry Blavat, "the Geator with the Heater" (b. 1940). Blavat occupied a unique place among Philadelphia disc jockeys. While he never worked at a major commercial radio station—he got his start at WCAM, a small Camden, New Jersey, station in 1960—he built a loyal following hosting dances and live shows and remained one of the best-known figures on the local music scene in the early twenty-first century.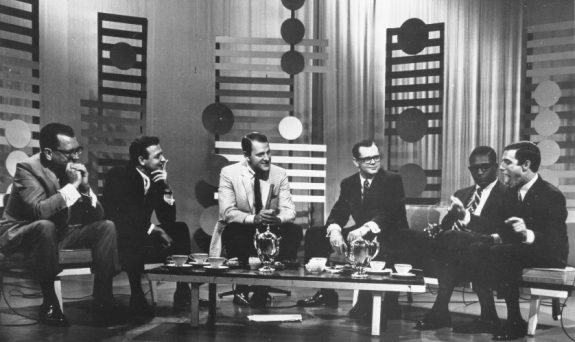 Other longtime DJs who carved out unique niches in local radio included Gene Shay (Ivan Shaner, 1935-2020), who hosted folk music shows on a number of different Philadelphia radio stations from 1962 to 2015 (and who helped found the Philadelphia Folksong Society and Philadelphia Folk Festival); Sid Mark (Sidney Mark Fliegelman, 1933?-2022), who featured the music of Frank Sinatra on various local stations since the 1950s; and David Dye, a veteran of Philadelphia rock radio who since 1991 hosted WXPN's World Café, a daily alternative music show syndicated to over 250 stations nationwide.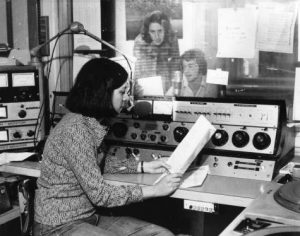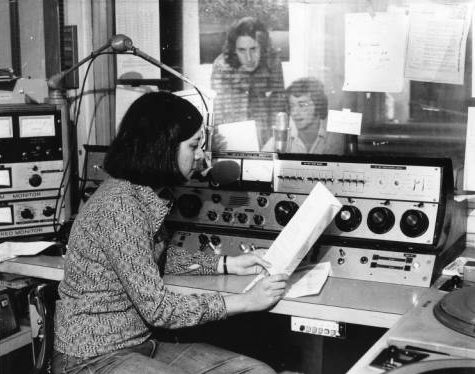 In the late 1960s a new kind of DJ emerged with the rise of FM radio. "Underground" radio eschewed the three-minute pop songs and high-energy DJ patter of AM radio in favor of a less commercial approach, with jocks who spoke in a low-key conversational style and played longer musical selections in the emerging progressive rock style. FM radio had a clearer signal and higher fidelity than AM and was better suited to this new kind of programming. WIFI-FM experimented with the new format briefly in late 1967, but it was in 1968 when WDAS-FM, the sister station of WDAS-AM, and WMMR adopted the style, also known as "album-oriented" radio, that it gained traction in Philadelphia. WMMR became the preeminent Philadelphia rock station for many years, with DJs such as Ed Sciaky (1948–2004), Michael Tearson (b. 1948), and others serving as leading figures in the city's rock scene. In the 1970s WIOQ and WYSP adopted the progressive rock format and began to challenge WMMR's supremacy.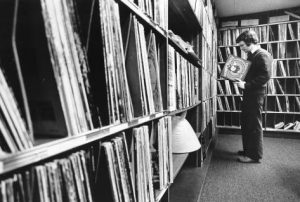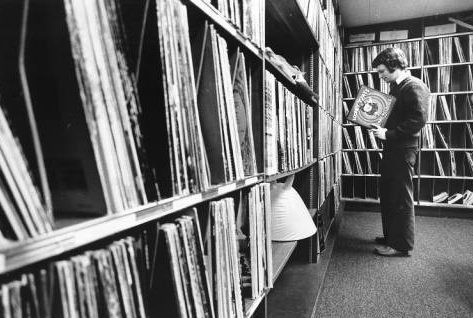 Over time, AM stations largely abandoned music in favor of news and talk formats, leaving DJs who played music mostly to the FM band. FM radio became more commercial during the 1970s, as the music and radio industries became big business. Stations adopted narrowly focused formats aimed at specific target audiences, with playlists that were tightly controlled and driven by market research and advertising revenue. DJs were less consequential in this new environment, exercising reduced control over what they played and how their programs were structured. As the market became increasingly competitive, stations frequently changed ownership and formats (and sometimes call letters), while DJs jumped from station to station in the constantly changing environment. Federal deregulation of the industry beginning in the 1980s led to concentration of multiple local stations in the hands of a few large media conglomerates, further solidifying the corporate approach to radio.
Traditional broadcast radio remained a popular medium into the early twenty-first century, despite competing outlets such as online music streaming services and internet radio. Disc jockeys continued to offer music to local audiences and play a role in the local music scene, but they were no longer the influential force they once were.
Jack McCarthy is a music historian who regularly writes, lectures, and gives walking tours on Philadelphia music history. A certified archivist, he directs a project for the Historical Society of Pennsylvania focusing on the archival collections of the region's many small historical repositories. He has served as consulting archivist for the Philadelphia Orchestra and the 2014 radio documentary Going Black: The Legacy of Philly Soul Radio and gave several presentations and helped produce the Historical Society of Pennsylvania's 2016 Philadelphia music series "Memories & Melodies." (Author information current at time of publication.)
Copyright Rutgers University, 2016