TSOP (The Sound of Philadelphia)
Essay
In spring 1974, "TSOP (The Sound of Philadelphia)" became a hit song for Philadelphia International Records, the local record label renowned for its "Philly Soul" sound of the 1970s. Written by Philadelphia International's owners and chief songwriter/producers, Kenny Gamble (b. 1943) and Leon Huff (b. 1942), and recorded in late 1973 by MFSB with the Three Degrees, "TSOP" came to be regarded as a quintessential example of the label's style. MFSB, short for "Mother-Father-Sister-Brother," was the collective name for the thirty or so studio musicians that constituted Philadelphia International's house band. The Three Degrees, a female vocal trio that also recorded for the label, had brief singing parts on "TSOP."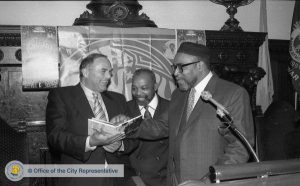 Gamble and Huff originally wrote "TSOP" as the theme song for the African American TV dance show Soul Train, which debuted as a local program in Chicago in 1970 and was syndicated nationally the following year. As Soul Train grew increasingly popular in the early 1970s, its creator and host Don Cornelius (1936—2002) sought a new theme song for the program. In 1973 he came to Philadelphia to work with Gamble and Huff. With input from Cornelius, Gamble and Huff developed the song's basic melody and rhythm. MFSB members helped shape it with their ideas and Bobby Martin (1930—2013), one of Philadelphia International's top arrangers, added string and horn parts. Recorded in 1973 and released as a single in early 1974, "TSOP" rose to number one on the Billboard Top 100 chart that spring, the first television theme song ever to reach that mark. The song also topped the R&B and Adult Contemporary charts.
Gamble and Huff intended to call the song "Soul Train" after the TV show for which it was written, but Cornelius would not allow use of his program's name on the record so they entitled it "TSOP (The Sound of Philadelphia)" instead. Cornelius later came to regret his decision, calling it one of the biggest mistakes of his career. "TSOP" served as the Soul Train theme until 1975, when the show adopted a new song. Soul Train had a number of different theme songs over the years, including several remakes of the original "TSOP," before going off the air in 2006.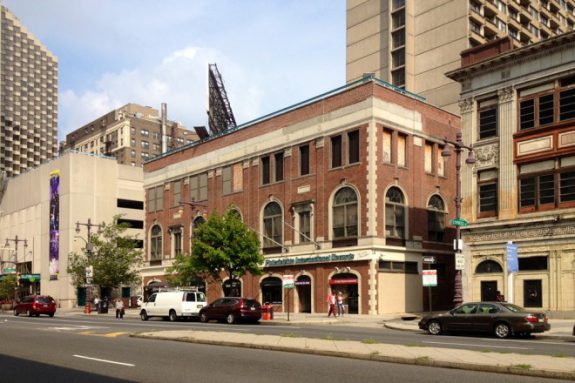 Its brief vocal parts notwithstanding, "TSOP" is essentially an instrumental piece. It has many of the defining characteristics of the Philadelphia International sound: a lively, danceable beat with a pulsating rhythm, a highly polished arrangement with lush strings and crisp, punctuating horns, all wrapped in a sophisticated multilayered production. Philadelphia International ruled the pop and R&B charts with this formula through most of the 1970s. Indeed, the phrase "TSOP" came to refer to the unique Philadelphia International sound as much as the specific recording.
While songwriting credits at Philadelphia International often went to Gamble and Huff or other staff writers at the label, the MFSB team actively participated in developing the songs and creating their signature instrumental parts. Like the Funk Brothers in Detroit and Booker T. & the M.G.'s in Memphis, the house bands for Motown and Stax Records, respectively, MFSB played a major part in shaping a highly successful style of American soul music. With the song "TSOP," they had the opportunity to step out from their usual accompanying role into the limelight as featured artists. In so doing, they created a number one hit record and helped to define the Philadelphia International sound.
Jack McCarthy is a music historian who regularly writes, lectures, and gives walking tours on Philadelphia music history. A certified archivist, he recently directed a major project for the Historical Society of Pennsylvania focusing on the archival collections of the region's many small historical repositories. Jack serves as consulting archivist for the Philadelphia Orchestra and the Mann Music Center and worked on the 2014 radio documentary Going Black: The Legacy of Philly Soul Radio. He gave several presentations and helped produce the Historical Society of Pennsylvania's 2016 Philadelphia music series "Memories & Melodies."  (Author information current at time of publication.)
Copyright 2016, Rutgers University