Essay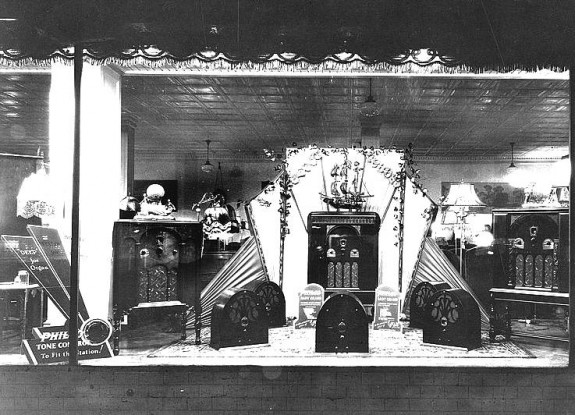 From radio's inception to contemporary times, Philadelphia-area innovators, performers, and manufacturers contributed to shaping the industry. Like its technological forerunner, the telegraph, radio made possible the direct, real-time transmission of information. The immediacy and intimacy of radio waves arriving directly into listeners' homes made radio revolutionary. The medium quickly became not only a technology for news and information but also a source for education and entertainment.
Soon after inventors and engineers began to experiment with wireless transmission in the last part of the nineteenth century, Philadelphia companies joined in manufacturing and distributing components for the emerging industry. In 1899, Philadelphian Gustave P. Gehring (1858-1941) established the American Wireless Telephone and Telegraph Company at 345 Arch Street. The company engaged radio engineer and inventor Harry Shoemaker (1879-1932) and, with his expertise, in 1900 the company successfully sent the first wireless message across the Delaware River to Philadelphia from Camden. Also in 1899 the Marconi Wireless Telegraph Company of America incorporated in New Jersey and established headquarters in New York. Named for Guglielmo Marconi (1874-1937), the Italian widely credited with inventing the wireless telegraph, the company had radio-telegraph stations in New Brunswick and Belmar, New Jersey, and a manufacturing plant in Aldene.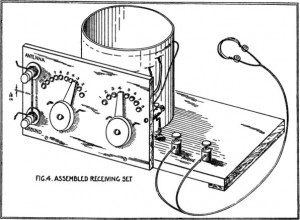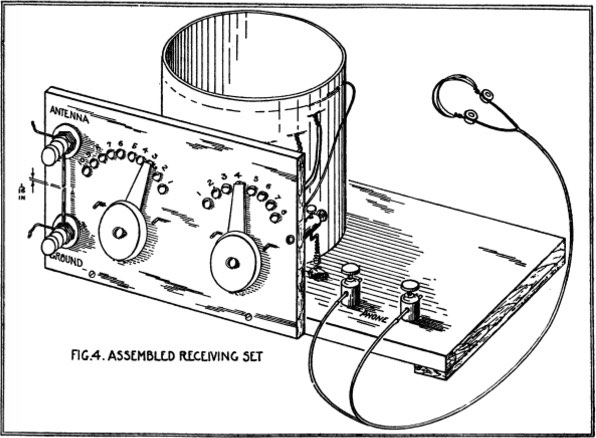 At the beginning of the twentieth century amateur radio enthusiasts, both men and women, constructed home sets from kits and listened to the limited broadcasts that were available (news, weather, sports broadcasts, and ship-to-shore-messages). By the 1920s, with the introduction of commercial broadcasting, manufacturers of the kits took note of the increasing popularity of the medium. The market for assembled radio receivers became a new business opportunity, and North Philadelphia and Camden became home to three of the premier manufacturers of radio sets for the consumer market.
Boost of Quality Craftsmanship
In North Philadelphia, the Atwater Kent Company became the largest manufacturer of radios in the United States from 1926 to 1929, and Philco reigned as the top-selling radio brand in the country from 1930 until the 1950s. The Atwater Kent Manufacturing Works, founded by inventor and engineer Arthur Atwater Kent (1873-1949), established a presence in 1902 at 48 N. Sixth Street in Philadelphia. The company supplied electronic components for the military during World War I before beginning to manufacture radio components in 1922. In 1924 Atwater Kent began producing assembled radio receivers inside stylishly crafted, furniture-quality cabinets (including one model ensconced in a grandfather clock). The quality of the craftsmanship helped to shift the popular perception about radio from a pursuit for hobbyists to a device for home theaters. In 1924 the company moved to a new manufacturing plant at 4745 Wissahickon Avenue in Northwest Philadelphia and eventually expanded to thirty-two acres at this location. Despite Atwater Kent's success in the 1920s and the quality of the product, the Great Depression took a toll on the company and the Atwater Kent plant closed in 1936.
Philco originated in 1892 as the Spencer Company, a producer of carbon arc lamps. From its beginnings at 1310 Filbert Street, in 1906 the company moved to a larger facility in North Philadelphia and reorganized as the Philadelphia Storage Battery Company (or "Philco"). In 1927, Philco began manufacturing radio receivers, becoming known for its influential modernist design including its "cathedral" or arched style of radio cabinetry. During World War II, Philco suspended its commercial line to concentrate on military production. After the war, the company reentered the consumer market and invested considerable funds in research and development to expanded its line of home appliances. The market failed to keep pace with Philco's expansions, however, and by 1960 it declared bankruptcy. After decades of changing ownership, Philco closed its Philadelphia manufacturing plant in the early 1980s, and over the next several years most of the buildings in the Philco complex were demolished.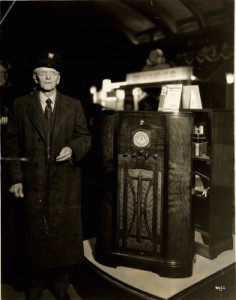 Radio manufacturing came to Camden in 1929, when the Radio Corporation of America (RCA) bought out the Victor Talking Machine Company and became a regional powerhouse in the manufacture of radios and phonographs for all tastes and budgets, from modest table-top radios to phonographs housed in furniture-quality cabinetry. The RCA complex eventually covered fifty-one acres. In 1940, largely due to RCA's quest for a cheaper, rural workforce, radio production moved from Camden to Bloomington, Indiana, and by the end of the decade the Camden facility produced televisions instead. By 1991 RCA ceased manufacturing electronics in the city and the buildings were sold off or demolished. The Victor Building, with its historic stained-glass windows of the company's mascot, remained. In 2004, after extensive renovations, the building reopened as The Victor, luxury loft apartments.
Creating an Audience
In addition to manufacturing the sets, the radio industry had to create an audience. This required establishing broadcasting networks, programming, and business models for generating revenue. In the early 1920s, large department stores across the United States established radio stations to pique consumer interest in the new technology. A year after Hamburger's in Los Angeles established the first department store radio station in the United States, 1922 was a banner year for pioneer commercial radio stations in Philadelphia department stores. In March, the Federal Radio Commission issued radio broadcasting licenses to John Wanamaker's station WOO, Strawbridge and Clothier's WFI, and Gimbel's WIP. In 1924, Lit Brothers received its license to operate WLIT. Wanamaker's ceased broadcasting in 1929, and WFI and WLIT consolidated in 1935 to become WFIL.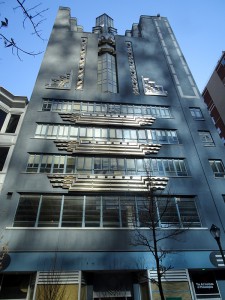 The era of the late 1920s through to the start of World War II is regarded by media historians as the golden age of radio. The medium's impact on American life reached all aspects of popular culture, and New York-based networks linked Philadelphia listeners in an emerging mass audience. WFI and WLIT carried programming from the National Broadcasting Network (NBC) "Red Network," which began regular broadcasting from New York to major East Coast cities in 1926. WCAU affiliated with the Columbia Broadcasting System (CBS), inaugurated in 1927. At times, the networks featured Philadelphia programming, such as The Atwater Kent Radio Hour, a classical music concert show carried on both NBC and CBS from 1925 to 1934. On NBC in 1929, the Philadelphia Orchestra performed the first commercially sponsored radio broadcast of a symphony orchestra in the United States. Leopold Stokowski (1882-1977) conducted Stravinsky's The Rite of Spring for a program sponsored by Philco.
The broadcasting industry created a template later duplicated by television, including sponsored programming and commercials performed by the shows' stars and announcers; genres such as "soap operas" and situation comedies; the segmentation of the broadcast day to appeal to different segments of audience (adult/child,  male/female); and ratings systems to gauge the popularity of shows. Serials from the broadcast networks were extraordinarily popular. Local affiliates tended to produce more cost-effective shows (news, music, talk, and sports) that did not require the staff and talent of the radio comedy and dramatic show, but they also produced long-running shows that drew large audiences. The Horn and Hardart Children's Hour, launched in Philadelphia in 1927 and later broadcast from New York, had a second incarnation as a television series and achieved a record as broadcasting's longest-running talent show by the time it ended in 1957.
In Search of New Audiences
As radio began permeating the consumer market, station owners and broadcasters took note of untapped potential audiences, including burgeoning immigrant and African American communities in urban markets. Foreign-language news and music shows for the Jewish, Polish, and Italian communities (to name a few) became prominent in the 1920s and 1930s. In Philadelphia, Dannenbaum and Steppacher (cloth retailers) launched WDAS, featuring shows in Yiddish and Polish. The long-lasting and influential Irish Hour hosted by Patrick Stanton (1907-76) began on WDAS's predecessor, WELK. Italian-American radio programs emanated from the studios of Angelo (1901-72) and Rose Fiorani (1902-92) in Scranton and Reading. Philadelphia gained an African American-focused station when Lenning Brothers, a radio supply company at 827 Spring Garden Street, obtained a license for WNAT ("We Never Are Tired") and began broadcasting in 1922. In 1929 the call letters changed to WHAT, a station that grew into an important African American voice in subsequent decades. WHAT produced Standard Theater's Kiddies Radio Revue, sponsored by The Philadelphia Tribune, and an African American history program.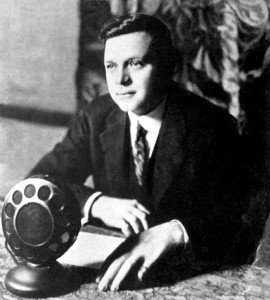 During the golden age of radio, local radio personalities became celebrities. They included the much-beloved "Uncle WIP" (Philadelphia-born Christopher Graham, 1893-1932), who read children's stories on WIP; Taylor Grant (1913-98), whose career as a reporter and analyst spanned decades; and newscaster Alan Scott (1909-78), who went on to be a successful local television personality. Nationally, politicians and activists recognized the power of the medium. President Franklin D. Roosevelt (1882-1945) reached millions of Americans with his "fireside chats." Philadelphians listened to radio evangelists such as Aimee Semple McPherson (1890-1944) and political personalities such as Father Charles Coughlin (1891-1979), who established wide followings. In the Philadelphia area, the Rev. Carl McIntire (1906-2002), founder of the Bible Presbyterian Church (Collingswood, New Jersey), became a nationally known Fundamentalist preacher. Firmly anti-Communist, during the Cold War era of the 1950s and 1960s McIntire achieved prominence through his syndicated radio show advocating Christian Fundamentalism and a radical right political agenda.
Radio Reinvents
After World War II, television found a foothold with American home audiences and many local radio celebrities transitioned to the new medium. Radio broadcasters began looking for ways to reinvigorate the flagging industry. Music soon became the default programming of choice, and disc jockeys developed into hit-makers with the power to promote artists, singles, and styles of music.
By the mid-1950s, changes in radio technology, programming, and demographics made Philadelphia an epicenter of a new genre of music: rock and roll, the music of 1950s American teen culture. Programming managers took note of the teen audience emerging from the post-war Baby Boom as Japanese-made transistors and the popularity of car radios made broadcasts more portable. Local radio stations promoted home-grown performers like teen idols Frankie Avalon (b. 1940), Fabian (b. 1943), and Bobby Rydell (1942-2022) and early rock pioneers like Chubby Checker (b. 1941), who created a dance craze with "The Twist." Bill Haley (1925-81) of Bill Haley and the Comets, who grew up in Boothwyn, began his career performing in the Philadelphia area and worked as a music director at WPWA in Chester. Philadelphia stations also furthered the careers of local musicians who produced the nationally known "Sound of Philadelphia," a form of rock infused with smooth jazz and orchestrated with the lush sound of strings and horns.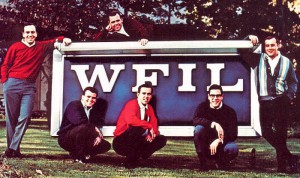 Some of the best-regarded rock DJs of the era worked in Philadelphia AM radio. At WIBG, the area's top rock station from the late 1950s through the late 1960s, star DJs included Hy (Hyman) Lit (1937-2007) who began his career on the "Black music" station WHAT, Joe Niagara (1927-2004), and Bill Wright Sr. The rock music stations changed as the music changed, from the "British Invasion" (The Beatles, The Rolling Stones, The Hollies, and The Who) to the folk music revival movement and the "California Sound" (The Beach Boys, Dickie Dale, and The Ventures). In 1966 WFIL challenged the supremacy of WIBG with "The Pop Explosion," a new format with a shorter, research-driven playlist and fewer commercials per hour. Its DJs ("the boss jocks") included Jim Nettleton (1940-2009), George Michael (1939-2009), and Dave Parks (193?-2015).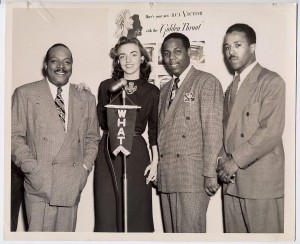 This era of radio renaissance also provided new opportunities for African American voices to be heard on-air and for a large audience of white teens to experience "race music": rhythm and blues, juke joint music, and gospel. Philadelphia had two of the country's most successful African American radio stations, WDAS and WHAT. During the 1940s, under the ownership of William Banks (1908-79) and the directorship of his sister Dolly Banks (1914 -1985), WHAT cultivated Philadelphia's increasing population of African Americans as an audience. In the early 1950s the station began to carry National Negro Network programming and became an important media outlet for African American civil right leaders. WDAS-FM, launched in 1959, featured Black music and Black artists.
In Camden, WCAM-AM, founded in 1926 as the city's first radio station, played a notable role in the region's broadcast history as home for emerging talent. In the 1950s and 1960s, the station employed such Philadelphia radio greats such as Hy Lit, Jerry Blavat (b. 1940), and Gene Hart (1931-1999). The famous Camden haiku poet Nick Virgilio (1928-1989)–whom Blavat christened "Nick-a-phonic Nick"–also worked at WCAM.
AM / FM
Until the 1960s AM (amplitude modulation) broadcasting dominated commercial radio. FM (frequency modulation) technology had been available since the mid-1930s, and the country's first commercially licensed FM station, WFIL-FM, went on-air in Philadelphia in 1941. (In 1971 the station was sold to Richer Communication and became WIOQ.) The Philadelphia classical music station WFLN-FM, one of the country's first FM stations with an all-classical format, began broadcasting in 1949 (its AM sister station came on-air in 1958). In 1956, Philadelphia's WHAT-FM became the first twenty-four hour jazz station in the United States. Sid Mark (1933?-2022), a featured host and one of the station's first DJs, in 1957 introduced Friday with Frank, the first of his decades-long music series featuring Frank Sinatra.
FM broadcasting became more commercially viable by the mid-1960s after two rulings by the Federal Communications Commission loosened restrictions on FM licenses. By 1960, Philadelphia had at least fifteen of the 741 FM stations operating in the United States. After the FCC required FM stations to produce original programs rather than merely simulcasting with the affiliated AM stations in 1964, FM stations looked for ways to differentiate themselves from their AM counterparts and attract new audiences. David Kurtz (1932-2005), a Philco engineer, inaugurated WDVR-FM, which featured adult-oriented "beautiful music" ("easy listening" instrumental and soft pop musical selections) as an alternative to hit-based FM stations. This local station's groundbreaking marketing and promotion techniques propelled it to Philadelphia's top FM station within four months of its launch. The station's original announcers included Joaquin Bowman (b. 1944), who later served as public relations manager for transit agency SEPTA, and career broadcaster Dave Shayer.
Since FM disc jockeys were not locked into the "top hits" lists of AM formats, they had more freedom to showcase progressive rock, emerging artists, and alternative music. They could also feature extended-length songs or entire albums. Many FM DJs expanded their repertoire to include comedy or spoken-word albums. In 1968 Philadelphia boasted three progressive rock FM stations: WDAS, WIFI, and WMMR. Early pioneers of this format in Philadelphia included Gene Shay (b. 1935), Ed Sciaky (1948-2004), Michael Tearson (b. 1958), and Lyn Kratz.
On both AM and FM, from the 1960s through the 1990s Philadelphia radio stations sought new niches by departing from music to feature news, sports, and call-in programs. KYW (1060 AM) was one of the first all-news stations in the United States, inaugurating the format September 21, 1965. In 1975 WWDB became the first all-talk radio station in the country, and from the 1980s through 2007 WHAT moved to a talk-show format and became known as the "Voice of the African American Community." Philadelphia's historic WIP 610-AM adopted an all-sports format in 1988, one year after WFAN-FM in New York became the nation's first twenty-four-hour all-sports radio station. The station was the home to local sports broadcasting notables Howard Eskin (b. 1951), Bill Campbell (1923-2014), and Tom Brookshier (1931-2010). In the 1980s and 1990s, commercial radio also targeted "drive-time" commuters with "shock jocks" like New York-based Howard Stern (b. 1954) and humorous "morning zoo" shows, including the locally produced John DeBella Show (WMGK) and The Preston and Steve Show (WMMR).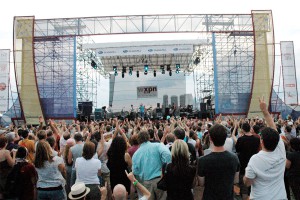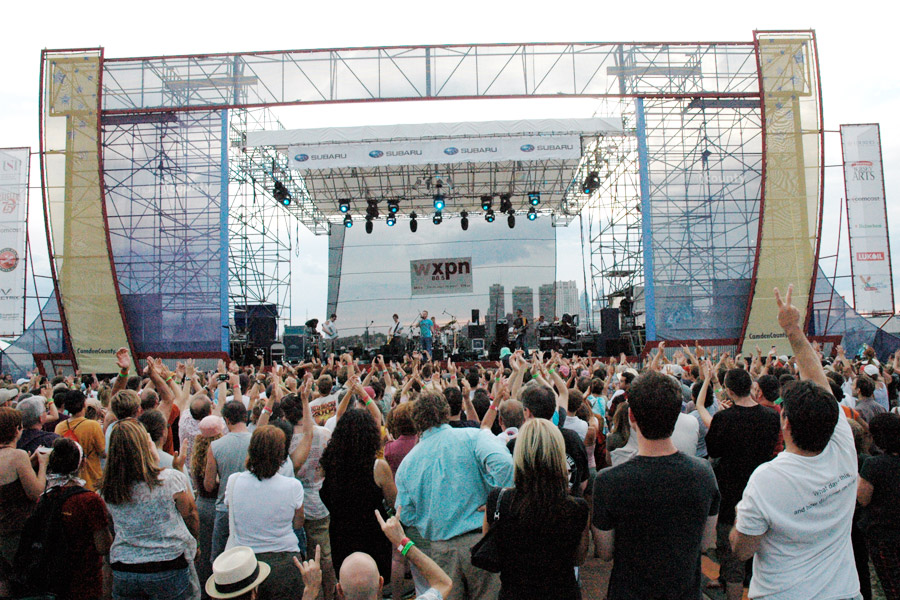 Other Philadelphia stations catered to less commercially-oriented musical formats such as classical, jazz, folk, and world music. WXPN of the University of Pennsylvania, which was granted a full college radio license in 1957, became known for such critically acclaimed programs such as Kids Corner and World Café. Temple University's radio station, WRTI, began as an AM station in 1948 and obtained an FM license in 1953. Founded by Temple professor and broadcast pioneer John Roberts (1920-2012) as part of the School of Communication and Theater (the call letters reflected the station's mission, "Radio Training Institute"), WRTI became a public radio station specializing in jazz and classical music. At the same time, many local stations relied on syndicated programming and some dropped longtime formats, particularly classical music. The Philadelphia classical station WFLN, founded in 1949, was one of the country's first FM stations with an all-classical format and featured dulcet-voiced commentators such as Ralph Collier (1922-2013) and Taylor Grant (1913-1998). Much to the dismay of classical music lovers in the region, the station ceased its all-classics format in 1996.
Twenty-First Century Radio
In the early twenty-first century, radio and other "old media" such as network television and print newspapers, sought niches on the new digital frontier. While radio broadcasters faced competition from subscription and satellite services such as XM and Sirius, digital services such as iHeartRadio and TuneIn Radio also made Philadelphia programs and stations available to vast audiences beyond the reach of traditional airwaves. Radio not only survived, but also thrived. In 2015, according to Forbes magazine, 91 percent of all Americans listened to radio for at least one hour a week. Radio held the appeal of being free, simple, and straightforward to use, and widely available in the car, on the sidewalk, at home, and at work. In the Philadelphia area, listeners could choose from more than eighty AM and FM stations offering a range of formats and music, including a half-dozen Spanish language and multicultural stations.
With changes in tastes and technologies, radio continued to reinvent and remain financially solvent, as it had for nearly a century. Philadelphia's commercial radio industry, long a technological leader and popular culture trailblazer, continued to develop nationally recognized shows and personalities and consistently ranked as one of the top ten radio markets in the United States.
Vibiana Bowman Cvetkovic is a reference librarian at the Paul Robeson Library of Rutgers – The State University of New Jersey. (Author information current at time of publication.)
(Editor's note: Public radio and television will be covered in a separate future essay.) 
Copyright 2016, Rutgers University