Essay
The Philadelphia region had a key role in the ascent of television in American popular culture. From the manufacturing of television sets to the production of innovative programming, researchers, technicians, and creative talents in the region produced many of the "firsts" that propelled television to success as a new mass medium in the twentieth century.
Philadelphia's role in the development of television began in the 1930s when solitary inventors and corporations began investigating the possibility of transmitting moving images over the air to a home receiver. The two figures widely credited with developing the modern electronic television set—Philo T. Farnsworth (1906-71) and Vladimir Zworykin (1888-1982)—had close ties to the Philadelphia region. Hired by the Radio Corporation of America (RCA) in Camden, New Jersey, in 1929, Zworykin served as associate director of its fledgling electronics research lab. In the early 1930s he and his team performed field tests for television transmissions. In 1933, they successfully transmitted an image of Mickey Mouse to a test site in nearby Collingswood, New Jersey.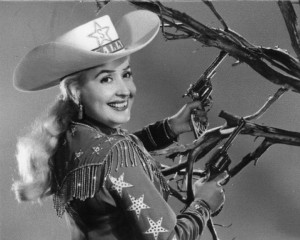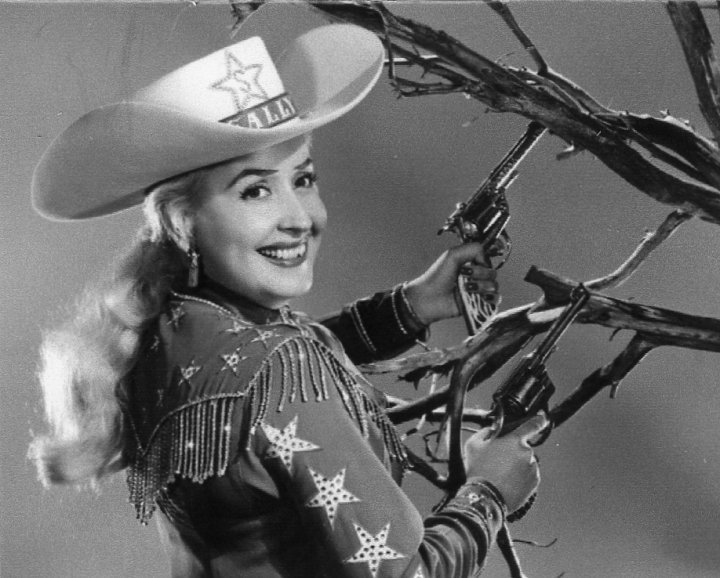 In Philadelphia, meanwhile, Farnsworth similarly engaged in television experimentation. He relocated to the Philadelphia area (Wyndmoor, Pennsylvania) from California in 1932 to pursue his research under a contract with Philco Radio Corporation (founded in Philadelphia in 1892 as Helios Electric Company). Like RCA, Philco was a pioneer of early television manufacturing and broadcasting. In 1932, the company established an experimental station, W3XE, at its manufacturing plant at C and Tioga Streets. Farnsworth and Philco parted ways in 1933, but Farnsworth continued research under the auspices of the University of Pennsylvania until he left the region in 1938 and established the Farnsworth Television and Radio Corporation in Fort Wayne, Indiana.
The television industry developed slowly during the 1930s. By 1941 there were approximately 7,000 television sets in the United States and fifty hours of combined national and local weekly programming available to home viewers. The production of television sets ceased for the most part when the United States entered World War II, although limited program broadcasting continued. At war's end, commercial production began anew. With the rise of postwar consumerism in the 1950s, the television industry hit its stride. By the end of the decade almost ninety percent of American households had at least one receiver and the average person watched approximately five hours of television each day. A new and powerful medium was born.
The Rise of the Affiliates
In the early days of commercial television in Philadelphia, from the mid-1940s through the late 1960s, national programming was limited, for the most part, to the three broadcasting systems—ABC (American Broadcasting Company), CBS (Columbia Broadcasting System), and NBC (National Broadcasting System). The DuMont Network also had a presence in Philadelphia in these early days (from 1946 until the network's demise in 1956). The networks did not broadcast shows until the evening, so the bulk of the broadcast day consisted of locally produced programming. Thus, the story of the creative and experimental "Golden Age of Television" is fundamentally the history of the local affiliates of the national broadcasting networks.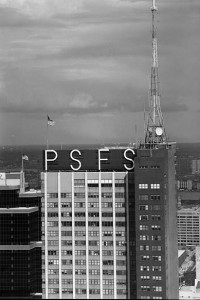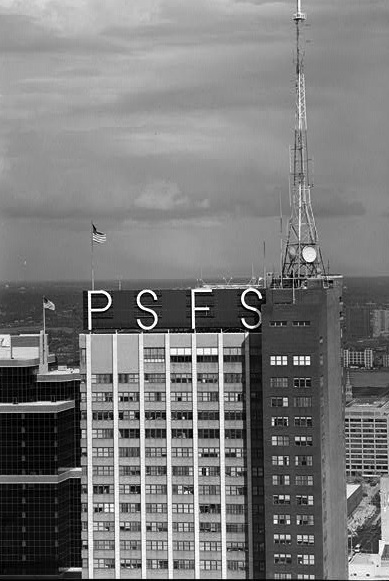 Philadelphia affiliates were key players in this new industry. The Philadelphia viewing area represented the fourth-largest market with regard to advertising revenue during the first decade of commercial television. The local stations, Channels 3, 6, and 10, developed innovative, nationally trendsetting programs. They also pioneered and refined techniques such as color broadcasting, "green screen" special effects, and on-location remote broadcasts. These three original VHF (Very High Frequency) band stations have complicated corporate histories, including changes in ownership, network affiliation, and call letters. From the late 1940s until the early 1960s Channels 3, 6, and 10, were the only providers of television programming for most homes in the Delaware Valley. The educational/public television station WHYY, inaugurated in 1957 as an experimental UHF educational station (Channel 35), did not receive its VHF designation as Channel 12 until 1963. UHF (Ultra High Frequency) band stations did not become commercially viable until the end of the 1960s due to a number of technological and regulatory issues. For similar reasons cable television did not find its consumer market until the 1970s. Thus, viewer choices were limited and local affiliates were responsible for the majority of the broadcast day.
Channel 3 (later CBS 3), which began as Philco's experimental station in 1932, is one of the oldest television stations in the world. When the station received a commercial license from the FCC in 1941, it became WPTZ-Channel 3. As an affiliate of NBC, whose parent company RCA was developing commercial color television technology for the consumer market, WPTZ stood in the forefront of color broadcasting. In 1947, RCA researchers debuted the company's own simultaneous color system before the scientific community at the Franklin Institute. Research and development continued throughout the early 1950s.
WPTZ broadcast one of the nation's earliest color-programming events on December 18, 1953: "Skinner's Spotlight," an interview show starring local host George Skinner. During the 1950s, the station changed hands from Philco to Westinghouse. In 1956, NBC gained control. At that point the station's call letters became WRCV-TV (for RCA-Victor). In 1965, after lengthy legal negotiations, the station again became part of Westinghouse's broadcasting division and the call letters were changed to KYW-TV, although the station retained its affiliation with NBC.
During the industry's early era, a number of important shows and personalities made their home at Channel 3. In 1940, WPTZ broadcast the entirety of the Republican National Convention held in Philadelphia. This on-site political reporting represented a television first. Ernie Kovacs (1919-62), a comedic genius, began his television career on WPTZ and had a number of different shows from 1950 through 1952, when he left for WCBS-TV in New York. Channel 3 was also home to a number of much-beloved, locally-produced children's shows such as Lunchtime with Uncle Pete, which ran in various incarnations during the 1950s and starred "Uncle" Pete Boyle (1903-67), father of Academy Award-winning actor Peter Boyle (1935-2006). Bertie the Bunyip ran from 1953 to 1960 under the creative helm of Lee Dexter (1905-91). The award-winning Mike Douglas Show, which aired from Philadelphia from its debut in 1965 until it moved to Los Angeles in 1978, featured a diverse range of guests, including John Lennon and Yoko Ono, William Shatner, and Moe Howard (of Three Stooges fame). This top-rated daytime show hosted by Douglas (1920-2006) helped to promote to a wider viewing audience and fueled the burgeoning careers of new artists such as Barbra Streisand and Aretha Franklin.
Channel 3 (KWY-TV) changed affiliation to CBS in 1995 as a result of a multistation deal negotiated between Westinghouse, CBS, and NBC. The station has been a CBS affiliate since, although it has changed parent companies from Westinghouse to Viacom (2000) to CBS Corporation (2006).
The origins of WFIL (later WPVI) were in radio. In the 1920s two major department stores in Philadelphia owned and operated radio stations. Strawbridge & Clothier operated WFI and Lit Brothers operated WDAR (changed in 1924 to WLIT). The two radio stations merged in 1935 and assumed the call letters WFIL. WFIL was purchased by Triangle Publications (owned by publisher and philanthropist Walter Annenberg) in 1947. Originally an affiliate of the DuMont network, in 1948 WFIL became the first affiliate of the newly inaugurated ABC Network. Channel 6 is unique among Philadelphia's three original TV stations by virtue of sustaining a single network affiliation since its founding.
Channel 6 was a showcase for groundbreaking shows and performers of the new medium. Arguably one of the most influential was American Bandstand, which helped to define post-World War II American teen culture. The show, called Bandstand before it went national in 1957, was broadcast from Philadelphia from 1952 to 1964. The station also developed programs with local celebrities who became pioneers in developing the format of the hosted children's show. Channel 6's lineup included one of the few female hosts with her own show (Sally Starr) and the only children's show host in the region who was an ethnic minority—Chief Traynor Ora Halftown, a member of the Seneca nation, who was on Channel 6 from 1950 until 1999.
WCAU-TV, the region's third television station, came online in 1948 as a CBS affiliate owned by the Philadelphia Bulletin. CBS bought WCAU-TV in 1958, and from 1965 through to 1986, WCAU was the only network-owned station in Philadelphia. During the late 1950s and throughout the 1960s WCAU produced memorable and intelligent local children's shows including Pixanne, Cartoon Corners, The Gene London Show, and an early 1960s puppet show, Tottle. WCAU also gained notice during this era for its news department. As an affiliate of CBS, the "Tiffany Network," home to legendary journalists such as Edward R. Murrow and Walter Cronkite, WCAU had the most respected anchor, John Facenda (1913-84), and was a local ratings leader.
As in the case of Channel 3, in 1995 a series of negotiated acquisitions and divestitures of stations resulted in Channel 10 changing networks, becoming an NBC affiliate.
Local stations increased their presence in the 1950s and 1960s with new broadcasting facilities. While Channel 3 maintained television studios in Center City Philadelphia, Channel 6 and Channel 10 each built broadcasting facilities on the city's boundary at City Avenue. The Channel 10 facility, built in 1952, was the first structure in the United States built specifically for television broadcasting and production. Channel 6 built a state-of-the-art television studio directly across the street from Channel 10 in 1963.
Industry Changes and Challenges
The 1970s and 1980s brought dramatic changes to the television industry and to the local affiliates. Competition for advertising dollars and audience share increased with the inauguration of commercially successful UHF (Ultra High Frequency) stations and cable networks. The paradigm shift began with the rise of local UHF stations, which can be traced to several factors. In 1964, with the passage of the All-Channel Receiver Act, built-in UHF tuners became standard for television sets manufactured in the United States. Before this, many experimental UHF stations across the United States had gone bankrupt. However the late 1960s and early 1970s represented an era of growth for UHF programming, including three new UHF stations in the Philadelphia market: Channel 17 (WPCA—later WPHL) in 1960, Channel 29 (WIBF—later WTXF) in 1965, and Channel 48 (WKBS—later WGTW).
Also in the late 1960s, parents and educators began voicing concerns to the FCC about the prevalence of advertising on children's shows. In 1973, in response to public pressure, the National Association of Broadcasters agreed to voluntary changes in its code. One of these changes precluded children's show hosts from serving as spokespersons for products. This had a direct impact on the economic viability of these shows as local advertisers began to pull sponsorships. With the loss of the local celebrities to pitch their products, sponsors began to look at other options. Advertising on the burgeoning UHF stations was cheaper and reached the same local audiences. The 1970s saw the demise of the hosted children's shows produced by the local network affiliates. As children's programming declined, for the most part news departments took their place as generators of locally produced programming and competitors for audience and advertising dollars.
By the 1980s cable television networks and providers became increasingly commercially viable and found major new markets, including the Philadelphia area. Cable television originated in the 1940s primarily as a means of providing programming through coaxial cables to areas too remote to receive broadcast signals. When the Supreme Court upheld the regulatory authority of the Federal Communications Commission (FCC) over cable systems in 1968, a number of regulations followed to govern programming (particularly with regard to non-duplication and syndication of programs), technical standards, and franchise and ownership standards. In the 1970s, however, the FCC began to relax or eliminate many of these restrictions. Within this new regulatory environment, in 1972 HBO (Home Box Office), headquartered in Wilkes-Barre, Pennsylvania, launched its fee-based television enterprise. Federal legislation in the 1980s further deregulated the industry and positioned cable television as competitive with the legacy broadcast networks.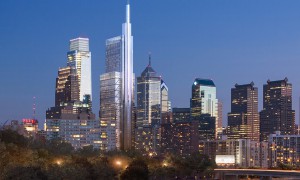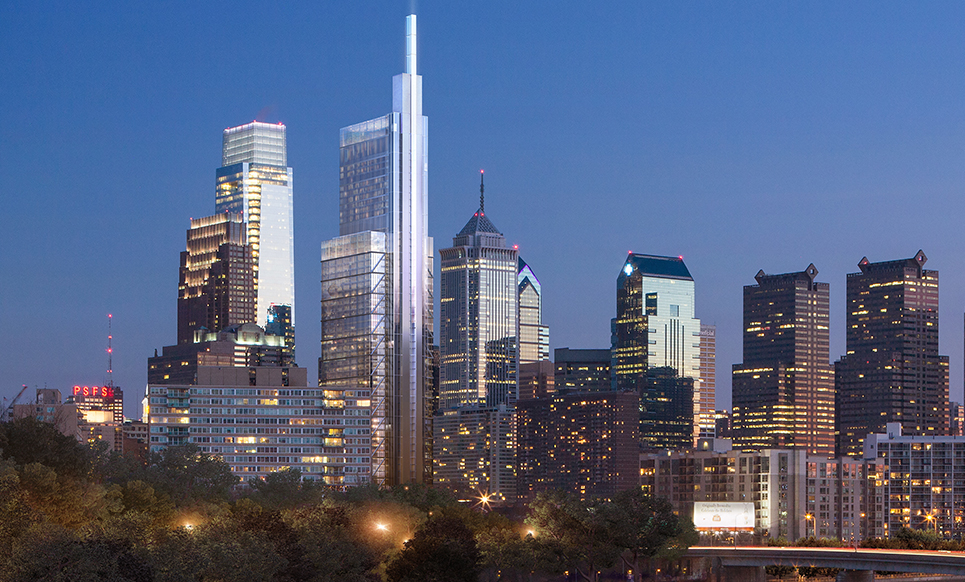 Greater Philadelphia contributed to the cable industry in significant ways. In 1983, Philadelphia's City Council awarded three cable franchises: Comcast, Cablevisions Systems of Philadelphia, and Philadelphia Inner City Cable (a minority-owned business). Wade Cablevision (also a minority-owned company) was awarded the fourth franchise in 1987. Of these original four, Comcast rose to become an industry leader (it acquired Cablevision in 1999; Time Warner acquired Wade in 1995 and Inner City in 2005). Comcast, founded in Tupelo, Mississippi, in 1962 and incorporated in Pennsylvania in 1969, became one of the world's largest mass media companies. Comcast Tower, the company headquarters in Philadelphia, became the city's tallest skyscraper at the time of its completion in 2007. Comcast acquired NBCUniversal in 2013 and was pursuing a merger with Time Warner Communications in 2014.
Philadelphia was influential with regard to cable programming as well. PRISM (Philadelphia Regional In-Home Sports and Movies), a regional cable service, operated as a premium channel from 1976 to 1997. Its main offerings were televised sporting events of Philadelphia's major franchises (as well as college Big 5 basketball and World Wrestling Federation events held at the Spectrum) and first-run movies. In 1996, Comcast acquired a controlling interest in PRISM. Comcast SportsNet Philadelphia became a provider of coverage of Philadelphia's sports teams and regional sports to the area's local cable systems. QVC ("Quality, Value, Convenience"), a "shop-at-home" cable network, opened in West Chester, Pennsylvania, in 1986. Founded by Philadelphia-area entrepreneur Joseph Segel (b. 1931), QVC, with its international affiliates and a strong digital presence, became one of the world's largest retailers.
Local News and Sports
News departments became a staple for local stations, with Channel 10's local newscast leading in the ratings from the late 1940s through the mid-1960s. From 1948 through 1973, under the leadership of legendary anchor John Facenda (nicknamed "The Voice of God" for his elegant delivery), the news team's innovations included the introduction of a late-night (11 p.m.) newscast in 1948; the hiring of an African American woman news reporter, Edie Huggins, in 1966; and the region's first African American news anchor, Jack Jones, in 1971. Facenda, who went on to be the voice of locally-based NFL films from 1965 to 1984, is also credited with pioneering the format for the thirty-minute local newscast: news, sports, weather, sign-off.
In the mid-1960s, Channel 10 was displaced from its top spot by Channel 3 and its innovative Eyewitness News format. Al Primo (b. 1925), the station's news director, developed the format's personality-based, on-site reporting style. Although critics dismissed it for its "sensational" style of reporting, Eyewitness News was a ratings success, and the format spread. By the 1990s stations throughout the United States and Europe adopted this pioneering approach. A challenger to Eyewitness News came in 1970 from Channel 6 and its Action News team. Channel 6 news director Mel Kampmann took the Eyewitness News style to the next level by tightening the pace of the segments, expanding suburban coverage, and featuring young talent.
Beloved local TV anchorman Jim Gardner (b. 1948) joined WPVI in 1976 and became the station's main anchor in 1977. That year Channel 6 became the top-rated local newscast and remained the solid leader in local news ratings into the twenty-first century. Like Eyewitness News, the name and the style of Action News quickly spread nationwide to other stations. Closely associated with Action News, and arguably a factor in its success, was its theme song, "Move Closer to Your World," written by composer Al Ham (1925-2001) and introduced in 1972. Another innovation in local news occurred when WKBS Channel 48 premiered a 10 p.m. newscast that lasted from 1968 to 1969. WTAF- Channel 29 (now Fox 29) launched its successful 10 p.m. news show in 1986 and expanded it to an hour-long format in 1990.
With the success of Eyewitness and Action News, television moved from the journalistic, "news reader" style of Walter Cronkite, Chet Huntley, and David Brinkley to an on-location, visual style of reporting. This era also marked the debut of local newscasters in the Philadelphia market who went on to gain national profiles, including Jessica Savitch (1947-83), correspondent for NBC from 1977 to 1983; Maury Povich (b. 1939), syndicated talk show host; Andrea Mitchell (b. 1946), foreign news chief for NBC News; and Larry Kane (b. 1942), journalist, author, Beatles chronicler, and cable news analyst.
In recent years, due to factors such as the rise of the twenty-four-hour news networks and digital delivery of the news, weather and sports gained new prominence for local television stations. Allowing for specialization and target marketing, severe weather and sports-related stories often led the news. Digital applications for computers and smartphones added immediacy and interactivity for viewers. Local meteorologists such as Cecily Tynan (6ABC) and Glenn "Hurricane" Schwartz (NBC10) became active on social media and encouraged viewers to participate in broadcasts by sending photos and videos of the weather.
The Digital Age
In the first decades of the twenty-first century, new technologies and new platforms for delivering "television" programs radically changed viewer expectations for interactivity and control over viewing schedules and options. VCRs, DVR technology, video on demand, and streaming video freed the viewer from a broadcast schedule. Cable and the Internet broke the monopoly on programming choices once held by legacy broadcast networks.
On a local level, with rare exceptions, only newscasts and news talk shows survived as locally produced programs. The three local network affiliates all developed robust Web presences and encouraged audience engagement through social media and mobile apps. Public Broadcasting System stations also engaged with communities through websites, podcasts, and educational outreach such as WHYY's Public Media Commons. Local affiliates continued to feature locally produced original documentaries (for example, Philadelphia: The Great Experiment, shown on WPVI, and WHYY's The Barnes Collection), but with the exception of the news and local sports, most televised content originated with national network production companies. Philadelphia's contributions to the television industry continued through the creative achievements of native sons and daughters like David Boreanaz (son of former Channel 6 weatherman Dave Roberts), Bill Cosby, Tina Fey, Seth Green, and Bob Saget, who perpetuated Philadelphia's long tradition of television innovation.
Vibiana Bowman Cvetkovic is a reference librarian at the Paul Robeson Library of Rutgers – The State University of New Jersey. (Author information is current at time of publication.)
Copyright 2014, Rutgers University
Backgrounders
Connecting Headlines with History