Essay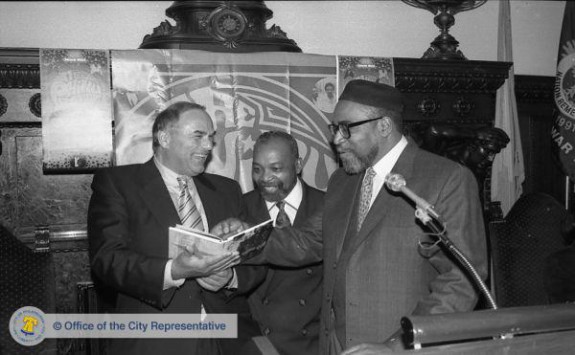 A term with varied meanings in popular music, "soul" broadly describes African American music characterized by emotional urgency and racial consciousness. More specifically, a soul style of Black music emerged from rhythm and blues and gospel in the late 1950s and became popular with both Black and white audiences through the 1970s. Different cities had distinct styles of soul, often associated with local record companies—Stax in Memphis, Motown in Detroit. In Philadelphia, soul was defined by Philadelphia International Records, a very successful label whose unique style of 1970s soul became known worldwide as the "Sound of Philadelphia."
Philadelphia had especially vibrant scenes in rhythm and blues and gospel music in the mid-twentieth century. Taking elements from each, local artists began shaping the city's version of the emerging soul style in the late 1950s and early 1960s. Gospel was a particularly strong influence; essentially, soul was the adaptation of the gospel style to songs with secular rather than sacred lyrics. Solomon Burke (1940–2010), who began preaching and singing gospel in Philadelphia in his pre-adolescent years, made a series of recordings for Atlantic Records in New York in the early 1960s that were fundamental in defining the new style. These records were among the first to be categorized as "soul" music, and Burke was later dubbed the "King of Rock and Soul." Other Philadelphia-area singers with strong gospel roots who had soul hits in the early to mid-1960s included Garnet Mimms (b. 1933), Howard Tate (1939–2011), and Lorraine Ellison (1931–83).
While these early artists came from Philadelphia, they recorded in New York City. The larger Philadelphia record companies were more focused on rock and roll and white pop music at this time. Some of the city's smaller labels recorded local artists in the soul style, however, including two Black-owned companies that were especially important in the evolution of Philadelphia soul: Harthon and Arctic. Singer Weldon McDougal (1936–2010), organist Luther Randolph, and guitarist Johnny Stiles (b. 1936) created Harthon Records in the early 1960s. Prominent Philadelphia DJ Jimmy Bishop joined Harthon briefly but broke away in 1964 to form his own label, Arctic Records, taking many Harthon artists with him.
Harthon and Arctic each had a series of minor and regional hits in the 1960s, and Arctic had a huge hit with "Yes, I'm Ready," a ballad by local singer Barbara Mason (b. 1947) that reached the Top Ten in the national pop charts in 1965. Most Arctic artists were Black, but the label also recorded the Temptones, a white group featuring singer Daryl Hohl (b. 1946). Hohl later changed his last name to Hall and with fellow Temple University student John Oates (b. 1949) formed Hall and Oates, one of the most successful of the "blue-eyed soul" groups, as white soul music came to be known.
Cameo Parkway Records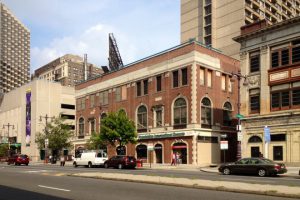 Philadelphia's biggest record company at this time was Cameo Parkway Records, a hit-making juggernaut whose artists were in the pop charts throughout the late 1950s and early 1960s. Although Cameo Parkway had had hits with African American artists such as Chubby Checker (b. 1941), the Orlons, and Dee Dee Sharp (b. 1945), almost of all of its production staff and studio musicians were white and it had mostly ignored soul. That changed in 1964 when president Bernie Lowe (1917–93), seeing the rise of Motown, asked a young Black musician on his staff, Thom Bell (1943-2022), to form a rhythm section and begin producing soul music for the label. One of the groups Bell worked with at Cameo Parkway, and later at another local label, Philly Groove Records, was the Delfonics, one of the first groups identified specifically with the Philadelphia soul sound. Bell later shaped the sound of two other quintessential Philadelphia soul groups, the Stylistics and the Spinners. (The Spinners were from Detroit, but their biggest hits were recorded in Philadelphia.)
Small labels such as Harthon and Arctic were incubators for the burgeoning Philly soul style of the 1960s, serving as training grounds for the young songwriters, arrangers, singers, and studio musicians who later created the Sound of Philadelphia. Among this group were two individuals who, along with Thom Bell, emerged as the chief architects of that sound: singer Kenny Gamble (b. 1943) and pianist Leon Huff (b. 1942).
Gamble and Huff had been hustling around the Philadelphia music scene since the late 1950s. In the mid-1960s they began writing songs together and then moved into producing records, using Philadelphia musicians and arrangers with whom they had worked over the years. After achieving success in the late 1960s with artists such as the Intruders, Soul Survivors, and Jerry Butler (b. 1939), Gamble and Huff secured a distribution deal with CBS Records and formed Philadelphia International Records in 1971. The company located its headquarters in the former Cameo Parkway building on South Broad Street, which Cameo Parkway abandoned when it ceased operations in the late 1960s. While Philadelphia International made some recordings there, they recorded primarily at Sigma Sound Studios on north Twelfth Street, established in 1968 by former Cameo Parkway recording engineer Joe Tarsia (b. 1934). As Philadelphia International's chief studio, Sigma Sound became a hit factory, with Tarsia serving as an important sonic architect of the Sound of Philadelphia.
Philadelphia International Records
Philadelphia International became one of the nation's most successful record companies in the 1970s, producing a long string of hits with local artists such as Harold Melvin (1941–97) and the Blue Notes, Teddy Pendergrass (1950–2010), Billy Paul (1934–2016), and Patti LaBelle (b. 1944), as well as out-of-towners such as the O'Jays, Jackson Five, and Lou Rawls (1933–2006) who came to Philadelphia to capture the label's magic. With songwriter/producers Gamble and Huff at the helm, Thom Bell playing a key songwriting and producing role, and a core group of some thirty regular studio musicians and arrangers, Philadelphia International Records was the undisputed leader in soul music in the 1970s.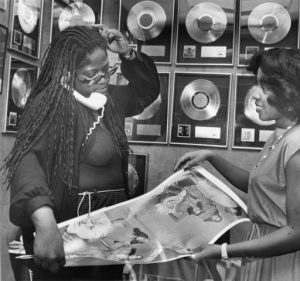 The studio musicians had a few hit records themselves, under the band name "MFSB" (short for Mother-Father-Sister-Brother). The biggest was "TSOP" (The Sound of Philadelphia), released in 1974. "TSOP" was the theme song for the popular Black TV dance show "Soul Train" and became an anthem of Philadelphia soul. With its pulsing rhythm over lush strings and slick brass, it was a typical sophisticated Philadelphia International production. The label was also known for songs featuring socially conscious lyrics with messages of unity and love.
By the early 1980s, soul had run its course as a popular style. Radio, long the lifeblood of soul, had become very restricted in its programming and no longer served as an effective outlet for the music, while other Black styles had gained in popularity, including funk, disco, and a new form of urban music that was coming into prominence, rap. Philadelphia International Records, the last of the great soul labels, went into decline in the early 1980s, signaling the end of the soul music era.
Jack McCarthy is a music historian who regularly writes, lectures, and gives walking tours on Philadelphia music history. A certified archivist, he directs a project for the Historical Society of Pennsylvania focusing on the archival collections of the region's many small historical repositories. He has served as consulting archivist for the Philadelphia Orchestra and the 2014 radio documentary Going Black: The Legacy of Philly Soul Radio and gave several presentations and helped produce the Historical Society of Pennsylvania's 2016 Philadelphia music series "Memories & Melodies." (Author information current at time of publication.)
Copyright 2016, Rutgers University