Essay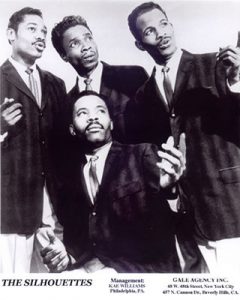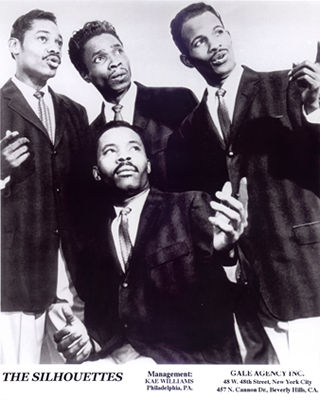 Philadelphia was one of several key cities where, in the 1950s and early 1960s, singers created the small-group vocal harmony style of rhythm and blues known as doo wop. Doo wop was an urban style, sung on city street corners and in school hallways. Its name, derived from a type of sound singers made in their vocalizations, has been disparaged by many historians of the music, who prefer to call it "classic urban harmony" or "street-corner harmony." Although primarily African American in origin, white groups adopted the doo wop style early on and achieved popularity with it as well.
Several streams of African American music fed into the creation of doo wop, which began to emerge as a distinct style in urban neighborhoods of the United States in the late 1940s: the smooth singing style of popular Black vocal groups of the 1930s and 1940s such as the Mills Brothers and Ink Spots, a cappella gospel groups and barbershop quartets, and jazz and blues vocalists. Borrowing elements from these various types of music, young Black singers in Philadelphia and other cities (they were almost exclusively male; there were very few female doo wop groups) fused them into a distinctive vocal style that began to achieve popularity in the early 1950s with both white and Black audiences. Doo wop was a sub-genre of rhythm and blues, the broader body of African American popular music that grew out of jazz, blues, and gospel music in this period.
There were two major types of doo wop songs: ballads and up-tempo tunes. The former were slow romantic songs, usually featuring a high tenor singing lead, backed by close harmony vocal accompaniment and a bass singer interjecting spoken words and vocalizations. The latter were livelier dance tunes, generally with blues-inflected harmonies and melodies. Some groups specialized in a particular type, but many became adept at both. While doo wop groups often performed a cappella, the recorded versions of their songs frequently featured instrumental accompaniment.
Philadelphia Hits
In Philadelphia, early doo wop groups included the Castelles, Capris, Silhouettes, Turbans, and Lee Andrews (real name Arthur Lee Andrew Thompson, 1936–2016) and the Hearts. They recorded for various small independent rhythm and blues record labels based in Philadelphia in the 1950s or, in some cases, for larger New York–based labels. Most of these groups were one- or two-hit wonders, enjoying some success but unable to sustain it over the long term. Their personnel changed frequently and they often bounced from label to label in search of the next big hit. In several notable cases they achieved it: the Silhouettes' 1957 record "Get a Job" reached number one on the pop and R&B charts, while Lee Andrews and the Hearts had big hits in 1957 and 1958 with "Teardrops," "Long Lonely Nights," and "Try the Impossible."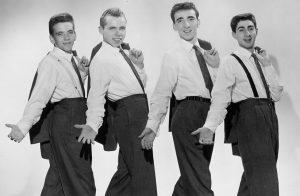 A number of white Philadelphia doo wop groups also found success. In 1958 Danny & the Juniors had a number-one hit with "At the Hop" and a top twenty hit with "Rock and Roll Is Here to Stay." The Dovells reached number two in 1961 with "The Bristol Stomp" (inspired by a dance teenagers were doing in nearby Bristol, Bucks County) and had hits with a series of follow-up dance tunes in 1962. As these groups incorporated doo wop vocal arrangements into early rock and roll, they joined the many successful local artists who made Philadelphia a national leader in youth pop music in the late 1950s and early 1960s.
By the early 1960s doo wop had begun to fall out of favor as a new and different African American vocal style, soul, gained in popularity. Then in early 1964 the British Invasion, the wave of English rock groups initiated by the Beatles' February 9, 1964, appearance on The Ed Sullivan Show, took the United States by storm and knocked doo wop groups off the charts.
While its heyday was over by the early 1960s, doo wop retained a small but devoted fan base and enjoyed several revivals. One was spurred by the appearance of the group Sha Na Na at Woodstock in 1969, where, among other songs, they performed two enduring Philadelphia doo wop hits, "Get a Job" and "At the Hop." During another revival in the 1980s, Lee Andrews revived his group Lee Andrews and the Hearts with his wife and children as band members. On drums was his son Ahmir (b. 1971), later known as Questlove, leader of the well-known Philadelphia band The Roots. In the early twenty-first century, doo wop continued to be played on oldies radio programs—indeed, it was the first popular music to be designated "oldies"—and heard in movies and TV shows to evoke the 1950s. Philadelphia played an important role in developing and popularizing this uniquely American musical style.
Jack McCarthy is a music historian who regularly writes, lectures, and gives walking tours on Philadelphia music history. A certified archivist, he directs a project for the Historical Society of Pennsylvania focusing on the archival collections of the region's many small historical repositories. He has served as consulting archivist for the Philadelphia Orchestra and the 2014 radio documentary Going Black: The Legacy of Philly Soul Radio and gave several presentations and helped produce the Historical Society of Pennsylvania's 2016 Philadelphia music series "Memories & Melodies." (Author information current at time of publication.)
Copyright 2016, Rutgers University
Backgrounders
Connecting Headlines with History