Essay
Published in 1967, Design of Cities assessed urban development from the ancient through the modern periods while highlighting many redevelopment projects in postwar Philadelphia. Written by urban planner Edmund Bacon (1910-2005) and replete with photographs, sketches, maps, and his insights, the book appeared during a time when urban renewal, historic preservation battles, racial tensions, and suburban flight afflicted many American metropolises. Although not as widely known as The Death and Life of Great American Cities by Jane Jacobs (1916-2006) or The City in History by Lewis Mumford (1895-1990), Design of Cities allowed Bacon, one of the most admired planners of his generation, a forum in which to advance his ideas about urban development.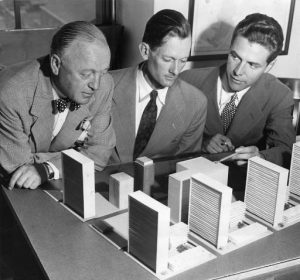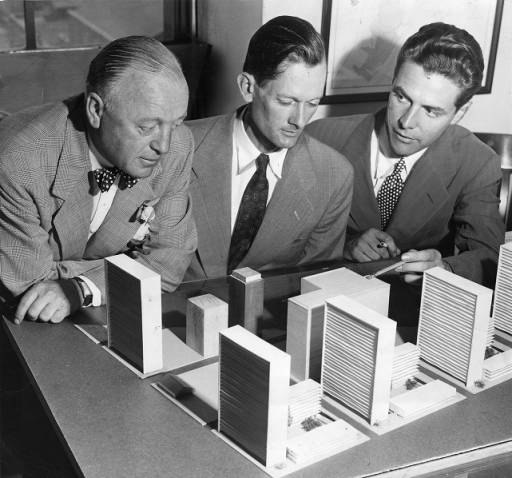 Bacon called cities "one of man's greatest achievements." Challenging the notion that they resulted from "grand accidents," he instead suggested that "human will," consciously applied to elements of "mass and space" shaped ancient cities such as Rome and Athens and modern city building projects in Brasilia and Stockholm. Drawing lessons from various figures such as Pope Sixtus V (1521-1590), James Oglethorpe (1696-1785), Le Corbusier (1887-1965), and David Helldén (1905-90), he examined how over centuries, the form of various cities reflected both the aspirations of citizens and the "state of their civilizations." Representing a new era in urban planning after World War II, Bacon then set forth his own principles, concluding that by balancing old and new structures, pedestrian and vehicle flows, and work and leisure activities, postwar Philadelphia could be made vibrant and pleasant.
Bacon served as director of the City Planning Commission from 1949 to 1970 and played significant roles in designing projects such as Society Hill, Penn Center, and Market East, some of which garnered him international praise. Upon Design of Cities' publication, many of those works were finished or nearing completion. As he showed in the book, his overarching goal was to unite them as a "total organism" in a city "laboriously built up, part by part, over time." Further, he imagined a redesigned Philadelphia as a crucial center in the larger "megalopolitan" corridor stretching from Boston south to Washington, D.C. Ultimately, Bacon hoped through his book to maintain Philadelphia's regional preeminence even as its industries declined, residents fled, and levels of poverty rose.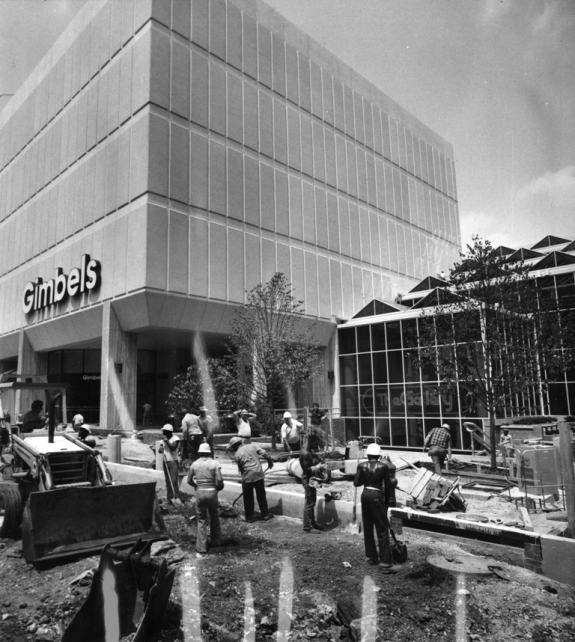 Bacon's most celebrated work was the redevelopment of Society Hill, one given considerable attention in the book. Largely based on his Better Philadelphia Exhibition (1947) model and with assistance from architects Robert Geddes (b.1923), Roy Larson (1893-1973), Vincent Kling (1916-2013), and Oskar Stonorov (1905-70) and developer William Zeckendorf (1905-76), Society Hill was planned as a "sweeping continuous design." Stretching from Washington Square to the Delaware River waterfront, it contained restored colonial homes, new town houses and apartment towers, garden footpaths, and "pocket parks," all linked through a "Greenway System." The area would then be integrated into the redeveloped Independence Mall immediately north, providing "organic capability for growth." Bordered on three sides by the planned I-95, I-676, and Crosstown (never built) expressways, the area would upon completion have offered convenient linkages to Center City and surrounding suburbs. For pedestrians and vehicles alike, roads and paths connected the area's eastern edge to Geddes' redesigned Delaware River waterfront.
Regarding Philadelphia's "civic core," Bacon surveyed the design of Penn Center, Philadelphia's first office building project since the 1920s. Completed in the mid-1960s and relying on the demolition of the "Chinese Wall" rail viaduct and Broad Street Station, his Penn Center diagrams, renderings, and color photographs displayed how train lines, shopping concourses, and open-air plazas (the "interweaving of public and private spaces") coalesced above and below ground just west of City Hall. Through an "outward thrust of design" Penn Center would, along the Market Street axis of William Penn (1644-1718) and Thomas Holme's (1624-95) original 1682 grid, blend with Society Hill to the east. Between Society Hill and Penn Center, Bacon proposed the revitalization of Market East, specifically its "rundown" retail stores. He unveiled in the book a new, light-filled Market East corridor, containing submerged walkways and rail lines to facilitate vehicular traffic on surrounding streets, and anchored by a glass-walled pedestrian mall. Eventually called "The Gallery," the mall debuted in the mid-1970s. Other projects undertaken by Bacon, such as the suburban developments of Eastwick and the Far Northeast, did not appear in Design of Cities. While they did not readily fit with Design of Cities' focus on downtown areas, they were key pieces in his larger organic concept of urban planning.
To close his book, Bacon argued that it would be through dialogue among leaders and citizens that sound planning and design—a "strongly articulated nuclei" surrounded by landmarks, institutions, and residential fabric—would materialize. The resulting "imagery and rhythms" would then generate "loyalty and pride" among residents and visitors. Such ideas resonated in the early twenty-first century as evidenced by the redevelopment of Philadelphia's Schuylkill River waterfront and the 2017 proposals for building new park spaces over the I-95 freeway in Queen Village and Society Hill. Yet despite Bacon's optimistic tone, Design of Cities failed to mention the economic and racial turmoil that put such ideas to the test in the late 1960s. By the time a second edition of the book appeared in 1974, the Nixon administration had significantly cut federal aid for urban renewal in favor of revenue sharing with the states, and the era of federal largesse towards cities with the kind of ambition Bacon epitomized was over.
Stephen Nepa teaches history and American studies at Temple University, Moore College of Art and Design, and the Pennsylvania State University-Abington. A contributor to numerous books, journals, and documentary films, he received his M.A. from the University of Nevada, Las Vegas, and his Ph.D. from Temple University. He lives in Philadelphia. (Author information current at time of publication.)
Copyright 2017, Rutgers University